Speeches
Understanding the History of Race and the Priesthood in Latter-day Saint Tradition with Historian Dr. W. Paul Reeve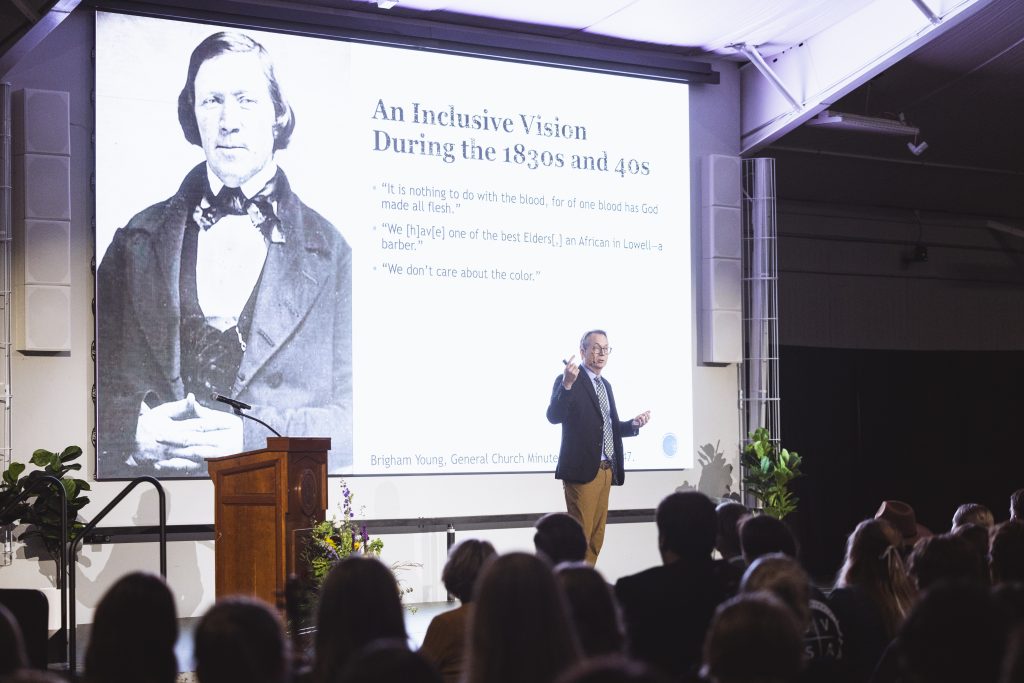 On Oct. 13, the campus community gathered in the Knight Arena to hear Dr. W. Paul Reeve, Simmons Chair of Mormon Studies at the University of Utah, share his research and insights on the history of race and the priesthood during the early years of The Church of Jesus Christ of Latter-day Saints.
"As with all history, we need to be willing to sit with the heaviness of it, come to terms with what it actually means, and think about how we can craft a better future as a result of engaging in the past," said Reeve. "My view is that being open about our history solves a whole lot more problems than it creates. And as a historian, I agree transparency is always a better course, as it provides us with learning and understanding."
Using excerpts from his recently published book, "Let's Talk about Race and Priesthood," Reeve showed the historical context of what led to the priesthood segregation and provided insight on the origins of these restrictions within the Church.
"During the Saints' troubled sojourn in Missouri, outsiders leveled accusations against the Saints, suggesting that they were too accepting of people who the rest of American society believed should be excluded and even enslaved. Some Missourians stated that the Saints had opened 'an asylum for rogues and vagabonds and free blacks,'" said Reeve. "Over time, the Church responded, distancing itself from its own black converts, which resulted in the racial segregation of the priesthood and temples."
Despite the challenges caused by the racial divide, Reeve shared stories of how the black members of the Church remained faithful during the time of the restrictions on the priesthood and temple blessings.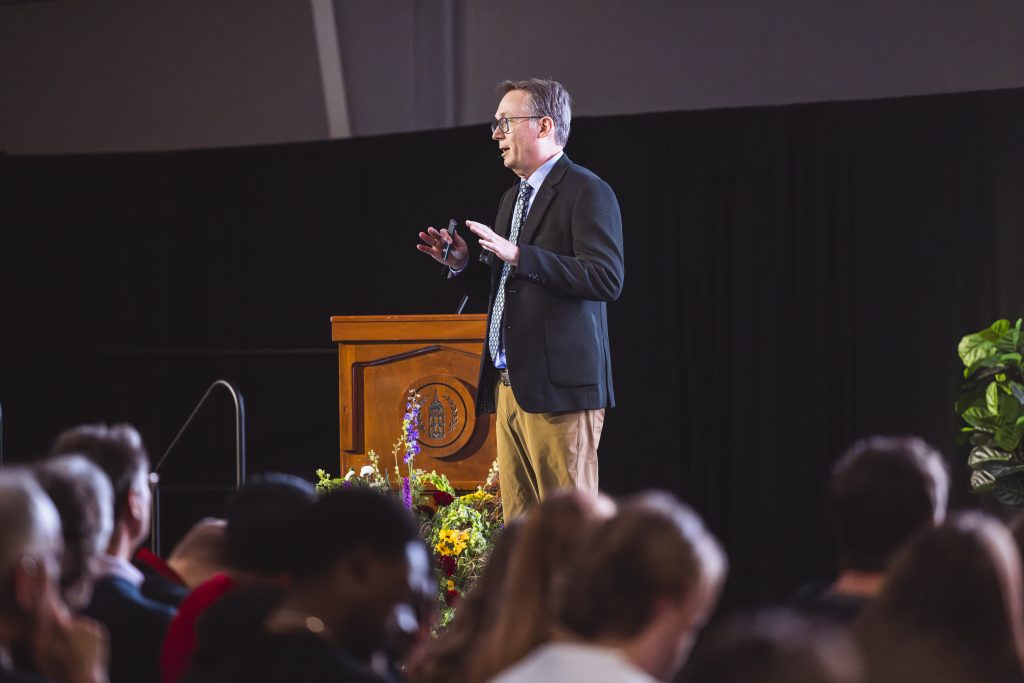 "Samuel Chambers was 13 when he converted to The Church of Jesus Christ of Latter-day Saints as an enslaved boy in 1844," said Reeve. "Even though he didn't see another member of the Church for over 20 years, his spark of faith didn't die out. Despite not being allowed to have the priesthood, after the Civil War he and his family emigrated to Utah, where Samuel became an un-ordained deacon.
"His quorum in Salt Lake would meet every month to bear testimony to each other, which were recorded," continued Reeve. "On one occasion, Samuel said, 'Although in bondage for 20 years after receiving the gospel, yet I kept the faith. Some may think it small to be a deacon, but I think there is nothing small in the Kingdom of God.'"
Sharing General Conference talks from Church leaders about Christ's teachings of love and inclusion in all aspects of life, regardless of race or belief differences, Reeve encouraged the campus community to be welcoming to everyone.
"As we acknowledge diversity and reach out to one another in love and concern, we are able to learn from one another," said Reeve. "President Nelson is calling us to abandon all actions, attitudes, and prejudice with racism, and I believe that we are capable of fulfilling this calling."
Reeve teaches courses on Utah history, Mormon history, and the history of the U.S. West at the University of Utah. His book, "Religion of a Different Color: Race and the Mormon Struggle for Whiteness," received the Mormon History Association's Best Book Award, the John Whitmer Historical Association's Smith-Pettit Best Book Award, and the Utah State Historical Society's Francis Armstrong Madsen Best History Book Award. He has received several teaching awards, and is project manager and general editor of a CenturyofBlackMormons.org.
The event featured the Camerata Orchestra's performance of the first movement of Felix Mendelssohn's Sinfonia No. 1 in C Major. After Dr. Reeve's remarks, the campus community joined in singing the University anthem, "Love One Another."