News Release
Theatre Takes to the Seas With Original Adaptation of "Treasure Island"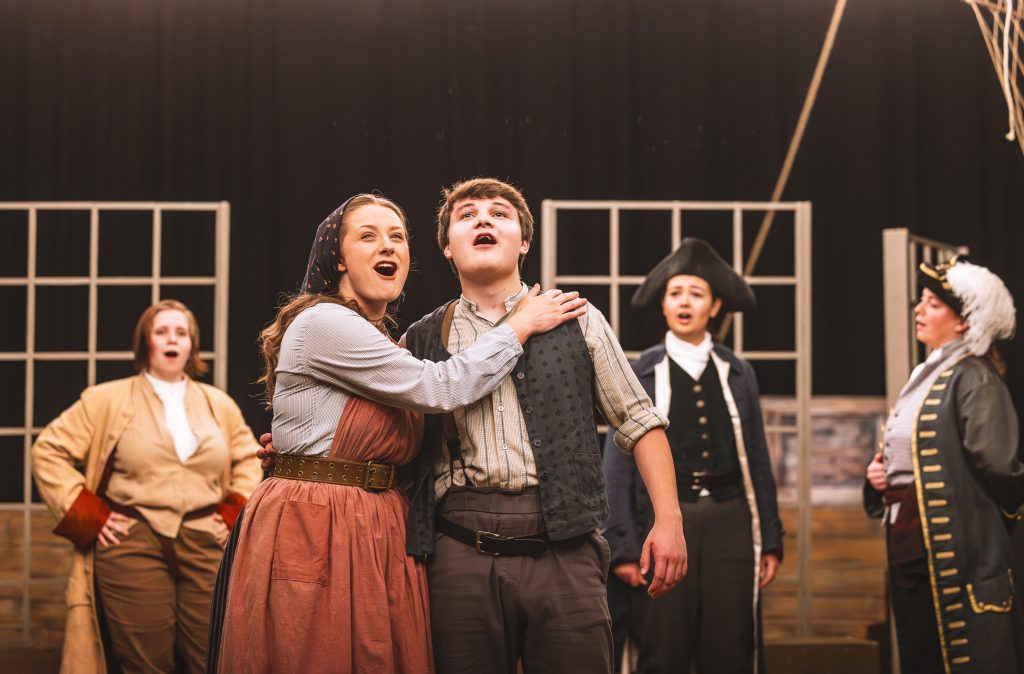 In a high seas adventure filled with pirates, treasure, and sea shanties, Southern Virginia University Theatre performed Robert Louis Stevenson's "Treasure Island," with an original adaptation by Associate Professor of Theatre Amaree Cluff, on Sept. 22–23, 28–29 as the first production of the 2023–24 academic year.
"'Treasure Island' is unapologetically an adventure at sea story," said Aiden Darrington ('25), who played Long John Silver. "It's an exciting story that makes you want to go out and have an adventure. And the beauty of acting is that people willingly suspend their disbelief and participate in this storytelling. It's a shared experience between the audience and the actors that you can't get anywhere else, and it was so much fun to create that magic with 'Treasure Island'."
First published in 1883, the novel "Treasure Island" is credited to have had significant influence on the modern depictions of pirates with treasure maps, parrots, and tropical islands. The story follows the impulsive and adventure-seeking 14 year-old Jim Hawkins, who experiences the ways of a pirate first-hand when he comes across a treasure map leading to the infamous Captain Flint's gold.
Deciding to find the hidden gold, Jim joins Dr. Livesey, Squire Trelawney, and Captain Smollett on a hired ship, where he befriends the one-legged cook, Long John Silver, and learns that not everything is as it seems as he embarks on a swashbuckling coming-of-age adventure full of pirates, treasure, mutiny, and adventure.
"I really love the relationship of Long John and Jim because they are friends at first, and then mortal enemies, and then at the end, they meet somewhere in the middle," said Cameron Morrison ('27), who played Jim Hawkins. "There was a line that Professor Cluff added in for Jim on closing night, and it's when Long John Silver says to him at the end of the play, 'You know lad, we might have done a power of good together.' And the line we added in was Jim's response, 'We might have.' And I think that really just showcases their whole relationship in the show and why people love the story so much."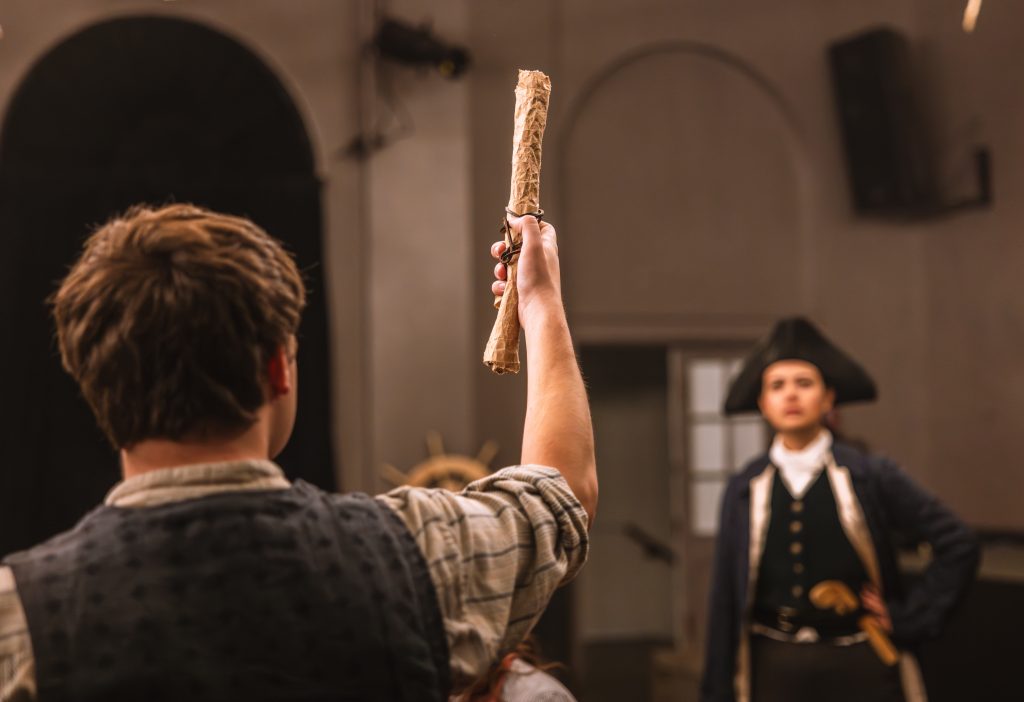 With the stage on the floor and the audience surrounding it on three sides, "Treasure Island" featured traditional sea shanties performed live by the actors, including, "Drunken Sailor" and "Oak and Ash and Thorn," with several members of the cast accompanying with guitars and percussion. All sound effects were also created live by the actors.
"The whole production has been a really collaborative process with the students as we created, scene by scene, what the play was going to look and sound like," said Cluff. "They've been such an amazing group of students to collaborate with, going from brainstorming to refining it into a focused idea and then moving forward with it so well. That's been the most rewarding part of this process for me watching them catch that spirit of creativity and enthusiasm."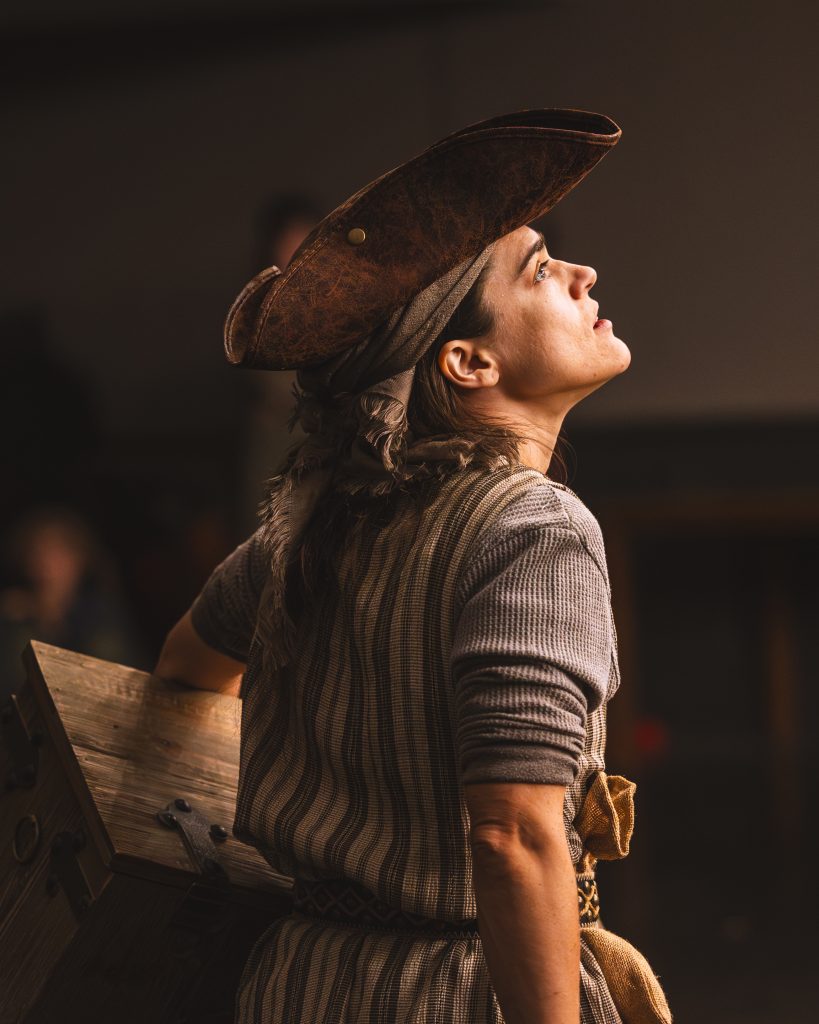 Cluff served as the writer, director, and costume designer for the production, with Martha Zimmerman as the stage manager, Anna Dryden as assistant stage manager, and Preston Rodriguez as the head carpenter.
With 16 students actors, the cast was as follows:
Jim Hawkins: Cameron Morrison ('27)
Long John Silver: Aiden Darrington ('25)
Dr. Livesey: Liv Offen ('25)
Captain Smollett: Gabrielle Atwood ('25)
Squire Trelawney: Kaia Hoyt ('25)
Mrs. Julia Hawkins/Kit Redruth: Evelyn Melvillle ('25)
Billy Bones/Ned Hunter: Talia Merrill ('25)
Jabez Carter/Captain Flint: C.J. Ellis ('25)
Ben Gun: Brianna Gonzales ('24)
Tom Morgan: Colton Sorensen ('25)
Israel Hands: Adell Wilson ('26)
Job Anderson: Naomi Pack ('25)
Jack O'Brien: Tess McGill ('27)
Amos Joyce: Adam Afualo ('27)
Silan Abrams: Sam Ballard ('27)
Blind Pew: Ella Foutz ('24)