Feature Story
The Healing and Unifying Power of Art with Artists Esther Hi'ilani Candari and Barbara Crawford
On Nov. 10, the campus community gathered in the Knight Arena to hear artists Esther Hi'ilani Candari and Professor of Art Barbara Crawford speak on their combined decades of artistic works and experiences and art's healing and uniting power throughout life.
When living in Amherst, VA, Candari was asked by the city to paint a mural to beautify the area. After studying the history of Amherst, Candari chose to create a piece that reflected the indigenous Monacan history of the location. Working closely with the local tribal council, Candari settled on a mural of two women pouring water between vessels as an allegory of knowledge and cultural power when passed down through generations and symbolizing the importance of water in the Monacan culture.
"A liminal space is a space between something, and I found that those are often the most powerful spaces when it comes to art," said Candari. "Find those spaces in your life, and ask yourself what you are doing with the resources, tools, and opportunities you have and how you can optimize them in ways that are truly effective. Then find ways to build your community and the people around you."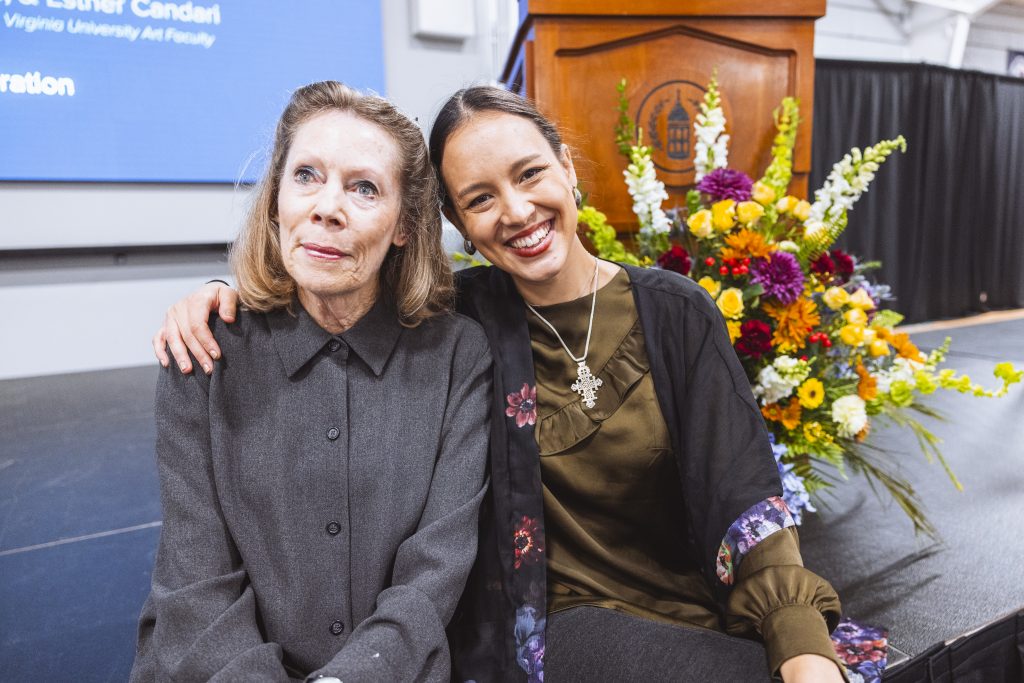 Highlighting the importance of collaborating with individuals possessing diverse skill sets, Candari introduced her upcoming religious art book which showcases over a hundred diverse religious images. Recognizing that she lacked all the necessary resources and talents to complete the project independently, she collaborated with other artists and publishers to fill in the gaps and bring the book to fruition.
"So often we're afraid to build something," said Candari. "We all have things we want to manifest in our lives, but it's going to take planting some seeds, and it's gonna take a lot of things to grow them into something much bigger. But I found that when you are willing to manifest something and put all your effort into it, you'll be surprised with what happens."
A member of the Southern Virginia faculty since 1979, Crawford shared that when her husband was nearing the end of his cancer battle, she felt a desire to challenge herself in her art. With the theme of the potency of tornados, she created TORN-ADO, her first three-dimensional installation, which used a variety of media to convey a message of human resilience in the face of disaster and chaos.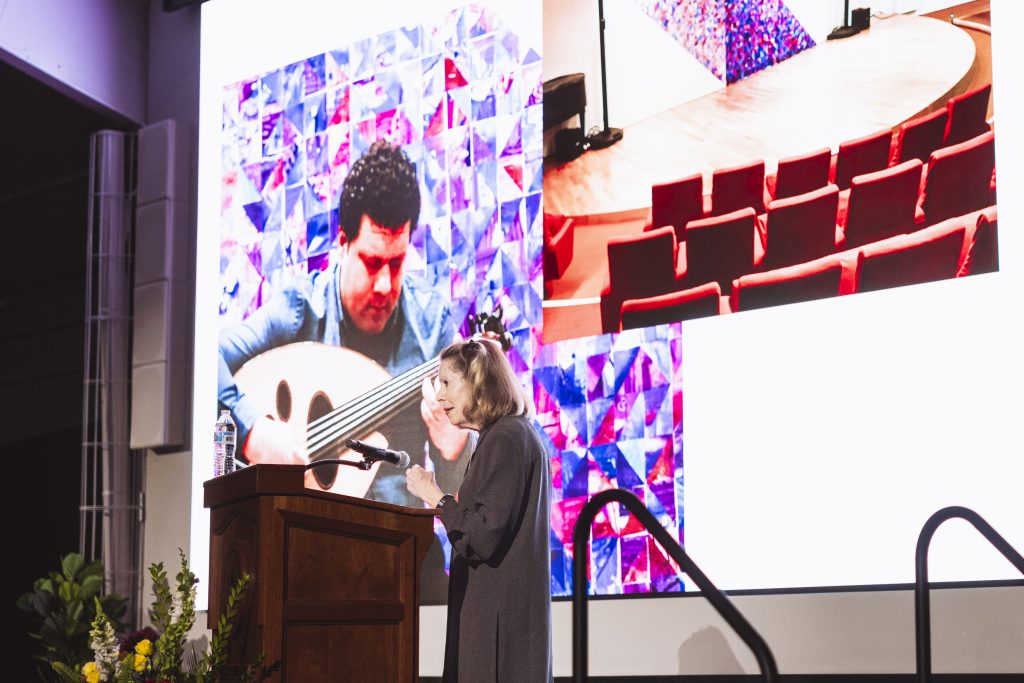 "This experience and style of art was new to me, but the response from the public forever changed my life," said Crawford. "After that showcase at Southern Virginia, I made some changes and took it to a community that was recovering from a devastating tornado the previous year. With some students assisting, we created a two part installation in honor of the lives lost, and provided a place for visitors to write their inspirations of having survived being in the middle of a tornado. I have found that one only needs to change their perspective to survive a crisis."
Since embarking on her artistic journey, Crawford has showcased her work in more than 50 solo, invitational, and juried exhibitions, both nationally and internationally. In 1978, she was a member of the restoration team for the Jackson House Historic Museum and was invited to craft temporary exhibitions for the site.
"I was given a really small budget to work with since the plan was to replace the art shortly after the museum opened," Crawford said. "However, the exhibition ended up being replaced only three years ago. Something that was intended to be temporary became a lasting piece. So remember this: whatever you do, do it well, because you never know what might happen."
The event also featured a unique musical performance by the Symphonic Band of "Benediction" by John Stevens. As a reflection of the different ways of experiencing music, specifically for those visually impaired, the band performed without a conductor and with their eyes closed, having memorized the piece through audio recordings instead of sheet music. After Candari's and Crawford's remarks, the campus community joined in singing the University anthem, "Love One Another."