News Release
Students Perform "Mansfield Park" Concert Musical to Standing-room-only Audience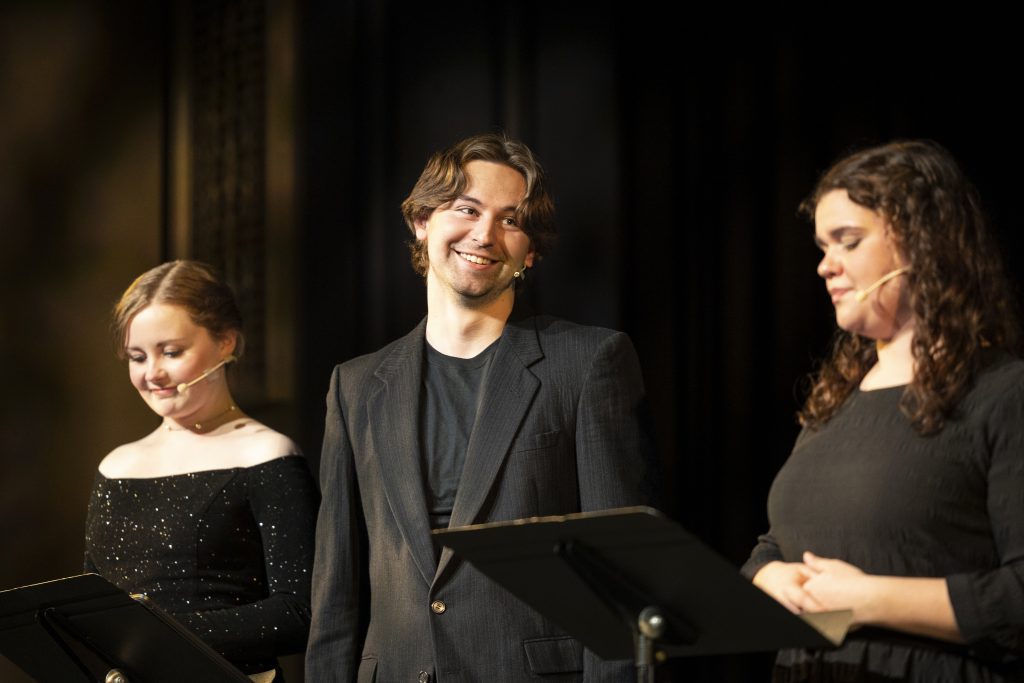 For the first time in Southern Virginia Theatre history, student actors gathered in the Performing Arts Center to present a one-night-show concert musical, performing the classic Jane Austen story of "Mansfield Park" with an original script by Professor of Theatre Robert Stoddard and his daughter, Leigh Stoddard, on March 1 to a sold out house.
"We were really drawn to "Mansfield Park" because of the leading character, Fanny Price, and how she sticks to her values no matter what is going on around her," said Stoddard. "I wrote the lyrics and music, and [Leigh, and I] both wrote the script, and it was first performed here at Southern Virginia in 2015. For this performance we've rewritten it to be a concert musical, and this is the first time in our theatre's history that we've done a concert musical."
Concert musicals are a performance of a musical theater or opera in concert form, without set design or costumes, and mostly without theatrical interaction between the singers. These performances have been produced since the 17th century, and have grown in popularity in the 21st century with musicals such as "West Side Story" and "Sweeny Todd" being adapted in 2013 and 2015, respectively.
In preparation for this performance, Professor Stoddard composed three new songs, bringing the total in the musical to 21 original songs. Following concert musical style, the actors wore black and remained on stage for the entire production, standing in front of podiums when performing, with the original musical score provided by a recorded track and a screen behind them projecting various scene locations.
"I loved every minute of it," said Jessica Fink ('25), who played the lead character, Fanny Price. "I loved how close everyone in the cast got because of how different of a play it was. I'd never done a concert musical before, and we only had a few weeks of rehearsals, but it was just super fun and I felt like I had a lot of growth in the process."
"Mansfield Park" follows the story of Fanny Price, who was sent from her impoverished home to live with her rich aunt and uncle when she was young to become a lady and marry into a wealthy family. When the man she loves begins to love another, and she becomes pursued by a rich young man she doesn't trust, Fanny must choose whether to follow her heart or her family's and society's pressures.
Professor of Theatre Robert Stoddard directed the play, Assistant Professor of Theatre Amaree Cluff served as the acting coach and consultant, with Preston Rodriguez as the technical director. Anna Dryden served as the stage manager, with Christian Clement as sound engineer, and Kinesy Cluff as the accent coach.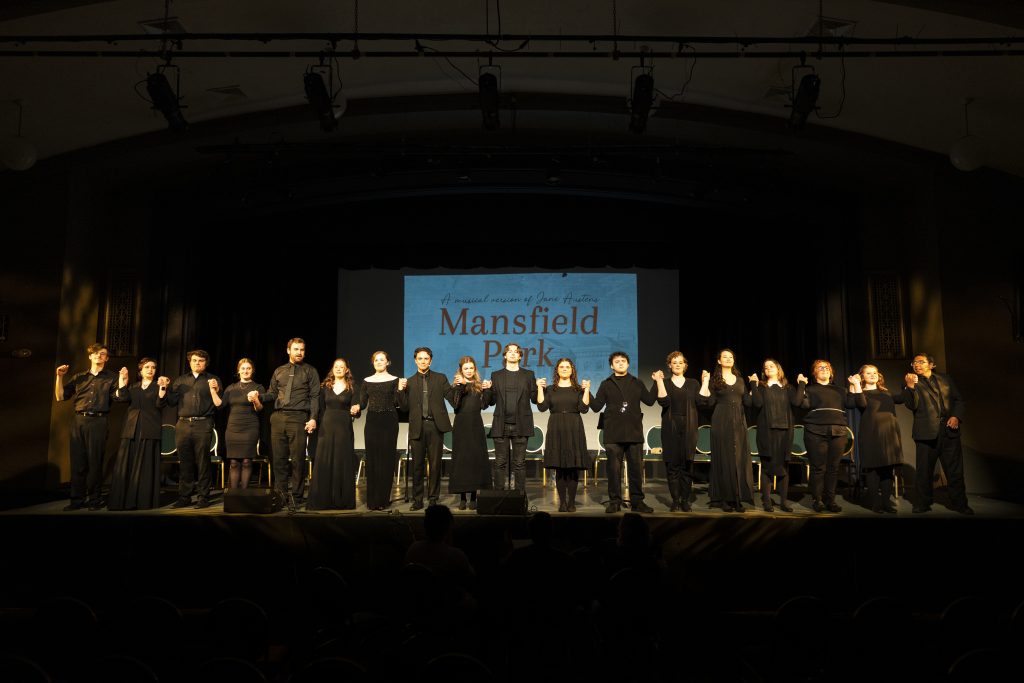 With 18 student actors, they are as follows:
Cast:
Fanny Price: Jessica Fink ('25)
Edmund Bertram: Aiden Darrington ('25)
Henry Crawford: Jared Mattson ('24)
Mary Crawford: Gracious Mattson ('23)
Maria Bertram: Evelyn Melville ('25)
Julia Bertram: Naomi Pack ('25)
Sir Thomas Bertram/Mr. Price: Colton Sorensen ('25)
Lady Bertram: Adell Wilson ('26)
Tom Bertram: Gavin Dransfield ('23)
Mrs. Norris: Kaia Hoyt ('25)
Mr. Rushworth: Braden Spurlock ('23)
Mr. Yates: Devin Barbee ('24)
Chapman/Rebecca: Lily Calderwood ('25)
William Price: Benny Benaventa ('25)
Mrs. Price: Liv Offen ('25)
Susan Price: Millie Hall ('26)
Sam Price: Brea Moore ('24)
Betsey Price: Reagan Ford ('26)