News Release
Southern Virginia University Repeats as USA South President's Cup Winners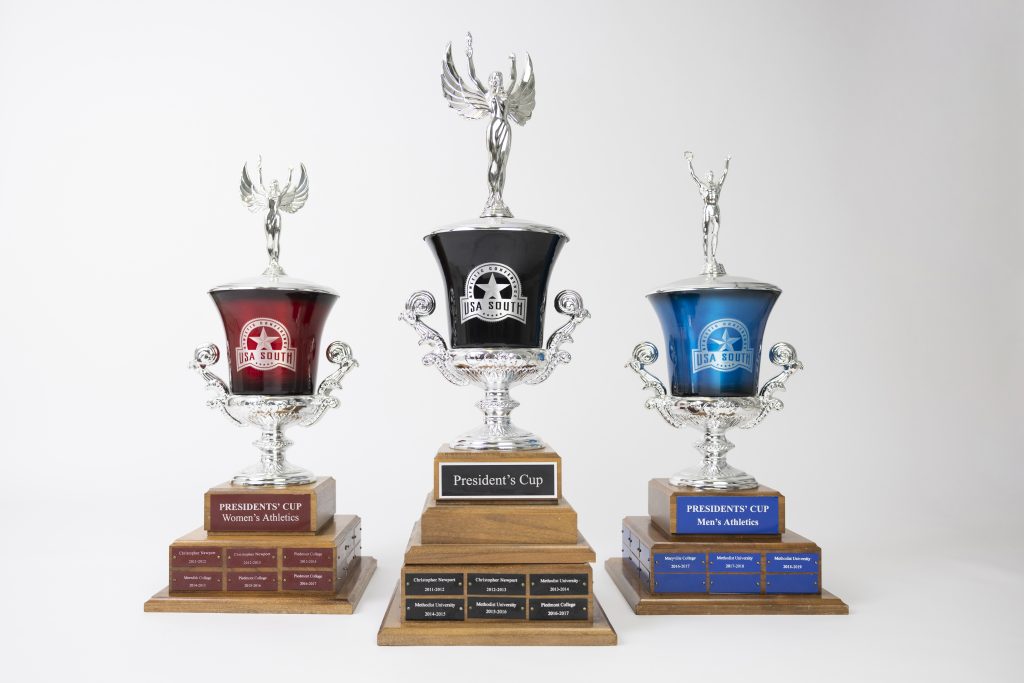 This news story was originally published on knightsathletics.com
Following the conclusion of the 2022-2023 athletic season of USA South Athletic Conference competition, the final standings for the Overall, Men's, and Women's Presidents Cups have been released.
Southern Virginia University has captured two of the three cups as the Knights repeat as winners of the Overall and Women's Presidents Cups. As for the Men's Cup, Methodist University collects the hardware seventh time in program history and the first since the 2018-19 academic year.
The USA South Athletic Conference Presidents Cup symbolizes the league's top men's and women's athletic program each year. The Presidents Cup is awarded by a points system where the first-place team in each sport will be awarded the number of points that corresponds to the number of schools that sponsor teams in that sport. The second place team receives one point less than the first place team and so on, down to one point for the last place team that competes.
Additionally, for all sports with the exception of football which has no post-season play, bonus points will be up for grabs. The team winning the USA South Tournament Championship will receive two bonus points for that sport while the runner-up will receive one bonus point. In the sports of golf and cross country, the athlete placing first will earn two bonus points for his/her institution while the runner-up will earn one bonus point. If athletes from the same institution place first and second, that institution will earn two bonus points for the first-place finish only. Finally, for those sports with divisional standings, the Presidents Cup points are separated by divisions.
The awarding of an Overall Presidents Cup began at the conclusion of the 1978-79 season. Following the 2004-05 season, the Conference presented separate Men's and Women's Presidents Cups in lieu of an Overall Cup. The following year the Conference reinstated the Overall Cup along with the Men's and Women's Cups.
The final 2022-23 USA South Presidents Cup standings follow: