Speeches
Organize with Your Religion and Save the World; Honors Forum with Dr. Melissa Wei-Tsing Inouye
On March 10, the campus community gathered for a forum hosted by the University's Honors Program to hear from Dr. Melissa Wei-Tsing Inouye. As an expert on Chinese history, historian for The Church of Jesus Christ of Latter-day Saints, and cancer survivor, Inouye spoke about the importance of organizing within one's community and religion to lift one another in her address titled, "The Church as a Vehicle for Peace on and with the Earth."
"Work to bless the lives of God's children and the earth that sustains all life, and organize with your religion using your unique gifts and perspectives," said Inoyue. "The people we connect with, the problems we choose to tackle, the causes we choose to join, those are all things that only you and I as individuals can decide. Remember that you are a producer and creator of your faith, not just a consumer of it."
Using examples from her own life, of Chinese rice farmers, and the lives of modern Latter-day Saint women, Inouye emphasized the importance of coming together as a community and how those connections are key to tackling larger world issues.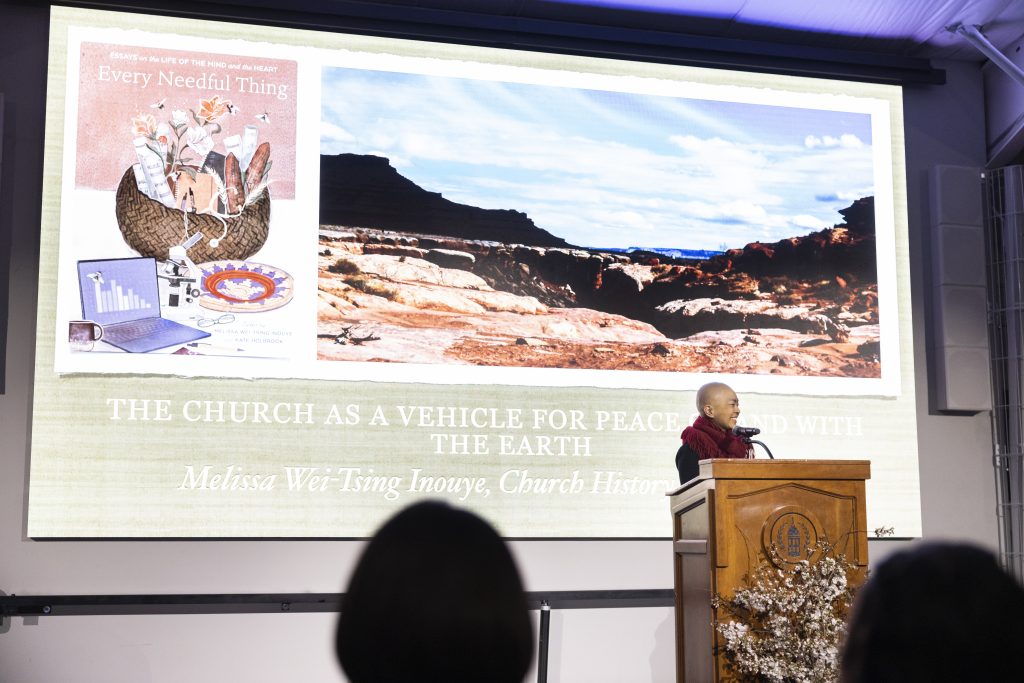 "As a Latter-day Saint, this is probably the thing that I love the most about my church, which is that it connects me to a lot of people," said Inouye. "And in my life, whenever I couldn't get something done, I've always turned to my Latter-day Saint brothers and sisters."
Alongside excerpts from the recently published collection, "Every Needful Thing: Essays on the Life of the Mind and the Heart," that she co-edited, Inouye shared how her life-changing cancer diagnosis impacted her faith, causing her to ponder on how a powerful and benevolent God could allow harm and burdens to afflict his children.
"I believe our Father and Mother in heaven are master teachers," said Inouye. "They want us to learn through our own experience because the lessons we learn in this way will help us remember what we have learned and how to use it. I believe our heavenly parents expect us to learn from our own earthly struggles and to learn to care for our sisters and brothers during this."
During the COVID-19 pandemic, Inouye saw firsthand the impact a community can have in benefiting the lives of others when she reached out to her local and religious community to raise an emergency response fund for teachers and students impacted by the sudden shift of academic conditions.
"What we need are big networks that connect a lot of people across a lot of different boundaries and barriers, and that's exactly what the Church does," said Inouye, "It's one of the best systems that I know. So I'd like to encourage us to organize with your religion and save the world."
Dr. Melissa Wei-Tsting Inouye is a historian in the Church History Department of The Church of Jesus Christ of Latter-day Saints and former senior lecturer in Asian Studies at the University of Auckland. She received her Ph.D. in East Asian Languages and Civilizations from Harvard University and is the author of two books, "China and the True Jesus: Charisma and Organization in a Chinese Christian Church" and, "Crossings: a bald Asian American Latter-day Saint woman scholar's ventures through life, death, cancer, and motherhood (not necessarily in that order)."
The forum featured an open Q&A session with Inouye and a musical performance from Bella Voce, "I Know That My Redeemer Lives," conducted by Assistant Professor of Music Dr. Mackenzie Romriell. The campus community then joined in singing the University anthem, "Love One Another."