News Release
Fine & Performing Arts Programs Host Student-led Hilltop Arts Festival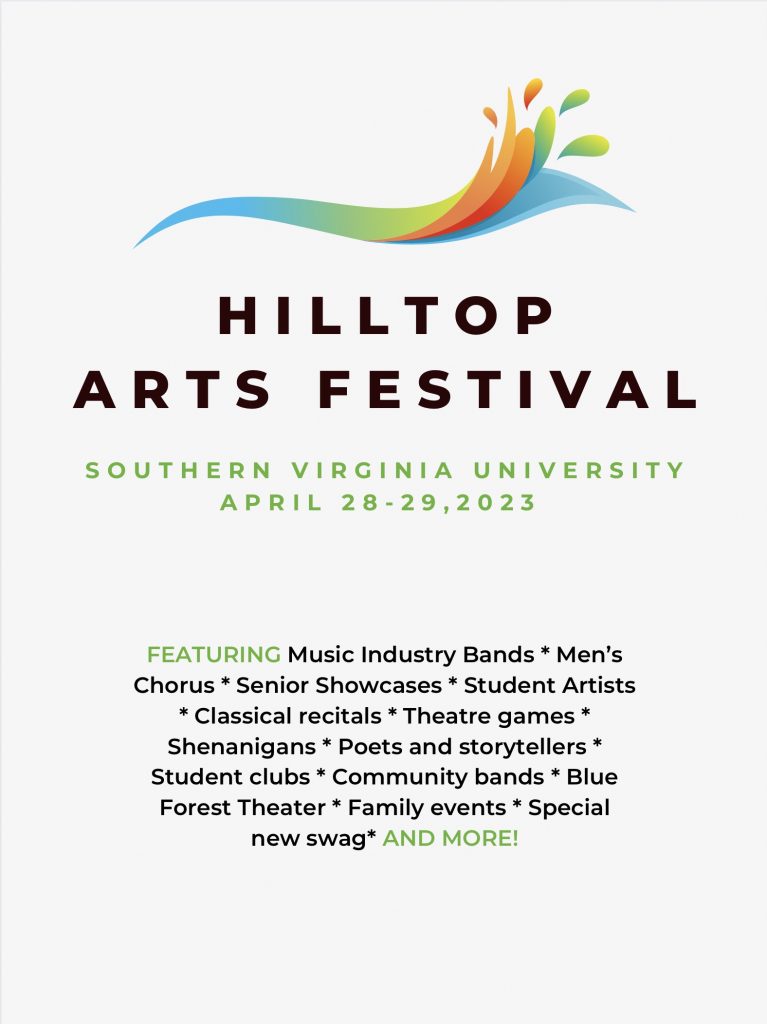 The Music, Art, and Theatre programs at Southern Virginia University are joining forces to host the Hilltop Arts Festival—a first-of-its-kind event chiefly planned and led by students—on Friday, April 28 from 6–10 p.m. and Saturday, April 29 from 10 a.m.–10 p.m.
Showcasing student, alumni, and community members' creative works throughout campus, this free, public event will feature musical performances, art displays, student clubs, carnival food, and interactive family activities.
"This is a wonderful way to bring everyone together and have a big celebration as we finish out the school year," said Fine & Performing Arts Division Chair Megan Mason, who is overseeing the festival along with eight student assistants. "It'll just be fun. People can come and see what students have been working on all semester, enjoy student and community member performances, and participate in activities for the whole family."
With four stages located throughout campus, this two-day event will feature live performances from the University's Men's Chorus, student soloists, and student, community, and alumni bands playing a variety of genres, including jazz, classical, and pop music. Family musical activities, such as boomwhackers, and opportunities to experiment with and play various instruments, will also be available.
The 2023 Senior Art Show will be on display in the new art gallery in the Von Canon Library, where there will also be games and storytelling, along with poetry reading by the Poetry Club. Attendees can make personalized art in the Print Shop, as well as participate in various art activities for the whole family.
University and local theatre students will be hosting theatre games and performances, and Shenanigans, the student improv comedy club, will be performing a set. The festival will also feature a scavenger hunt, charity drive, and booths for students clubs and games. Merchandise featuring student bands and art will be available for purchase.
The Knight's Dance Team is hosting a "So You Think You Can Dance" contest on Friday, April 29 at 8 p.m. in the Knight Arena. While the registration period is closed, all are welcome to come and watch the contest.
All events are free, with carnival food available for purchase. An information desk will be available on campus with activities, times, and locations. The festival will be held rain or shine. In the event of unfavorable weather, activities will be moved indoors.
Those interested in hosting an activity or participating in the event as a volunteer can contact Professor Megan Mason at megan.mason@svu.edu.