News Release
Chairman Redd Commends President Wilcox; Announces Presidential Search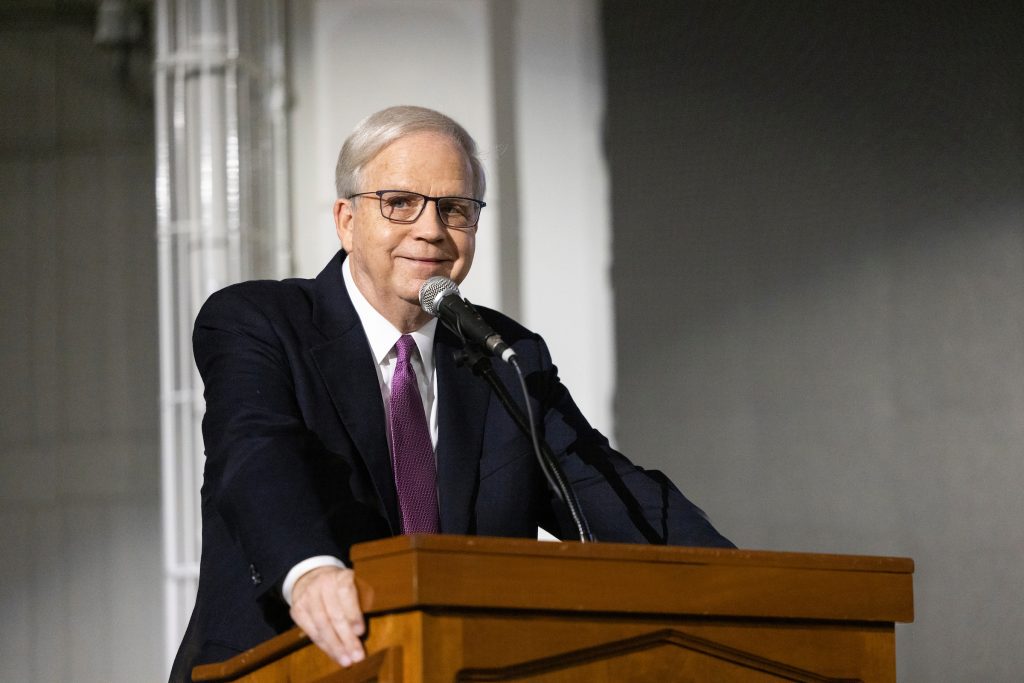 During the Southern Virginia University Board of Trustees meeting on April 14, 2023, on-leave President Reed N. Wilcox shared his intention not to return to the university following his six-month medical leave granted on Jan. 6, 2023.
Today, Chairman Hugh Redd announced that the Board of Trustees has officially accepted President Wilcox's resignation, effective June 30, 2023, with a commendation for his many significant accomplishments while serving as Southern Virginia's president for the past nine years—the university's longest-tenured president to date. A list containing some of President Wilcox's notable accomplishments can be found below this message.
To select the university's next president, Chairman Redd has appointed a Presidential Search Committee comprised of five members of the board: Laura Whiteley, chair of the presidential search committee, Scott McKeon, president of the alumni association, Gregg Scott, trustee, Ann Christensen, vice chair of the board, and Hugh Redd, chairman of the board. This committee has been working consistently since its appointment at the April 14 meeting. Individuals can share suggestions and feedback with the committee by emailing presidentialsearch@svu.edu. This email address will remain available until May 31, 2023.
The Board of Trustees and Presidential Search Committee are committed to dedicating the time and resources necessary to find the right fit for the university and its future. Acting President Dr. Eric Denna will continue to serve as the university's acting president while the committee conducts its search.
Sincerely,
Hugh Redd, Chair, Board of Trustees
Ann Christensen, Vice Chair, Board of Trustees
University Accomplishments during President Wilcox's Tenure
The longest-serving president in the university's 27-year history (2014–2023)
Implemented a new university mission focused on permanent alignment with The Church of Jesus Christ of Latter-day Saints; "Keep the Church at the Center of the Village"
Implemented a new, principle-based Code of Conduct grounded in the teachings of Jesus Christ, His commandment to Love One Another, and the 13th Article of Faith
Hosted visits from Elder Ronald A. Rasband and Elder D. Todd Christofferson of the Quorum of the Twelve Apostles in 2016 and 2019, respectively
Formed a cooperative academic arrangement with the CES Institute of Religion to become the first and only non-CES college to offer concurrent credit for Institute courses
Increased total student enrollment by more than 80% during a time when undergraduate enrollments declined nationwide, especially among small, private, rural colleges
Increased total operating revenues by more than 80% from $10M to $18M
Doubled the number of full-time faculty to maintain a 17:1 student-teacher ratio
Improved the university's career placement rates—graduate school and professional
Graduated the largest class in University history (188 graduates in the Class of 2022)
Enhanced employee benefits, including increasing average compensation, healthcare insurance subsidies, and 403 retirement matching (from 0% to as much as 10%)
Partnered with Apple to provide state-of-the-art technology for every student and professor at no additional cost to tuition; earned status as Apple Distinguished School
Safely and successfully operated the university during a once-in-a-century pandemic, including continued enrollment growth during multiple years under pandemic conditions
Dramatically expanded the University's donor base and annual charitable contributions
Raised more than $56 million since 2014—more than any other individual in university history and roughly half the total funds raised since the university was renewed in 1996