News Release
Celebrating the Class of 2023 and Senior Awards with Elder Robert C. Gay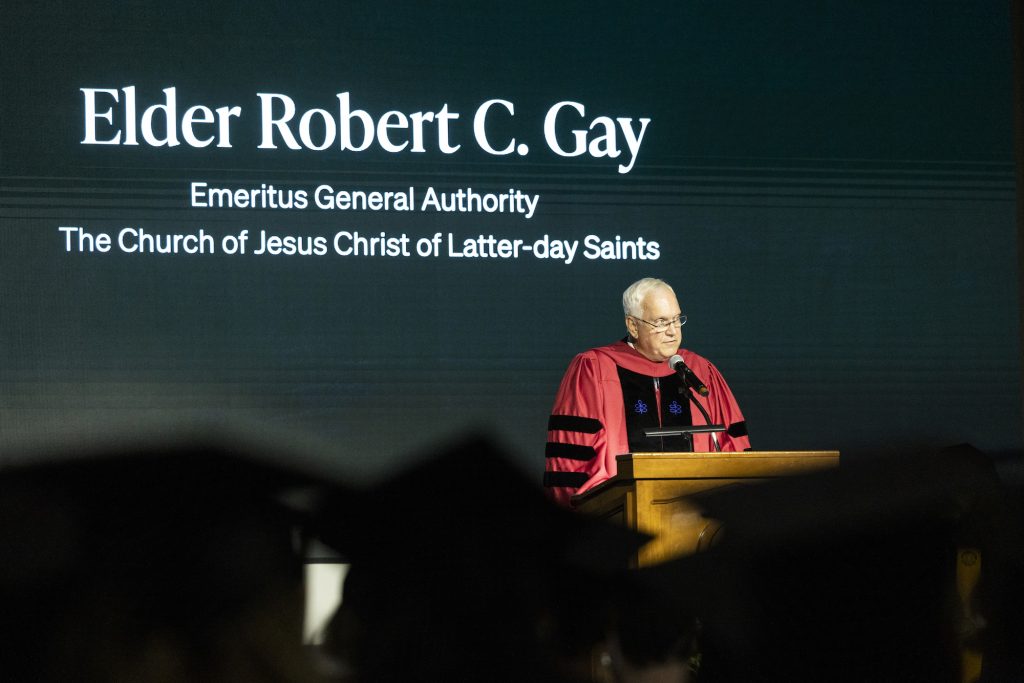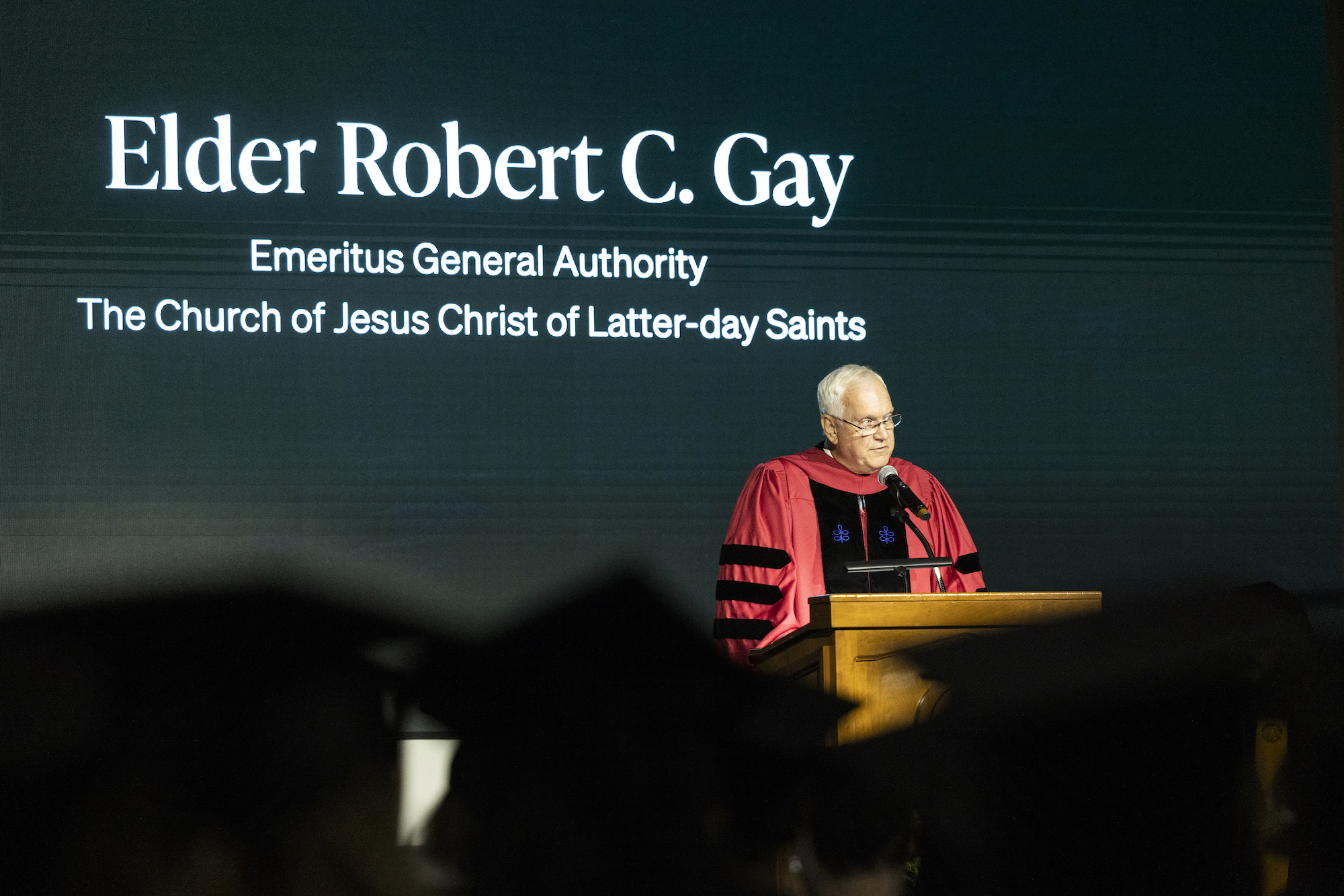 On April 28, students, faculty, and professional staff gathered in the Knight Arena to celebrate the Class of 2023, recognize senior awards, and hear from the Emeritus General Authority Seventy Elder Robert C. Gay. As the keynote speaker, Elder Gay addressed graduates on the importance of keeping God in their lives and serving others with their skills and talents.
"On behalf of Southern Virginia University, its trustees, administration, faculty, and alumni, I want to sincerely congratulate you, the Class of 2023," said Acting President Eric Denna. "We have part one because we want to celebrate you in front of your fellow students. We want everyone at the University to experience the joy of graduation."
In his address, Elder Gay expressed his love of Southern Virginia University's mission to Gather, Lift, and Launch students, and invited graduates to ponder on how they have been blessed during their college career, and how they can bless and uplift others in this next step of their lives.
"Understand that the diploma you will receive in a few weeks doesn't just mark a great personal accomplishment," said Elder Gay. "It also marks an ever-important call to use your unique life, experiences, and skills to bless the lives of those around you."
Sharing a personal experience of when he was called to serve as a mission president and wrestling with the desire to put his earthly plans first, Elder Gay emphasized the importance of putting God and his divine plan ahead of personal desires, and to live a life of covenants, rather than convenience.
"There is never a convenient time to serve," said Elder Gay, "It's a matter of faith. You either believe that the Lord will bless your life with what you need as you follow his word, or you don't. You cannot choose which commandments to keep and which to omit if you are to have God's blessed power in your life."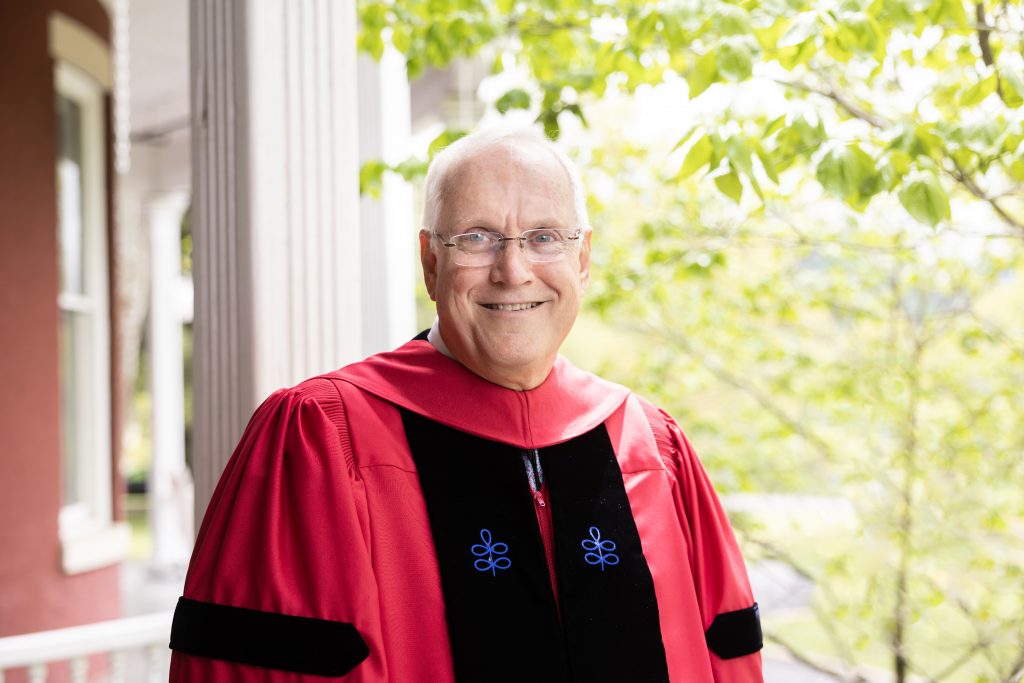 Congratulating the graduates on their accomplishments, Elder Gay encouraged them to make a continued effort to build on their academic and spiritual foundation, find ways to serve others, and remember their divine inheritance as children of God.
"If there is one thing that you remember from today, I want it to be this: you graduates are an awesome sight to behold," said Elder Gay. "You've been gathered and lifted at Southern Virginia University, and I'm excited to see who you will become and where you will go in your life as you launch into the world."
Prior to his Commencement Address, Elder Gay shared that President Dallin H. Oaks had written a letter of commendation to President Reed N. Wilcox, and that President Oaks had asked Elder Gay to read this letter prior to his commencement address. Elder Gay explained that President Oaks' long friendship with Reed began when President Oaks was the President of Brigham Young University and Reed was the BYU Student Body President, and then read the letter, which commended his tenure.
A combined choir of the Chamber Singers, Bella Voce, and Men's Chorus performed the American folk song, "Oh Shenandoah." At the conclusion of the events, the faculty members lined up and cheered on the graduates during their concluding recessional.
Graduate Awards & Valedictorian
Below are the graduate awards and 2023 valedictorian announced in the graduate celebration. Graduates and awards can be viewed on the University's Commencement page.
Valedictorian
Janna Tidwell
4.0 Students
Alissa Johnson
Thomas Tidwell
Emma Steiger
Jaden Nelson
Serina Franzen
Jacob Taloa
Emily Oldham
Kamila Fuentes
Meg Huber
Jacob Wood
Cassidy Gower
Barrus Scholars
Meg Huber
Haven Ritz
Martha Bakkemo Loyalty Award
Hannah Doolin
Anna Liu
Pioneer Award
Jaden Nelson
Jacob Taloa