News Release
Bringing "Saint Joan" to Life in an Immersive Audience Experience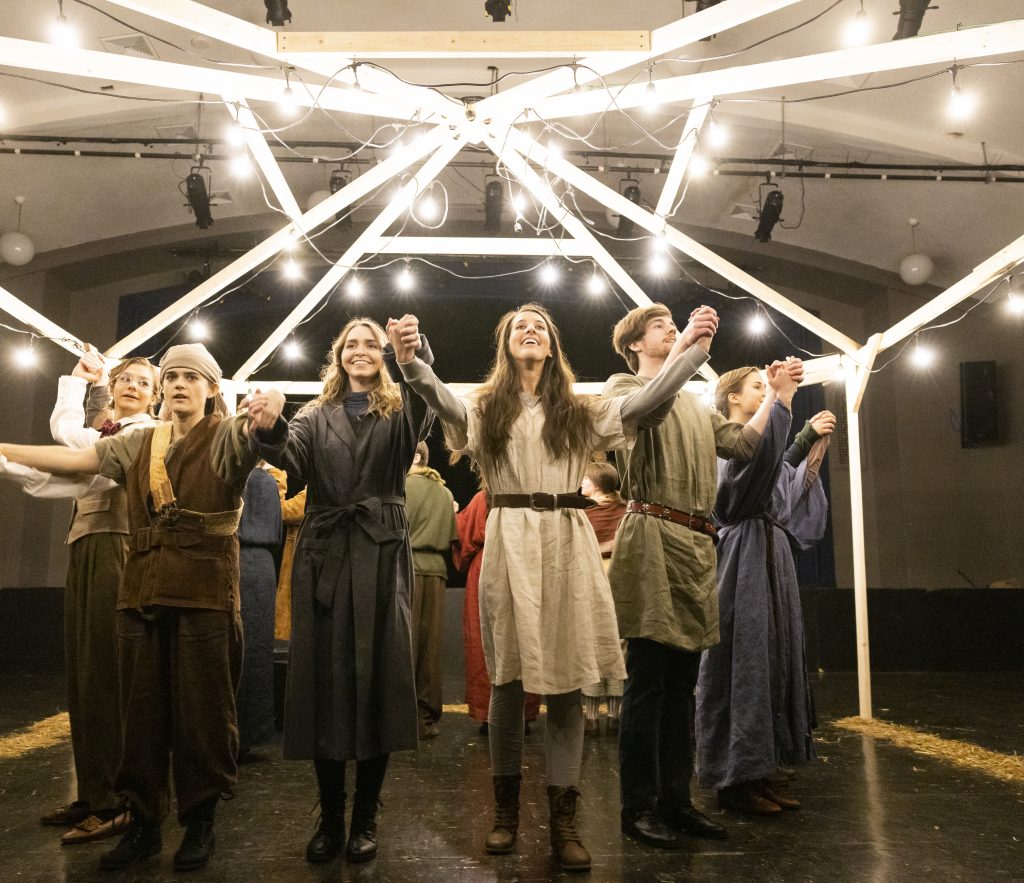 In an emotional performance on the life, legacy, and trial of Joan of Arc, Southern Virginia University Theatre provided their audience with a unique and immersive experience of George Bernard Shaw's, "Saint Joan," in honor of the hundred-year anniversary of the play on April 14-15 and 21-22.
"I've always loved this play, and it only came into the public domain in the last few years," said Associate Professor of Theatre Amaree Cluff, who directed the play. "It's about these incredible miracles that happen because of her faith, her courage, and the way she inspired the people around her."
"Shaw wanted to explore in this play how the people putting Joan on trial weren't evil," Cluff continued. "They were ordinary people who had their own pressures and perspectives on what they believed was a serious issue that needed to be resolved in order to save her soul."
"Saint Joan" was performed on the floor of the Performing Arts Center as a theatre-in-the-round, a form of theatrical staging in which the acting area is completely surrounded by the audience to increase rapport with the actors. Throughout the performance—especially during the trial scene—cast members sat among and interacted with the surrounding audience who were a mere two feet from the stage.
"It was so incredible to play in the round," said Natalie Dixon ('24), who played Saint Joan. "Having the audience so close to the stage, it felt like they were the spectators in Joan's trial, and we were able to really share with them this experience and how she was feeling and thinking. It was really rewarding."
Characterized as "a tragedy without villains" by English biographer Michael Holroyd, "Saint Joan" premiered in 1923, three years after Joan's canonization by the Roman Catholic Church. Telling Joan's story of a farm girl rising to save her nation, Shaw explored the motives of the people involved in her trial and his belief that her accusers acted according to what they believed was right.
Professor Cluff served as the director and costume designer, with Kinsey Cluff as assistant director and sound designer, Martha Zimmerman as the stage manager, Anna Dryden as assistant stage manager, and Preston Rodriguez as the set designer.
With 15 student actors, the cast was as follows:
Joan the Maid: Natalie Dixon ('24)
Dauphin, Charles VII: Brianna Gonzales ('24)
Jean Dunois: Gavin Dransfield ('23)
Sir Robert de Baudricourt/Joan de Stogumber: Kaia Hoyt ('25)
Bertrand de Poulengey/The Executioner: Jessica Fink ('25)
La Trémouille/The Inquisitor: Adell Wilson ('26)
The Archbishop of Rheims: Colton Sorensen ('25)
Gilles de Rais/Epilogue Gentleman: Emmaline Merrill ('24)
Captain La Hire/Thomas de Courcelles/Soldier: Talia Merrill ('25)
Earl of Warwick: Reagan Ford ('26)
Pierre Cauchon: Liv Offen ('25)
Steward to Robert de Baudricourt: Simone Weierholt ('25)
Page to the Dauphin/John d'Estivet: Gabrielle Atwood ('25)
Page of the Earl of Warwick: Jay Schwartz ('23)
Page to Dunois/Martin Ladvenu: Meg Huber ('23)