Speeches
A Life of Faith and Love with Acting President Eric and Lyn Denna
On Feb. 10, the campus community gathered for University forum in the Knight Arena to hear Acting President Eric Denna and his wife, Lyn, share their love story and how they relied on each other and the Lord throughout their lives and marriage during the ups and downs of life.
"One of the glorious truths about The Church of Jesus Christ of Latter-day Saints is that we come to this earth to be tested and tried. We call it The Plan of Happiness," said Lyn. "Equally though, our prophet has taught us that while we should expect hard times, we should also expect miracles. Even the smallest of miracles can make big changes."
Sharing personal experiences, the Dennas spoke of their love story, describing how they met on their missions in Spain and married shortly after returning home, and how they learned to lean on each other and let the Lord prevail in their lives when facing financial and medical trials.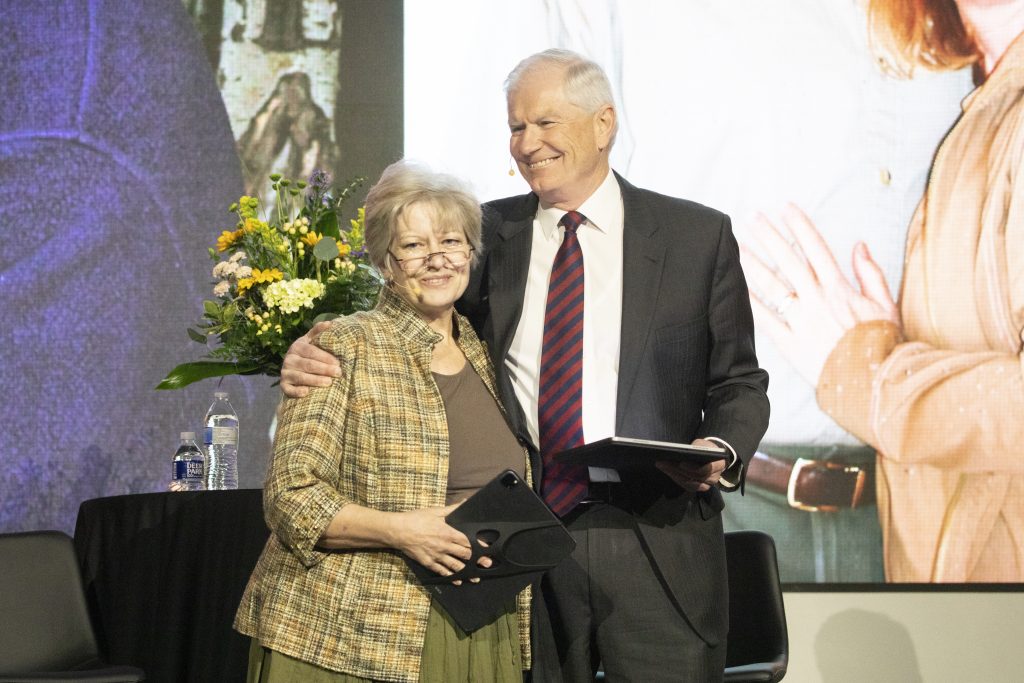 "We let God prevail in our lives when we act upon a prompting, even when it doesn't make sense," said Lyn. "We let God prevail when we chose to honor the Sabbath. God's influence is allowed to prevail when we attempt to pray, even when we don't feel like praying. It is in these sacred moments when we see pieces of heaven here on earth."
Reflecting on when they were both students in college and struggling to make ends meet, Acting President Denna shared an experience where he went to the mountains to think and pray on what to do, and had the impression to continue to pay tithing and to begin paying fast offerings.
"I managed the books and paid the bills, and this plan didn't seem like a smart one," said Lyn. "To be honest, it felt rather foolhardy and scary. But we had made covenants with each other and with God, so I got out the checkbook and we began paying a fast offering."
"Since we started paying fast offerings, the Lord has always come through," continued Acting President Denna. "While we've never been wealthy, we've always had enough for our needs."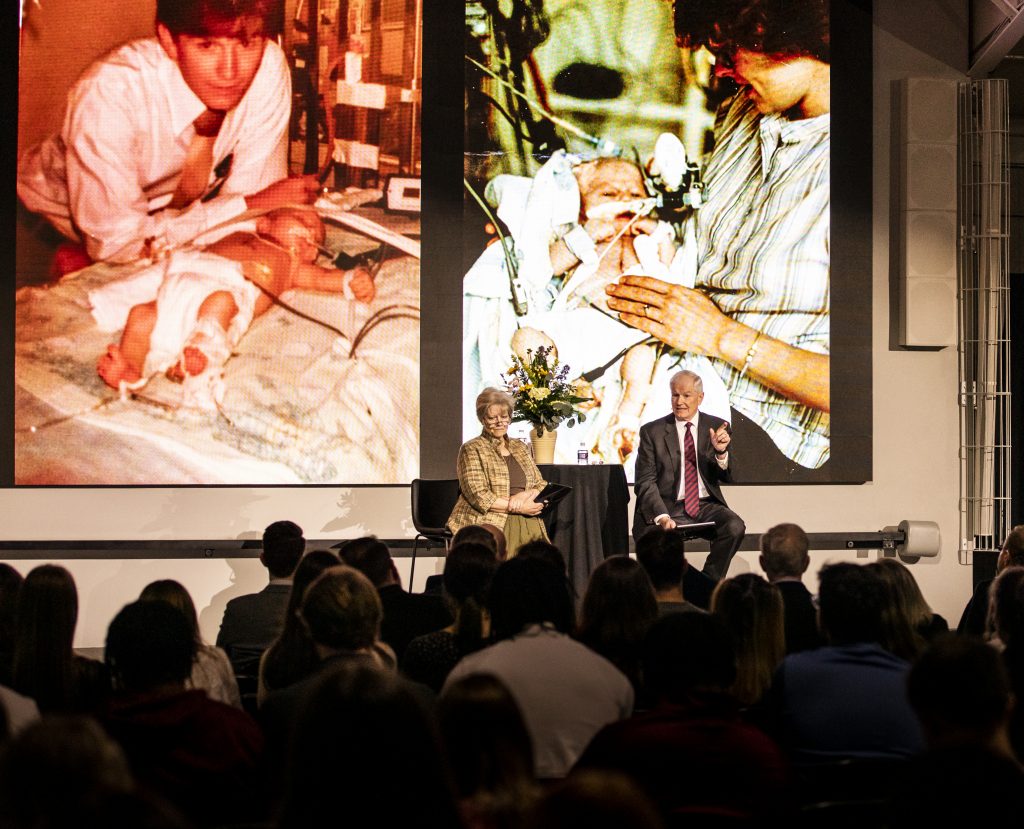 Shortly after the birth of their son, the Dennas learned he had a serious heart condition, and wondered how they would provide for their family as students in addition to the medical bills. Unsure of what to do, they turned to the Lord and expressed gratitude for their son and their blessings.
"In the Bible Dictionary it says that as soon as we learn what the true relationship is in which we stand toward God, namely that God is our father and we are his children, then at once prayer becomes natural and instinctive for us," said Lyn.
"With yearning hearts, we called upon our Father in Heaven, and it felt natural," continued Lyn. "Eric thanked God for this little baby, he thanked Him for trusting us with his earthly journey, and he thanked Him for all that we would learn and become as we journeyed this life's path together."
The event featured a musical performance from the Chamber Singers, "Sing Praise to God," and Provost Dr. James Lambert announced an exciting opportunity for students to attend the Richmond Temple Open House on March 17 before its official opening on March 21. Additionally, Provost Lambert announced the remaining University Forums for the semester.
Feb. 24: Matthew Wickman | The Spiritual Life of an Academic
March 3: Chad Webb | TBA
March 10: Melissa Inouye | The Church as a Vehicle for Peace on and with the Earth
April 7: Tim Clark | 4 Stages of Psychological Safety
April 21: Richard Turley | TBA
April 28: Graduation Awards & Valedictorian Speech