News Release
"You Belong Here," Launching the 2022-23 Academic Year with University Convocation
In the first University-wide meeting of the semester, the Southern Virginia University campus community gathered on the front lawn of Main Hall for the annual Convocation to welcome incoming students, celebrate the beginning of the 2022-23 academic year, and listen to messages about belonging and loving one another.
"We, in a word, love," said Chief Academic Officer and Provost Dr. James Lambert, "We Love One Another. No matter what they believe or where they came from, we love them. And not only do we love one another, we are kind and generous towards those we love."
In his address, Lambert spoke on the importance of a college education, sharing that while at times it may be a trial, a college education provides the ability to have successful, healthy, and balanced lives, as it increases understanding, knowledge, and the joy of learning and love for others.
"As a student here, you are a Knight. As faculty and staff, we are also Knights," said Lambert. "We are faithful to our cause, whether that cause be the content of our classes or the content of our hearts. But we are mostly faithful to the idea that God loves us and wants us to be happy. Our courses, curriculum, and interactions are built to reinforce that cause. When you step foot on this campus and in the Institute building, you become a Knight and get a seat at our roundtable."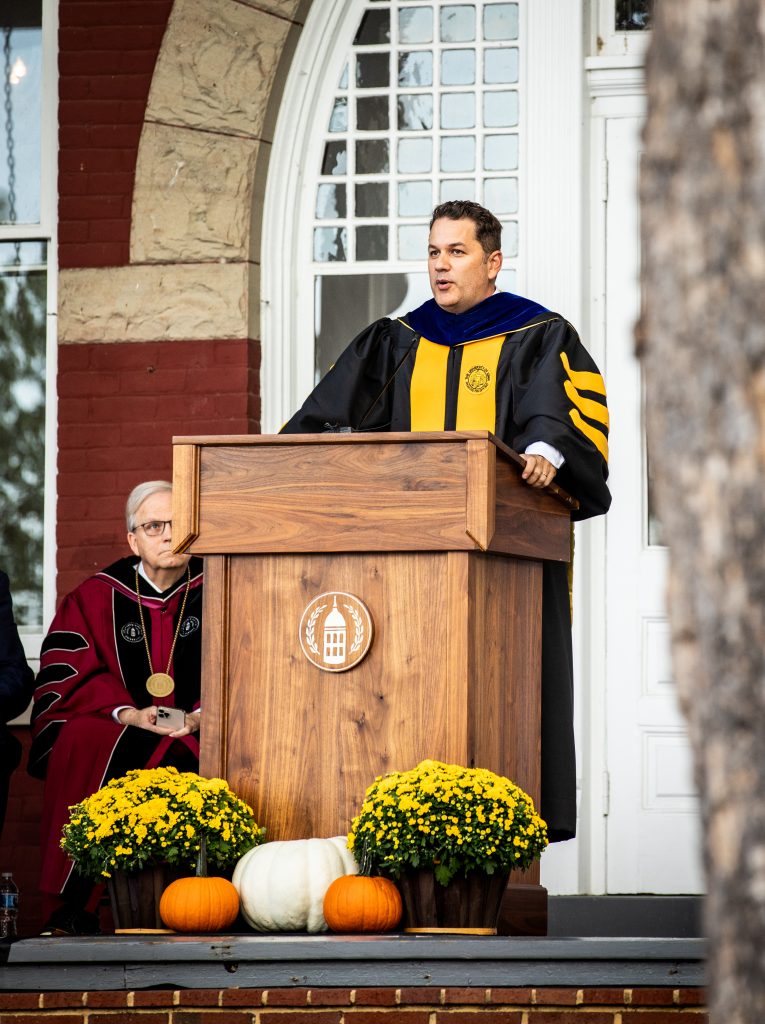 Speaking on the importance of spiritual fitness, President Reed N. Wilcox invited every student to enroll and participate in an institute class. Using a metaphor from his pharmaceutical background, President Wilcox compared Institute to a prescription.
"It's a prescription for light, love, and happiness," said President Wilcox. "Find a class you can belong to at Institute. I would like to ask everybody, all of us here, to make a commitment right now to find a place in Institute."
In addition to Provost Lambert and President Wilcox, SVSA President Brinley Pulsipher ('23) shared her experiences as a student that have helped her grow and succeed. Reflecting on the spirit on campus, Pulsipher encouraged the student body to cultivate a feeling of love and understanding with each other and continue to create an uplifting and loving school culture, reiterating a University maxim, "You Belong Here."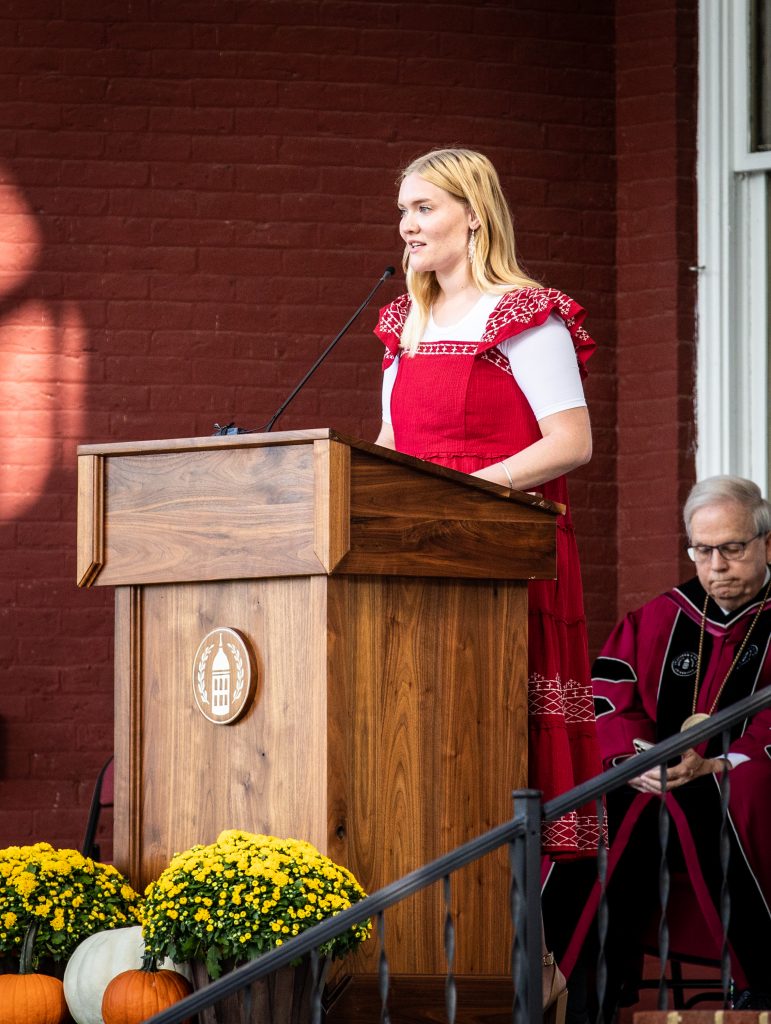 "Regardless of your beliefs, your ideas, your experiences, your culture, or academic standing, there is a place for you at Southern Virginia University to grow, to learn, and to become better," said Pulsipher. "This year has incredible things in store. I hope that we can all become friends with each other and that we can become better together. What a privilege it is to be a student here at Southern Virginia University."
At the conclusion of the event, President Darin Palmer, the newly called president of the Buena Vista Young Single Adult Stake, closed the meeting by offering a blessing over campus. In his prayer, Palmer expressed gratitude for the continued growth of the University and asked for a blessing of strength, understanding, and happiness in the campus community, and for health, belonging, and spiritual guidance to be prominent throughout the academic year.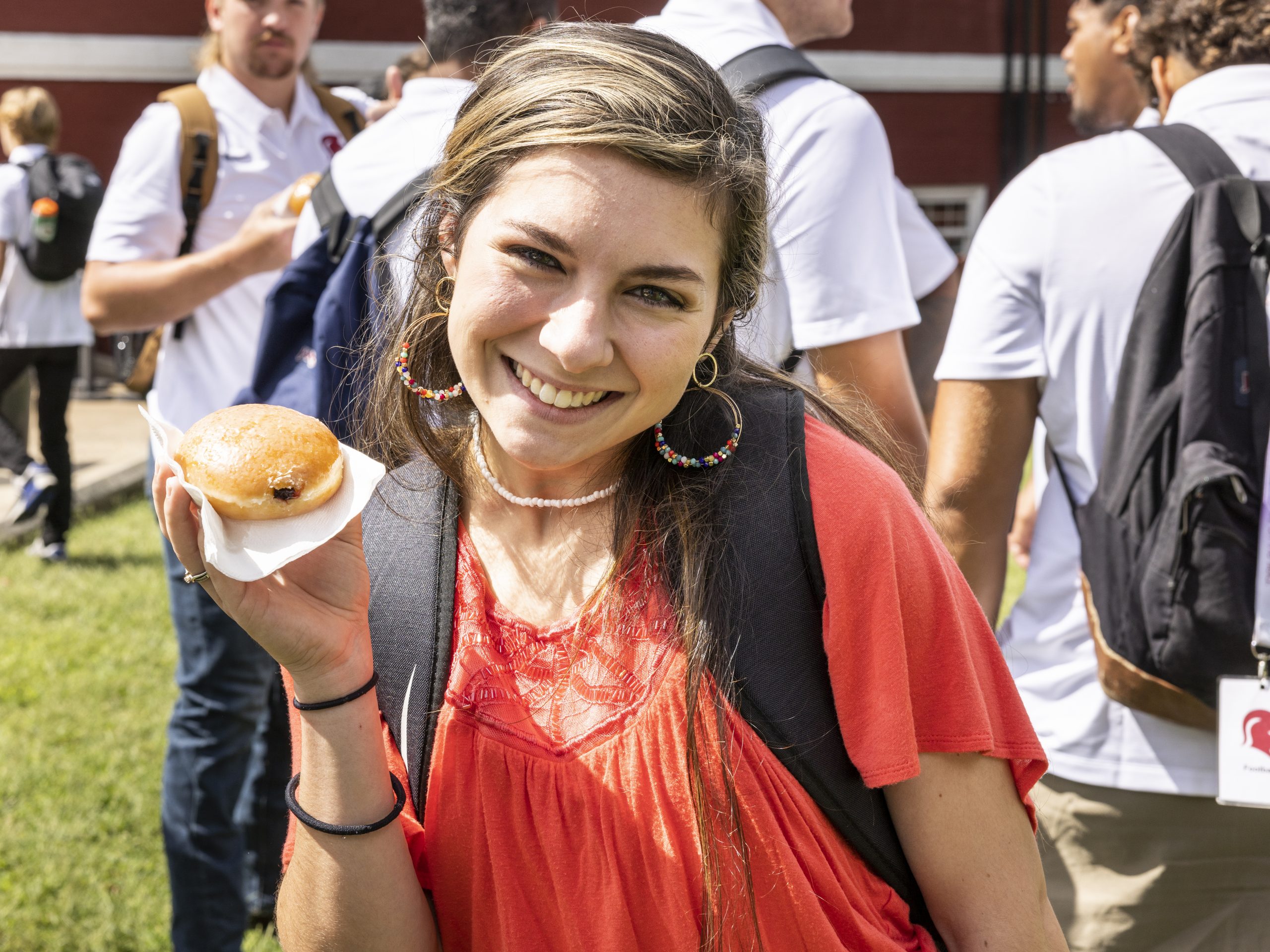 At the open and close of the meeting, the faculty processed in their academic regalia to mark the beginning of the 2022-23 academic year. The meeting also featured a performance of Erik Esenvalds' "Salutation" by the Chamber Singers, led by Director of Choral Activities Kyle Nielson. At the close of the meeting, the campus community enjoyed 2,000 Krispy Kreme donuts served by Student Life.