News Release
Three Sets of Newlywed Students Shine in Musical "Bright Star"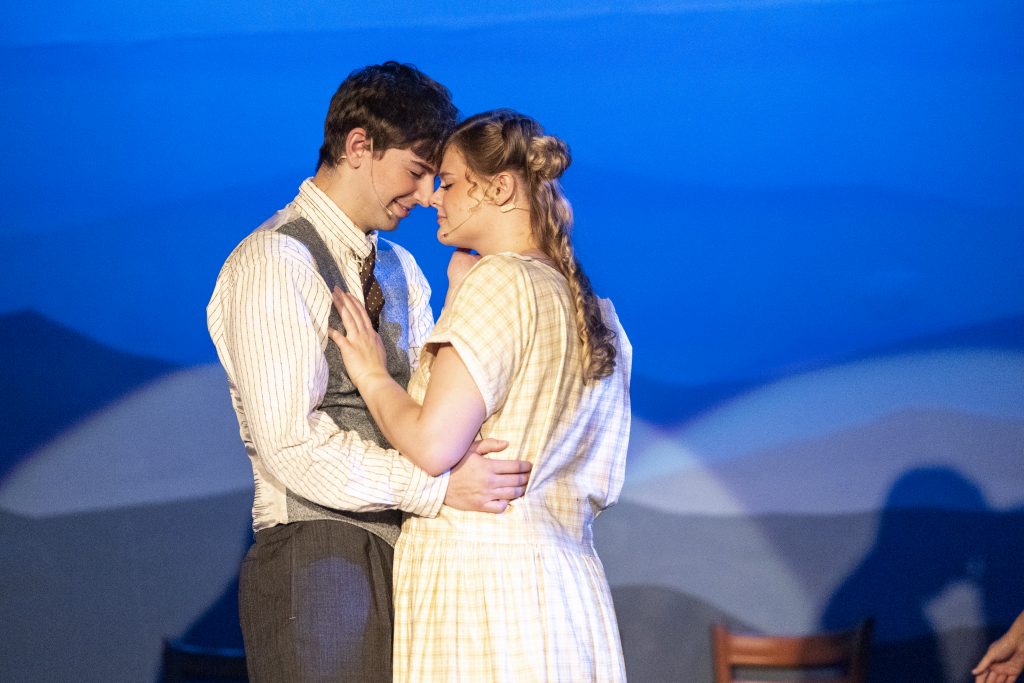 In a familiar Blue Ridge mountain setting, Southern Virginia University's fall musical "Bright Star" warmed the hearts of the campus and surrounding community with live bluegrass music and natural on-stage chemistry from newlywed student couples. The house was sold out every night.
Each of the three sets of newlyweds brought playful and charming moments to the musical's themes of love, hope, and forgiveness. Gracyn Darrington, who played the female lead Alice Murphy, and Aiden Darrington, who played opposite of her as Murphy's first love Jimmy Ray Dobbs, first met during the 2018 theatre production, Scrooge!
"We got married in August of this year and are thrilled to be in the show together," said Gracyn Darrington ('23). "Doing this show with Aiden is a real full circle moment for me. It makes every night easier to know that I get to share the stage with him."
"There's no one else I would perform with," said Aiden Darrington ('25). "Gracyn is electric on stage and she always has been. Playing opposite her is a humbling experience and something I wouldn't have dreamed of. I'm just a lucky guy."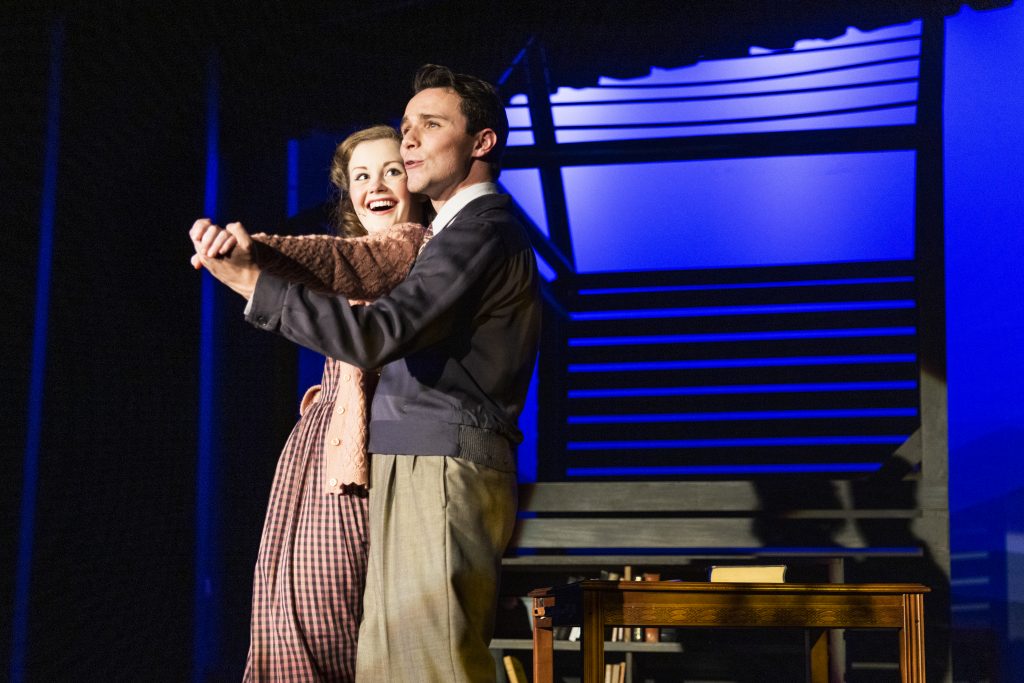 Jared Mattson, who played the male lead Billy Cane, and Gracious Mattson, who played Cane's sweetheart Margo Crawford, were also recently married in June and brought the sweetness and struggles of new love to life on the stage.
"Performing opposite of each other has been a dream since forever," said Gracious Mattson ('23). "I'm so grateful to do my favorite thing with my favorite person, and to sing about loving him, and just loving him in front of the entire world!"
"The character of Billy goes on a life-altering journey throughout the course of the show," said Jared Mattson ('24). "This could have been really difficult, but instead, I had the greatest scene partner to work off of, and because Gracious is a genius at what she does; she really helped find that character journey. There's just nothing in the world that compares to singing to your best friend!"
Approaching their first wedding anniversary this December, Ezekiel Gonzales, who played Daddy Cane, and Brianna Gonzales, a member of the ensemble, also sang and danced with each other in many of the scenes as ensemble members.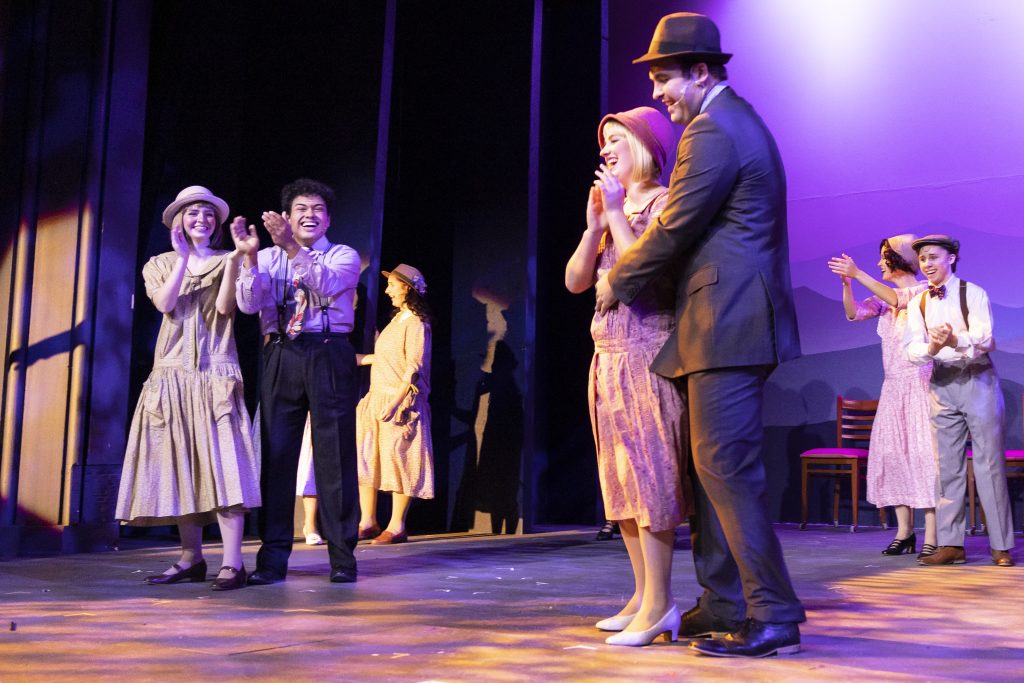 A sold out house for all five performances, ushers added extra seats the last weekend of the production to accommodate for the overflow of attendees. With "Bright Star" set in North Carolina, the set featured a backdrop of the Blue Ridge mountains painted by crewmembers.
The live bluegrass music was provided by members of the local and campus community, including Professor of English Scott Dransfield playing the bass. All of the musicians were invited to participate by Patrick Summers ('15), who directed the music.
"I've played with Patrick before, so when he invited me to play I jumped at it because I love playing musicals," said Dransfield. "There was such a great balance of the blue grassy flair in this play, and the band just came together. My favorite song was 'Pour Me Another Round' because I could just have fun with it and improvise. It was a blast to be a part of."
Inspired by the true story of the Iron Mountain Baby, "Bright Star" unfolds during the 1920s and 1940s in North Carolina, following the stories of Billy Cane, Alice Murphy, and Jimmy Ray Dobbs. As their stories unfold, a mysterious and life-changing connection is revealed between them. "Bright Star," which was created by by Steve Martin and Edie Brickell later won the 2016 Outer Critics Circle Awards for Best Musical and Best Score and the Drama Desk Award for Outstanding Music.
Southern Virginia University's theatre program performed "Bright Star" on Nov 4-5, 10-12 in the Performing Arts Center, with Professor of Theatre Robert Stoddard directing the play, Assistant Professor of Theatre Amaree Cluff designing the costumes, and Preston Rodriguez ('22) designing the set. Jessie Jolley directed the choreographer, and Matthew Georgeson served as the light designer.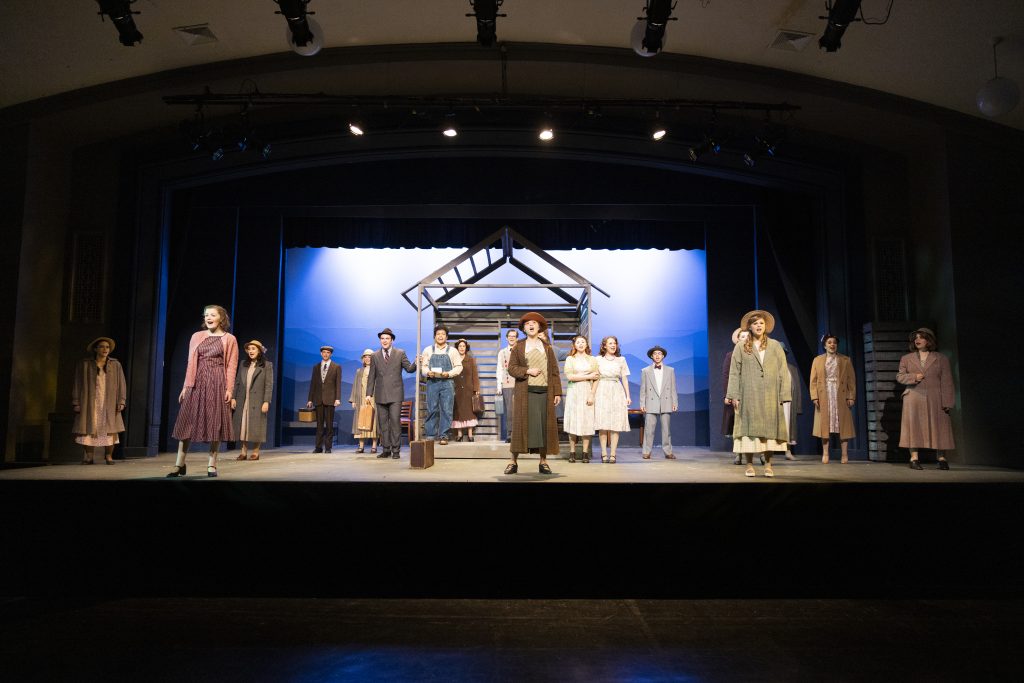 With almost 30 students as actors and ensemble, they are as follows:
Cast:
Alice Murphy: Gracyn Darrington ('23)
Billy Cane: Jared Mattson ('24)
Jimmy Ray Dobbs: Aiden Darrington ('25)
Margo Crawford: Gracious Mattson ('23)/Emily Hall ('26)*
Major Dobbs/Ensemble: Colton Sorensen ('25)
Mama Murphy/Ensemble: Ella Foutz ('24)
Stanford Adams/Ensemble: Tyson Bench ('26)
Daddy Cane/Ensemble: Ezekiel Gonzales ('26)
Dr. Norquist/Ensemble: Braden Spurlock ('23)
Daddy Murphy/Daryl Ames: Jordan Bennion ('25)
Lucy Grant/Ensemble: Gabrielle Atwood ('25)
Max/Ensemble: Kendall Oswald ('24)
Florence/Ensemble: Evelyn Melville ('25)
Edna/Ensemble: Rhys McRoberts ('23)
Clerk/Ensemble: Adell Wilson ('26)
Peggy Dobbs/Ensemble: Meg Huber ('23)
Ensemble: Isabel Bramhall ('23)
Ensemble: Lily Calderwood ('25)
Ensemble: Jessica Fink ('25)
Ensemble: Brianna Gonzales ('24)
Ensemble: Kaia Hoyt ('25)
Ensemble: Talia Merrill ('25)
Ensemble: Naomi Pack ('25)
Ensemble: Makenzie Wood ('24)
*performed as announced