News Release
Southern Virginia University Announces New Food Partnership with Sodexo
In a Special University Meeting, Executive Vice President and Chief Development Officer Brett Garcia announced Southern Virginia University's partnership with Sodexo—a leading worldwide food-services and facilities-management company.
An international Fortune 500 company, Sodexo is based in France with U.S. headquarters in Gaithersburg, Maryland, and provides dining services for some of the world's leading companies including Google, the U.S. Marine Corps, U.S. House of Representatives, LinkedIn, and Delta. Sodexo's exemplary services can be found in over 500 universities in North America, including Liberty University, Emory & Henry College, and San Francisco State University.
"Food service is an important part of the University experience," said Garcia. "We at Southern Virginia University have felt for a while that it's time to bring on a world-class partner to provide world-class food for our campus community. Our partnership with Sodexo should level up our food game for everyone."
According to Garcia, Sodexo plans to invest a significant amount towards the renovation of the University's dining facilities. Additionally, the partnership will bring major improvements to the student dining experience, including new options for meal plans, a larger variety of food selections, a mobile app, a robust student internship and career track program, and a regional dietitian who will consult with students and help form nutrition plans.
"This is going to be fantastic for our students," said Vice President of Operations Chris Packer, who led the efforts in securing the Sodexo partnership. "I'm excited for students to have a great, professional company that's going to come in and really revitalize and change how we do food service. It will let Southern Virginia University focus on what we do best—educating students—while Sodexo focuses on the dining experience."
A national search is currently underway for a Director of Dining Operations and Executive Chef to oversee these new changes. Renovations will begin May 16 and be completed by the Fall 2022 semester, with all dining spaces receiving upgrades to the kitchens and seating areas.
"We're focusing on creating gathering spaces for students," said Packer. "Places where they can get together and be together, which I think has been really missed by everyone during the COVID-19 pandemic."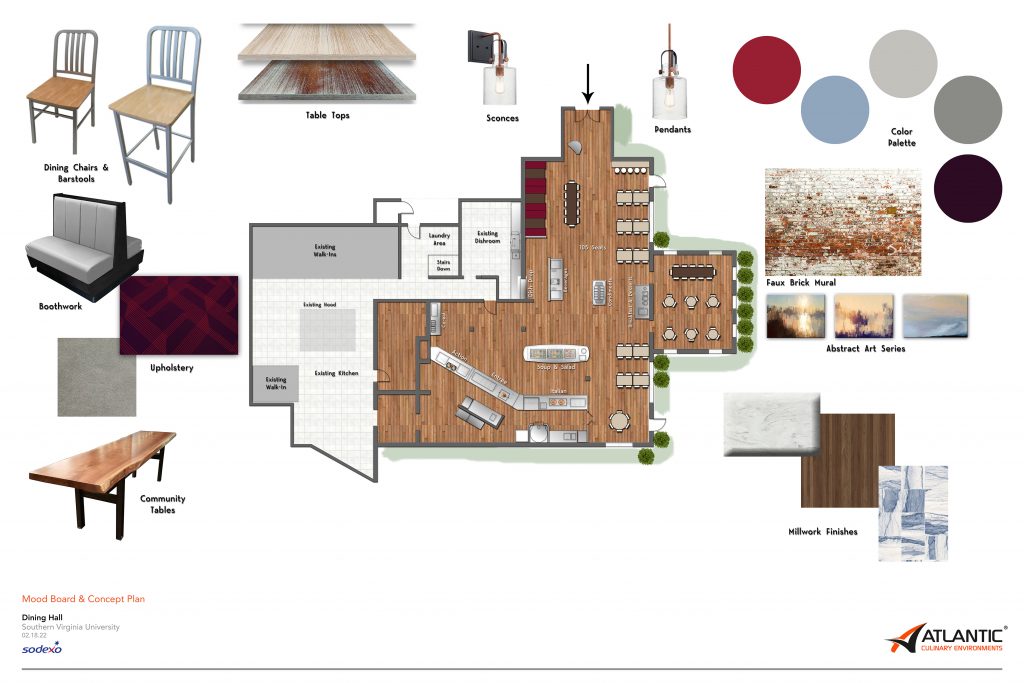 The Food Court will be renamed as Knight Dining Hall and will transform into a self-serve and buffet-style dining space, where students will swipe their ID cards at the entrance for all-access meals with their University meal plan. In addition to upgraded seating, Sodexo will also install a pizza oven and a waffle bar in the space.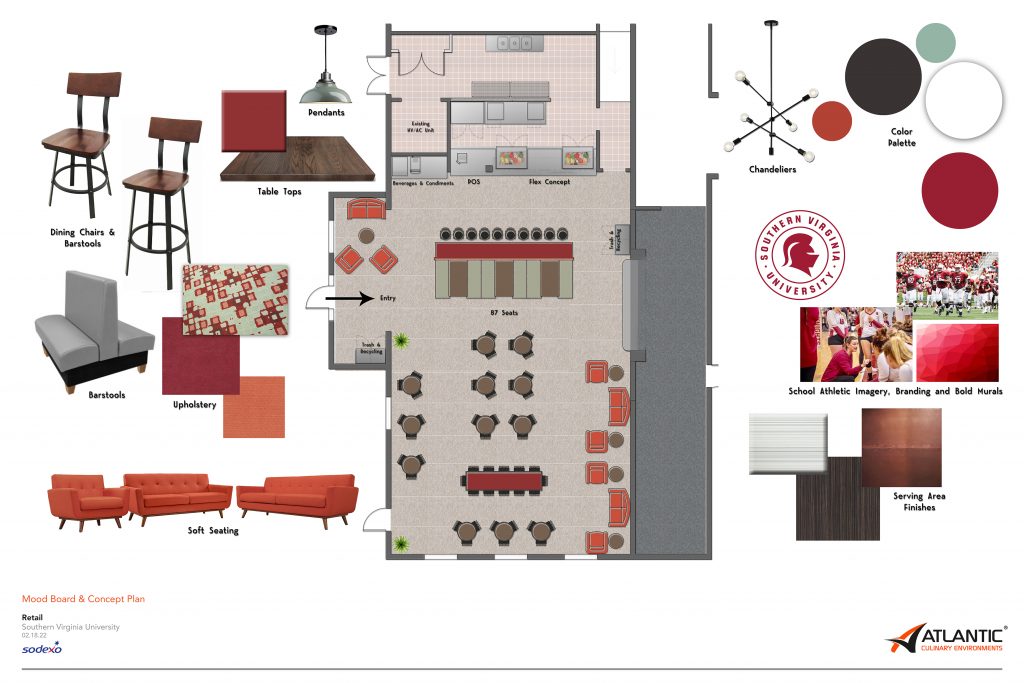 The Garden Place will be renamed The Round Table, and will serve soups and sandwiches on fresh bread baked in-house. The space will be reconfigured to encourage gathering, with round tables, booths, and soft seating added and extended evening hours.
Students will have the option to exchange one meal swipe per day for a combo meal at The Round Table. Those with dining dollars will be able to purchase meals at any of the dining facilities. Details regarding meal plans may be found on the Tuition & Payments page on the svu.edu.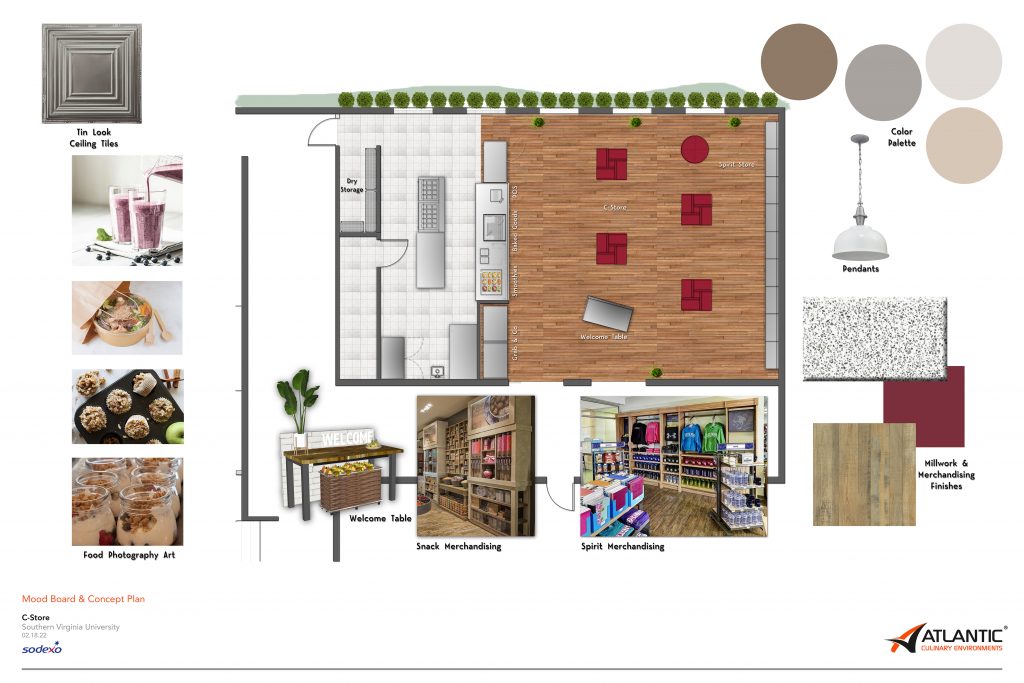 The Hilltop Market will continue to offer grab-and-go food options, in addition to smoothies and milkshakes. The seating in the market will be replaced with carousels of merchandise to provide students with a convenient, on-campus option to purchase basic necessities such as toiletries, medicines, and school supplies.
In addition to regular dining services, Sodexo will host weekly dining events for students, such as Dueling Dishes, Kitchen Academy, and pop-up tastings. A Regional Registered Dietitian will be available for individual appointments and will work specially with the University's athletics teams. Nutritional information for menu items will be provided on a customized website with an accompanying app to support healthy eating and dietary concerns. The app will also provide real-time dining schedules and online ordering.
Headquartered in the Paris suburb of Issy-les-Moulineaux and located in 56 countries with over 400,000 employees, Sodexo was founded in Marseille, France, in 1966 by Pierre Bellon.