News Release
Scott McKeon ('01) Named Inaugural Alumni Association President
Southern Virginia University is pleased to announce Scott McKeon ('01) as the inaugural president of the University's recently launched alumni association. After being nominated by multiple alumni, McKeon was appointed to this role by the Executive Committee of the University's Board of Trustees, which is led by Chairman Hugh Redd.
"I'm thrilled and honored to serve as alumni president to help launch the official alumni association at Southern Virginia University," said McKeon. "I'm excited to play a part in this next phase of growth and progress for the University. It really is a great day to be a Knight."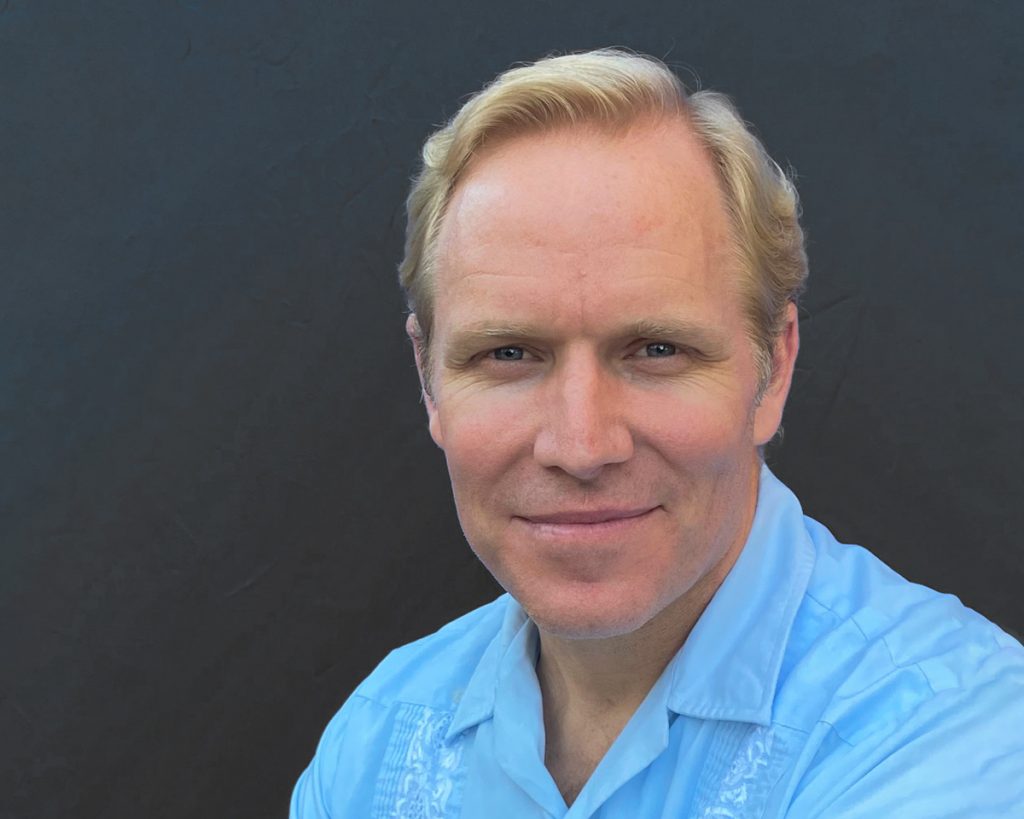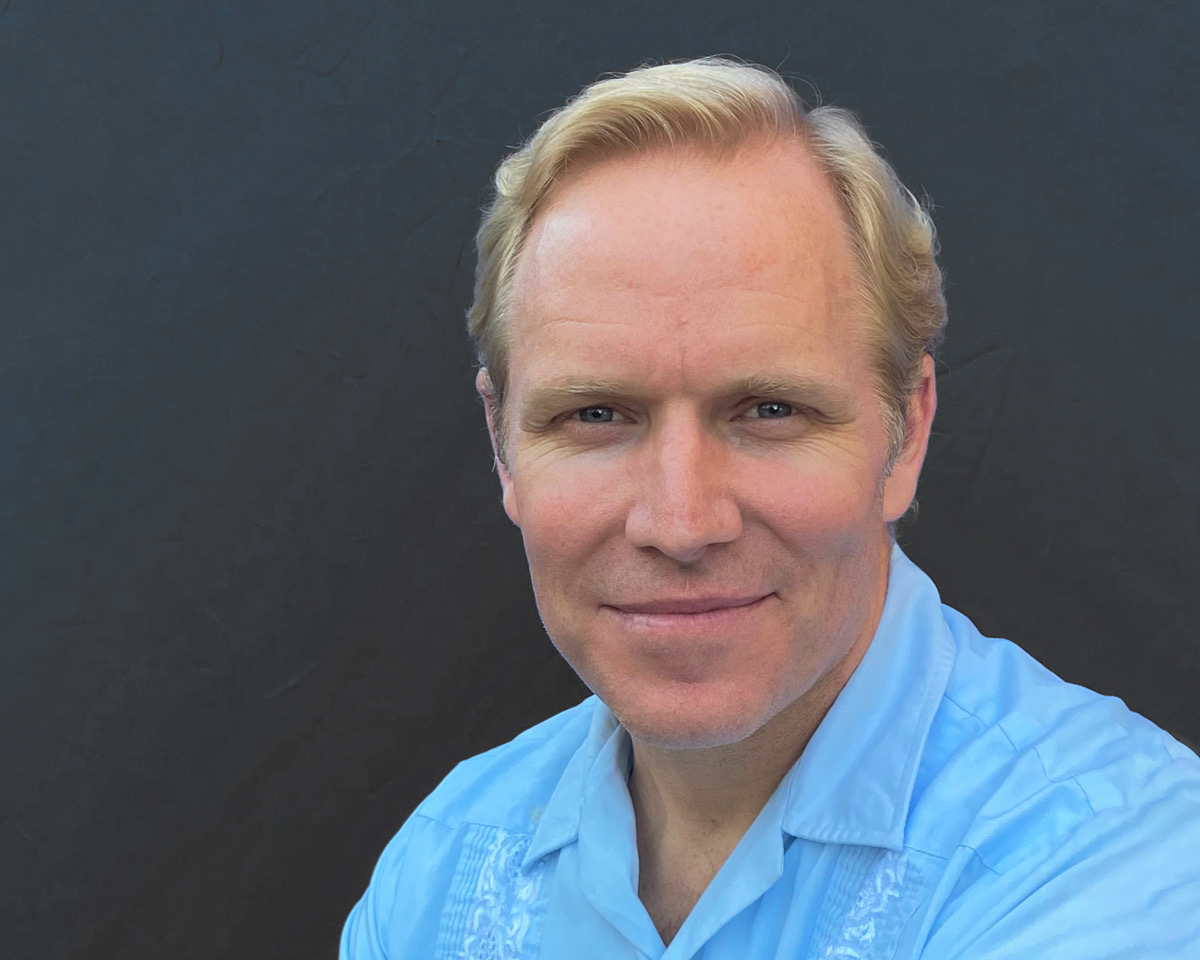 As a student at Southern Virginia University, McKeon majored in liberal arts and competed on the Knights baseball team. He was also elected by his fellow students to serve as Student Body President during the 1999-2000 academic year. McKeon and his wife, alumna Rachel [Salmon] McKeon, also met while they were both attending Southern Virginia University.
"Attending in those early years at times felt like a calling more than a mere choice or coincidence—as if the university was 'choosing us," continued McKeon. "I want to bring that same pioneering spirit and enthusiasm to this role, and help our alumni channel their passion and love for our beloved alma mater."
Since graduating from Southern Virginia University, McKeon has enjoyed notable career success. He is currently the Chief Growth Officer at iPayables—a leading provider of enterprise-grade accounts payable automation solutions—where he is responsible for driving revenue growth for the organization.
Prior to joining iPayables, McKeon served as the Vice President of Business Operations for Spireon where he spearheaded more than $200 million in total revenue growth. Before that, he led business operations Shea Properties where he managed an apartment portfolio valued at more than $800 million.
McKeon began his professional career with Apple REIT Hospitality in Richmond, VA, where he helped manage the acquisition of more than 40 hotels. After earning his bachelor's degree in liberal arts from Southern Virginia University, he earned a master's degree in business administration and a master's degree in real estate development from the University of Southern California. McKeon also previously served two consecutive terms on Southern Virginia University's Board of Trustees.
"Scott [McKeon] has been a leader at our University since its earliest days," said Executive Vice President and Chief Development Officer Brett Garcia. "He was elected by his peers as student body president and he has served on our Board of Trustees. He also has the perspective of being among the first of our alumni to have a child attend Southern Virginia University."
Scott and Rachel McKeon are the proud parents of four children. Their oldest daughter, Audrey, recently attended Southern Virginia University for three semesters before embarking on a full-time mission for The Church of Jesus Christ of Latter-day Saints. Audrey studied in the liberal arts Core and competed on the Knights women's soccer team.
"Scott is an ideal candidate to serve as the inaugural president of our alumni association," Garcia said. "He is well known for his energy, positivity, and leadership. I am confident our alumni will enjoy working with him to build our alumni association together."
As president of the Association, McKeon, in partnership with the Executive Director of the Alumni Association, Jessi Whipple, will lead an organization modeled after strong alumni associations at other excellent higher education institutions, including Dartmouth College and the University of Michigan.
"We have amazing alumni who are passionate about our university," explained Garcia in last month's announcement about the launch of the alumni association. "Our goal is to build a highly-engaged and mission-aligned association that leverages the energy and passion of our alumni while giving them clear channels for communication and concrete ways to stay involved with their alma mater."
"We have been preparing to launch this new organization for more than two years. In designing it, we worked with our leadership team and our legal counsel to model the organization after those at some of the best schools," explained Whipple. "We have amazing alumni and we want to build an association they will be excited to be a part of."
Southern Virginia University alumni are automatically inducted into the alumni association. Alumni interested in helping to lead or advise their association may do so as an officer on the Executive Committee or as a member of its Advisory Board. Inaugural officers of the Executive Committee and members of the Advisory Board will be selected from a pool of nominees that will be reviewed by a committee led by McKeon and Whipple, and comprised of alumni and University employees.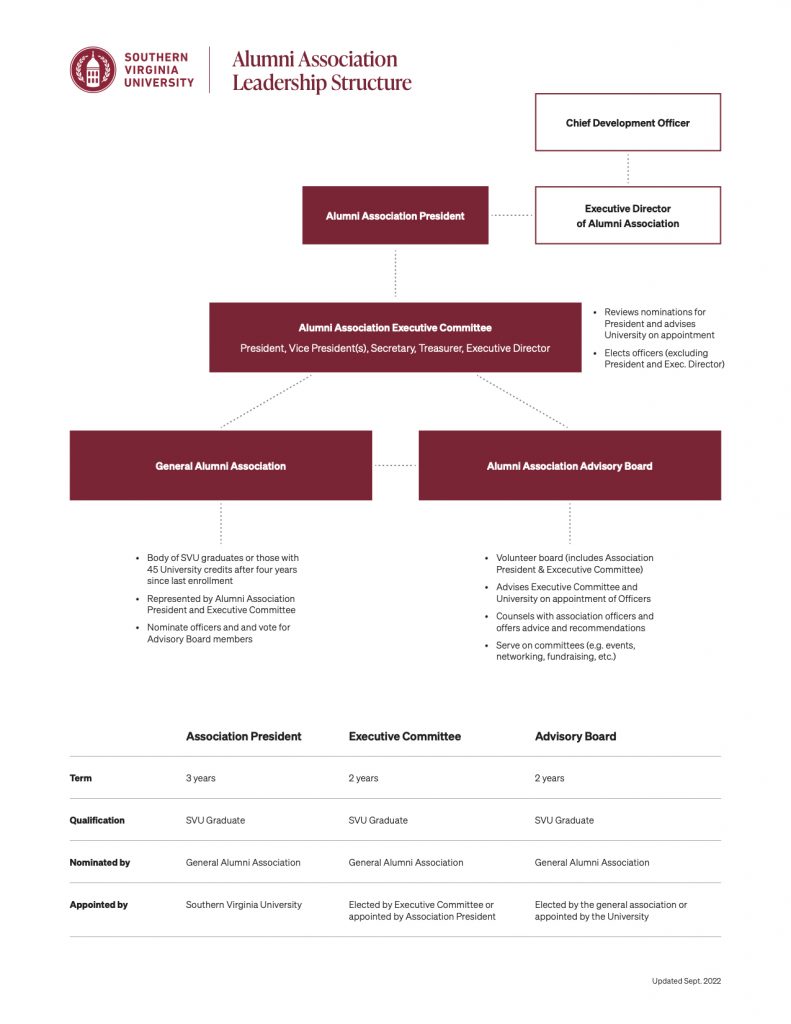 To nominate yourself or another graduate for service as an Executive Committee officer or Advisory Board member, please email nominations by Friday, Sept. 16, to alumni@svu.edu. To receive updates about the alumni association, please complete our Alumni Update Form.
"I can't wait to serve my fellow Knights as president of the Knight Alumni Association," said McKeon. "I'm sure that together, as alumni, we can be a force for good and build up a meaningful alumni association that supports the University, its Mission, and its strategic objectives."