News Release
Over 100 Alumni Sing with University Ensembles in Historic Homecoming Concert
For the first time in Southern Virginia University history, choral alumni united with current ensembles for a historic Homecoming performance, "I Long to See You: A Jubilee Choral Concert" on Oct. 14 in the Knight Arena. Joining more than 100 choral alumni, former principal choral ensemble conductors Keith Bradshaw, LaRae Carter, Margaret Gingerich Toney, and Nate Pence returned to campus as guest conductors to lead 27 years of Knights in song.
"Those relationships we developed in those early years really are enduring, even though I haven't seen many of my students for 16 years," said Dr. Keith Bradshaw, founder of the Southern Virginia University music program. "I still feel that connection with my students, and I had been really looking forward to seeing them all again."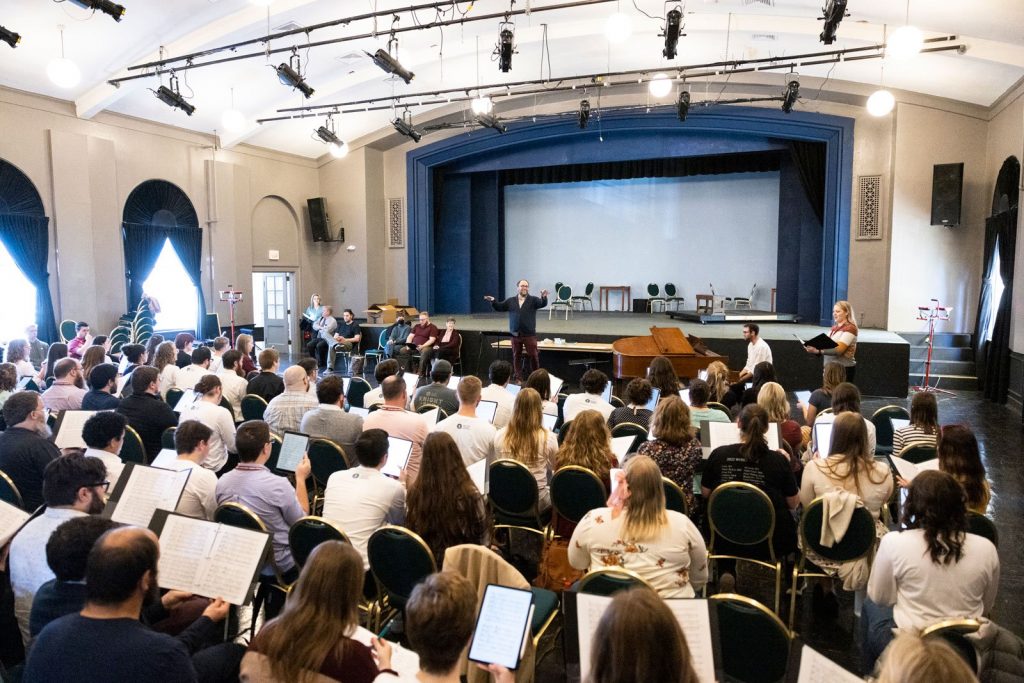 As preparation for the concert, alumni participated in morning and afternoon rehearsals that Friday alongside Men's Chorus, Bella Voce, and Chamber Singers in the Performing Arts Center and in the Kimball Student Center—two historic locations of choir rehearsals and performances since the program's inception.
"I was so excited to be part of the choir again," said Mallory Coffman ('11). "I was a music major, and the programs helped make me unafraid to sing whenever and wherever."
As they gathered for rehearsals, the alumni buzzed with excitement as they caught up with peers and former conductors before falling back into familiar choir practice routines.
"What I have always loved about choir is just that feeling of community and having our hearts together in music and being able to express love in that way," said Carolena Graves ('07).
As former conductors of Concert Choral, Dr. Keith Bradshaw (1998-06) and Dr. LaRae Carter (2004-17) led pieces sung by the Chamber Singers alongside current conductor Dr. Kyle Nielsen. Former Bella Voce Conductors Margaret Gingerich Toney (2000-10) and Nate Pence (2010-12) led Bella Voce alongside current conductor Dr. Mackenzie Romriell. Additionally, founding and current director of Men's Chorus Eric Hanson led his ensemble in the concert.
"There's never been a time in my life that music hasn't been a part of some of the greatest spiritual experiences I've had. And I think that's one of the great blessings of choir at Southern Virginia," said LaRae Carter, who led the vocal program for almost 20 years after Bradshaw. "And I think that was one of the reasons that the music program grew so fast here because it was a place students could show their talents and express themselves and also feel the spirit."
At the end of the concert, over 200 current and alumni choral singers gathered on the stage to sing the American folk song "Shenandoah,"—the first piece performed by the Chamber Singers when it was organized in 1997 and a beloved, longstanding Southern Virginia University tradition—with Nate Pence singing the opening solo. For many of the alumni, this event was the first time they sang "Shenandoah" in over a decade.
"There's nothing like singing Shenandoah," said Kenson Hiatt ('12) "It's fun singing all the other songs, but there's nothing like singing our home song."
Following the concert, the alumni gathered in the newly renovated lobby of Main Hall to share memories, visit with peers and professors, and enjoy refreshments. The organization of the concert was spearheaded by Director of Choral Activities and alumni Kyle Nielsen ('12), who served as a choir intern under Carter.
"It's just so beautiful to see the eras connect and for people to get to know each other and see Dr. Bradshaw and Dr. Carter after all this time, and for the alumni to come and see their friends and to be a part of the community again. This is what it's all about," said Nielsen.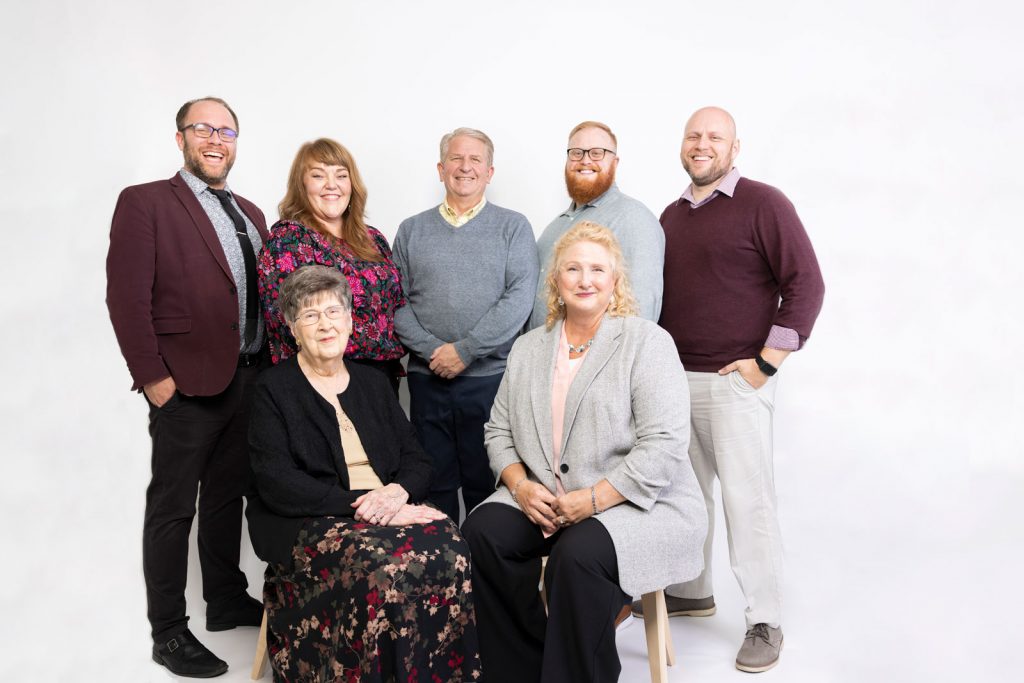 According to Nielsen, the idea for inviting the former principal conductors back to Homecoming came during the COVID-19 pandemic in 2020, when the music program began hosting virtual reunions that several of the previous conductors participated in.
"I think this is the best way to connect generations and help people see that rather than being on the shoulders of giants or building on top of something, it's more building together and linking arms together and doing it with intention and with honor and also with progression," Nielsen added.