News Release
Main Hall Lobby Undergoes Revitalization Thanks to Generous Donations Made During Recent Core of Campus Upgrade Campaign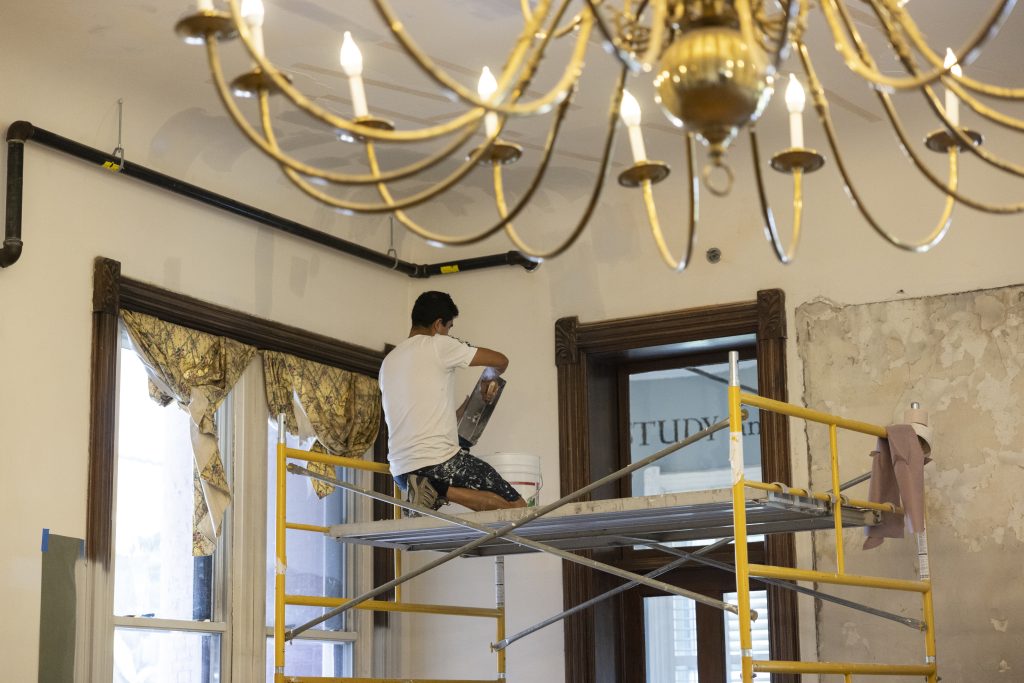 Earlier this week, contractors began work to refresh the lobby of Main Hall as part of the university's ongoing efforts to honor and upgrade the historic building's interior spaces. Funding for this project comes from contributions made during the recent Core of Campus Upgrade Campaign. Thanks to the charitable gifts of many—including current students and alumni—combined with a generous triple-matching pledge from an anonymous donor, the university raised sufficient funds to begin refreshing this central campus welcoming space.
"Main Hall is a special place at the heart of our campus," said President Reed N. Wilcox. "Everyone who visits the iconic building feels its special spirit. We want to honor the history and heritage of Main Hall while preserving and preparing it for future generations of students. We're updating the lobby since its one of the building's most visible areas and often the first space seen by alumni, students, parents, and other friends who visit our beautiful campus."
To help plan, design, and execute this important project, university leaders have partnered for the past several months with Baskervill—a Richmond-based design firm with 125 years of professional experience and expertise specializing in education, workplace, hospitality, and civic and cultural design. Founding chairman Glade Knight recommended and introduced Baskervill to the university earlier this year. Having worked closely with the firm on many successful hospitality and preservation projects, he felt they were perfect for this project.
"The intent of the Main Lobby refresh is to do just that—refresh," said Eline Warren, interior designer and Main Hall project lead at Baskervill. "The finishes, furniture, and fixture selections aim to lighten and brighten the space to create a welcoming environment for students, parents, and visitors while taking special care to maintain and celebrate the historical beauty of the interior architecture."
As part of this project, contractors will work to restore the lobby's original hardwood flooring.
"During the exploration phase of this project, we assessed the original hardwood floors under the lobby's decades-old carpeting," said Vice President of Operations Chris Packer. "Even though some areas were in pretty rough condition, we wanted to try to restore them rather than replace or re-cover them, if possible. We conducted a careful search and found a contractor with the expertise to perform this challenging but worthwhile restoration. We are thrilled about this plan and expect that the final result will be both beautiful and respectful of the building's history."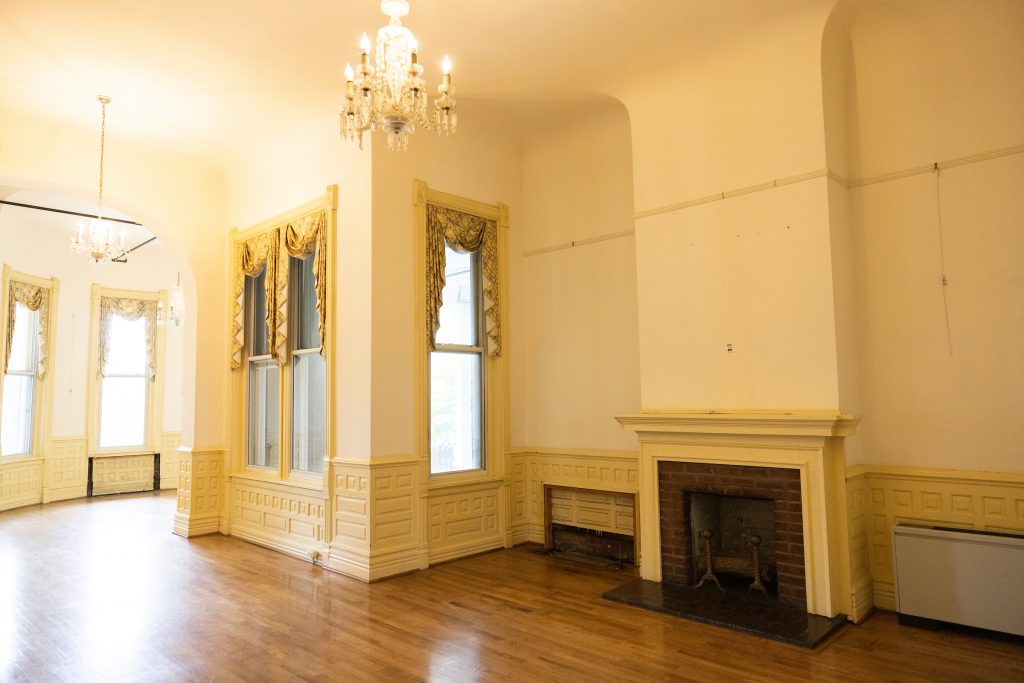 Another discovery made during the evaluation and planning stages was less fortunate. Upon inspection, contractors found that the lobby's central brick fireplace facade was not original to the building. Over the years, the brick and mortar fascia added to the wall at some later point had deteriorated making it structurally unsound and dangerously unstable, which presented a potential safety hazard requiring removal. Removing the unstable brick facade revealed that the original fireplace had been closed off and bricked in years ago.
"We are currently working with Baskervill to address this unexpected finding and develop possible design solutions," said Packer. "We know that many people were fond of the fireplace facade—so we were very sad to learn it had deteriorated beyond repair. But we were sure to preserve the mantle and we are considering several options for potentially repurposing it."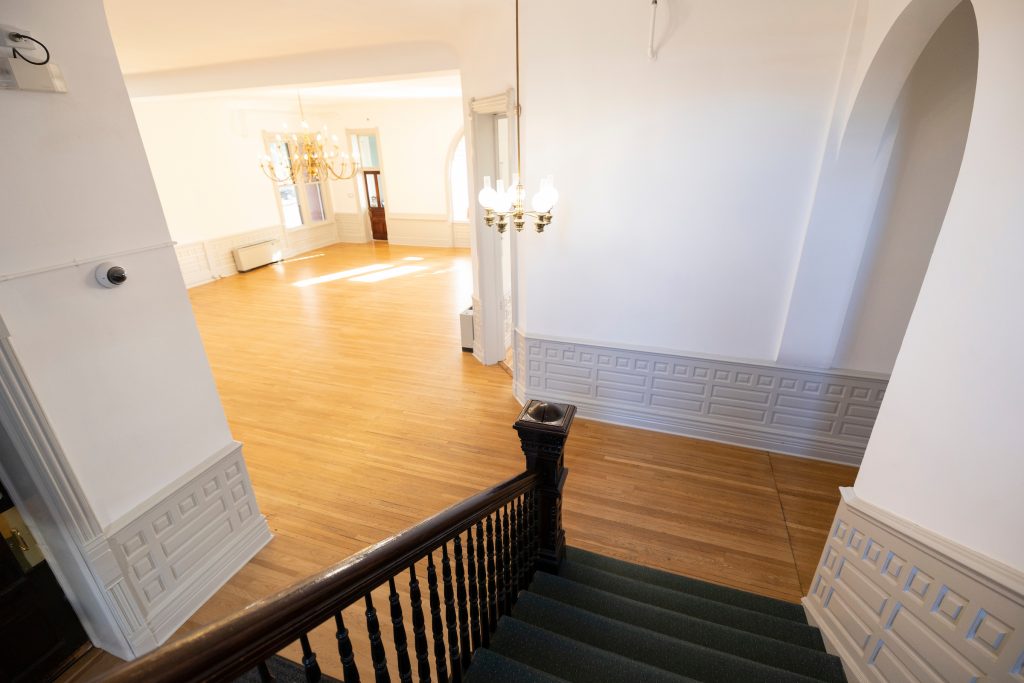 Other revitalization efforts include protecting the wainscoting and trim throughout the lobby with moisture-impervious paint to preserve and more clearly reveal the 100-year-old intricacy and detail of the original millwork. To complete this portion of the project, the university contracted Lexington-based Southpaw Painting LLC.
"A century of adding layers of stain had darkened the wood and made it impossible to resurface uniformly enough to properly accept new stain," said Packer. "Based on the recommendations of Baskervill and other industry experts, the best option to protect and brighten the finish was to remove as much of the accumulated surface defects as possible and then apply a layer of high quality, moisture-impervious paint, as has similarly been done in most other areas of Main Hall."
As part of this process, Southpaw is also helping to restore the wall and ceiling plaster throughout the lobby and connecting hallways.
"Restoring Main Hall is a very large project that will take years to complete but we are committed to making progress as we have the means to do so," said Executive Vice President and Chief Development Officer Brett Garcia. "We've quietly been making many upgrades to our beloved Main Hall over the past few years, mostly related to classroom improvements. We're excited that this portion of the restoration will likely be the most visible improvement to date. We are very grateful to every donor—large or small—who made this project possible."
To support further revitalization of Main Hall and renovation of other campus facilities, please visit svu.edu/give.