News Release
Historic Commencement Celebrates 2022 and 2020 Graduates in First Unlimited Attendance in Two Years
On May 6, the Southern Virginia University community gathered with family and friends in the Knight Arena for a unique and historic Commencement celebrating the Class of 2022—the University's largest graduating class to date—and the Class of 2020.
"We are so proud of all of you," said University President Reed N. Wilcox. "There's an old French proverb that says, 'keep the church in the center of the village.' That's been a theme for us [at Southern Virginia University] and needs to continue to be. Do that for the rest of your lives and the Lord will bless you."
"You are here because you earned this," said Chief Academic Officer and Provost James Lambert. "You are here because you committed to a quest and saw it through. As Knights, you have exemplified the qualities of being sufficiently faithful, honest, and kind. You are Knights that love one another and have finished quests with intelligence, integrity, and charity."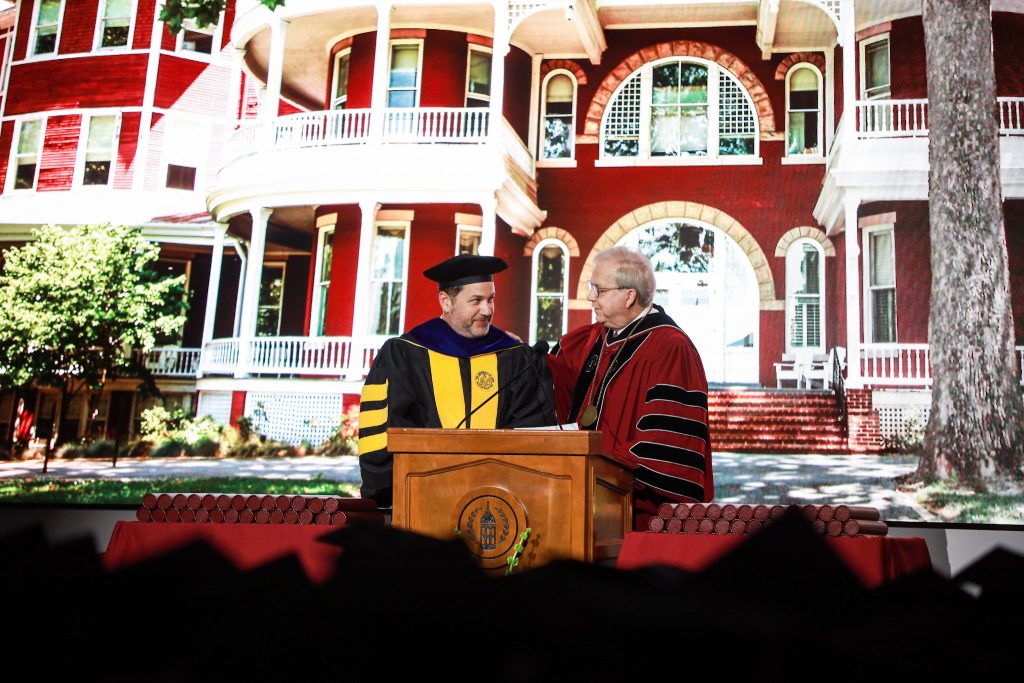 In response to the COVID-19 pandemic and subsequent state-enforced restrictions, the University was not able to safely hold an on-campus Commencement ceremony with unlimited attendance for the Class of 2020 for two years. In Friday's ceremony, members of the Class of 2020 were finally able to attend their own Commencement, with Lambert inviting those graduates to stand in recognition.
"Class of 2020, I heartily, warmly, admiringly, and lovingly salute you," said Lambert. "Thank you for coming, and may the Lord bless you and keep you as you have blessed us during your time here."
The ceremony's keynote speakers were Mark and Becky Fuchs, former leaders at Apple, Google, Ernst & Young, and the Reach Foundation, and whose daughter, Elizabeth, was one of the 2020 graduates.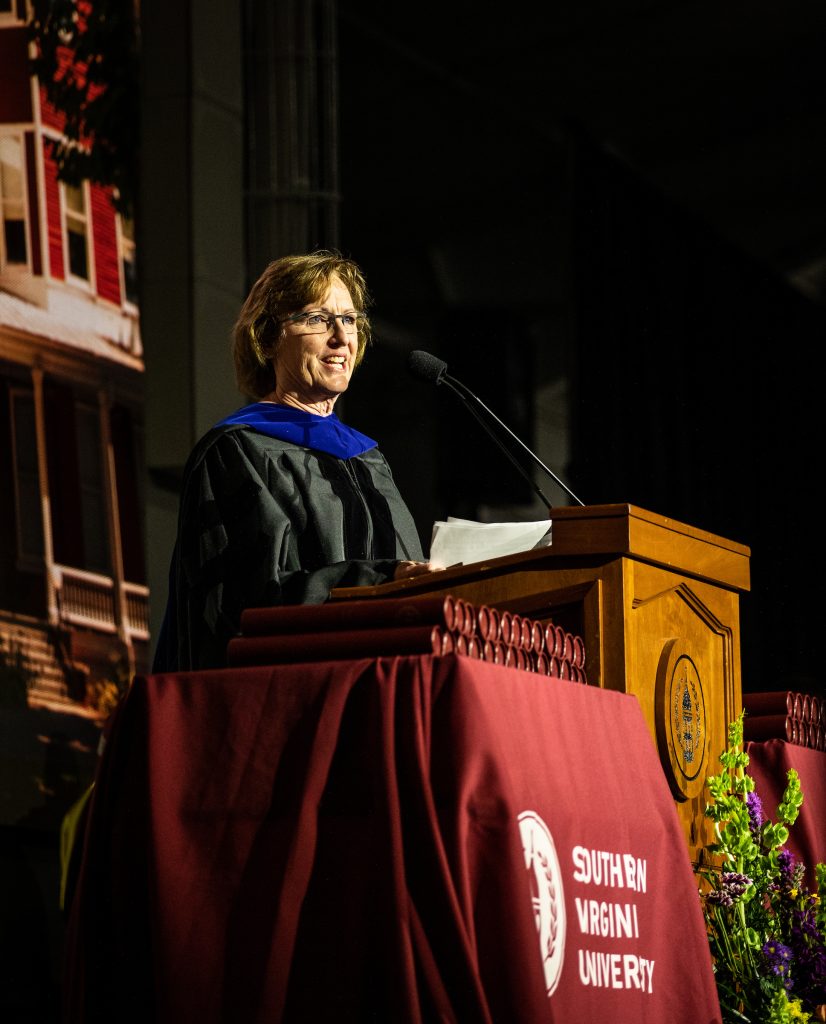 Speaking on the importance of accepting that life will not always go according to personal plans, Becky shared experiences where her life didn't follow the plan she had set, but how taking opportunities outside of her comfort zone and networking made it even better than expected.
"Networking is key," said Becky. "We network in every aspect of our lives. We network at work, we network at school, at church, and with our neighbors. It's actually very rewarding, and it's all about building relationships and sharing and receiving ideas and information. Everyone benefits. Take every advantage to build genuine relationships."
Using examples from his life to show that no amount of planning could have prepared him for working at Google, Mark explained that while planning is important, investing in preparation is even more so to move forward confidently when life changes unexpectedly.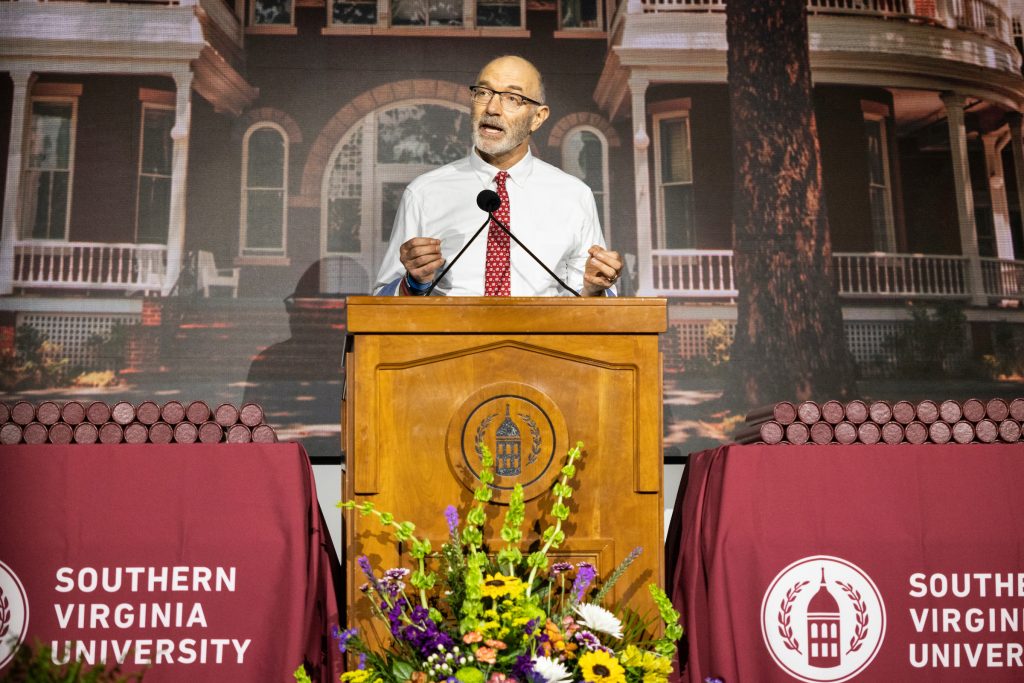 "When I was a young college graduate, a mentor of mine pounded into my little brain a big thought," said Mark. "It was simply to change my lenses and adjust my perspective. Preparation was the plan, and I would seek out growth opportunities and attack them with enthusiasm…The end of college is not the end of learning."
Commencement opened with attendees singing the University's anthem, "Love One Another." After the conferral of degrees, current and alumni choir members sang the American folk song, "Oh Shenandoah," a longstanding tradition at Southern Virginia University. At the conclusion of the event, the faculty members lined up outside of the Knight Arena and cheered on the graduates as they recessed.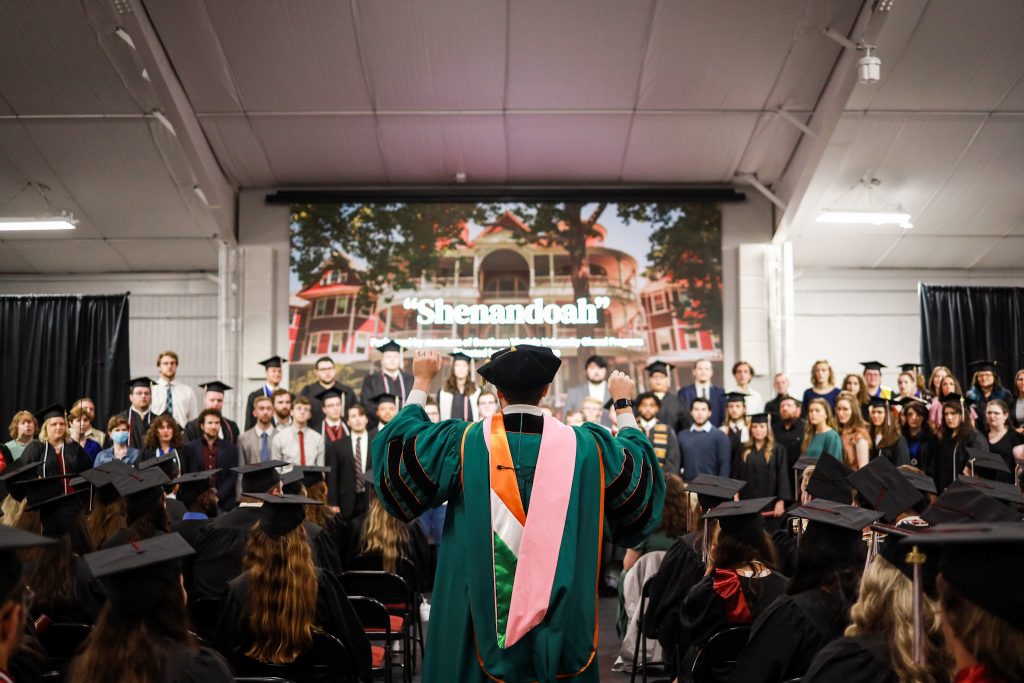 Due to the threat of thunderstorms, the University held Commencement in the Knight Arena with over a thousand family, friends, and the campus community in attendance. In addition to the traditional ceremony elements, attendees joined together in a moment of silence in memory of student Derek Fermin, who tragically passed away on April 30 in a single-driver car accident.
Special guests included University Co-founder Kathleen Knight, Board Member Eric Denna, and Buena Vista Mayor William Fitzgerald.