News Release
End-of-Year University Meeting Honors 2022 Graduates and Student Accomplishments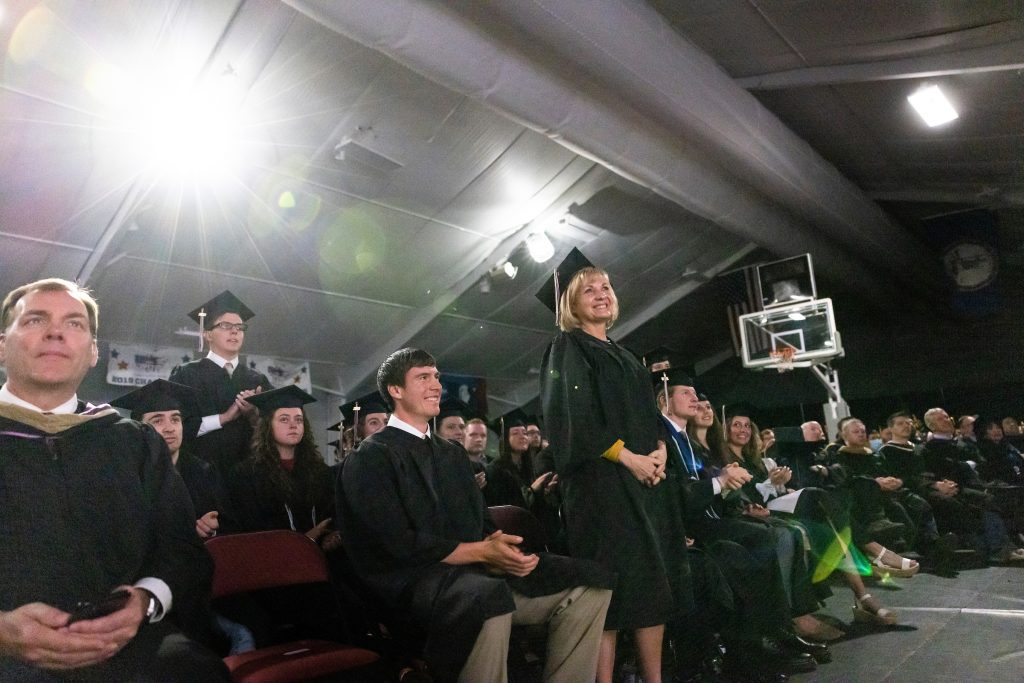 On April 22, students, faculty, and professional staff gathered in the Knight Arena to celebrate the Class of 2022 and the many student accomplishments from the 2021-2022 academic year, with graduates and faculty processing in their regalia.
"We gathered today to honor the phenomenal graduates of 2022," said Chief Academic Officer and Provost James Lambert. "Most of our student body is usually gone by the time we have our regular commencement right after finals week has concluded. However, we want all students to envision their graduation from this institution.
"This celebration is not only to join in recognizing our graduates, but also to publicly thank all of you and our Heavenly Father for helping us through this year," Lambert continued.
Valedictorian and Senior Speakers
In recognition of the Class of 2022, Valedictorian Kenneth Black and two 4.0 graduates, Justin Mitchell and Alyssa Sewell, shared how their experiences at Southern Virginia University influenced their lives.
Black, from Beaverton, Ore. shared how the philosophy program changed the trajectory of his college career. Recounting his lack of desire to excel when he first arrived at Southern Virginia, meeting his wife, Mary, and studying philosophy with Professor of Philosophy Jan-Erik Jones helped him grow in his faith and move forward with his life eagerly as he shared his recent acceptance into the philosophy Ph.D program at the Massachusetts Institute of Technology.
"When I got the news that I was accepted into my dream program, Dr. Jones was the second person I called after my mom," said Black, who worked closely with Jones and the other philosophy professors while applying for graduate programs. "That moment when I could finally tell my mentor and friend that we made it, that was precious. Southern Virginia University lifted me up and then launched me to heights I never would have imagined."
From Baltimore, Md., Mitchell shared that the University's updated Code of Conduct perfectly reflected how attending Southern Virginia University molded him into a person that strived to be faithful, honest, and kind.
"Because of my time at Southern Virginia University, I know who I want to surround myself with, and how I want to live the rest of my life," said Mitchell. "My professors have constantly encouraged me to truly learn and understand, rather than simply become knowledgeable enough to pass a course."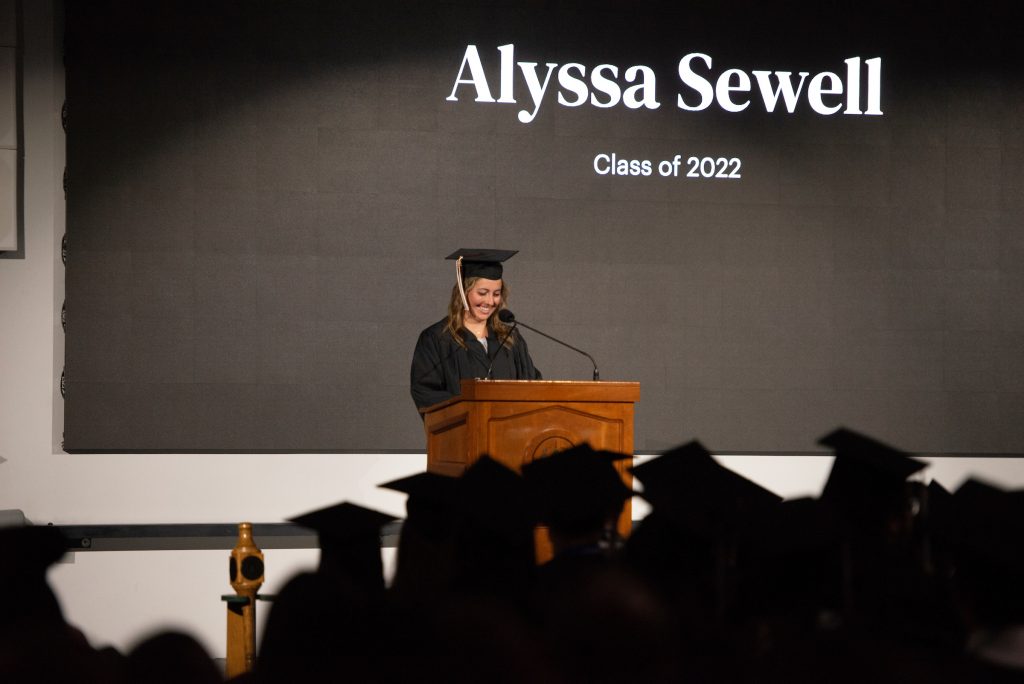 When Sewell from Granite Bay, Calif. received news of a family emergency, she was able to lean on her tennis team for support, asking them to pray with her for her brother. Sewell described the peace she felt after the prayer and how Southern Virginia University has created an environment where she felt comfortable asking for help.
"When I think of my experience at Southern Virginia, my thoughts turn to a loving God who perfectly inspired and organized individuals to bring about this University we call home," said Sewell. "It was here at Southern Virginia University where I discovered who I wanted to be, but more importantly, who God wanted me to be."
2021-2022 Highlights
In addition to the senior speakers, the University Meeting highlighted student accomplishments from the academic year.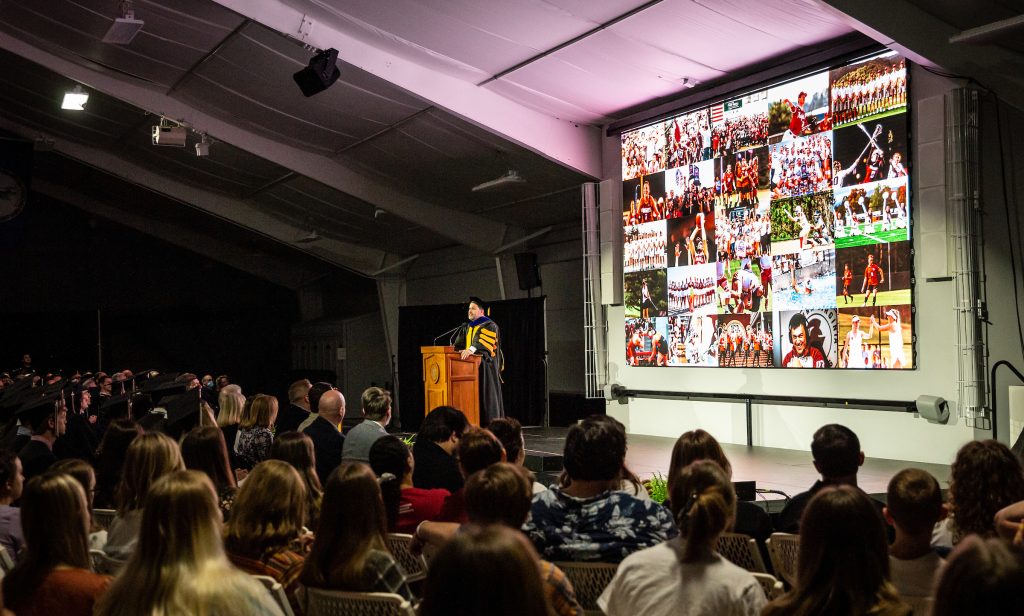 Lambert shared the many athletic accomplishments achieved this school year, with 10 conference championships, four All-Americans, eight athletes of the year, 37 all-conference members, three coaches of the year, and nine VaSID all-state members, inviting all members of the University's athletics teams to stand and congratulated them on their successful year.
Listing the ensembles, productions, and shows that were hosted by the performing and visual arts, Lambert invited all students involved to stand as he named theatre productions, ensembles and performances, and art + design shows held in the academic year.
The meeting also featured a musical number by Accolade, followed by a "Graduation Mountain Medley" arranged and directed by Artist in Residence Jason Deere, with Assistant Professor of Music Mackenzie Romriell and an ensemble of University students performing. Additionally, newly called Stake President of the Buena Vista YSA Stake Darrin Palmer offered a special prayer and blessing for the campus community.
Graduate Awards
Below are the graduate awards announced in the University Meeting. Beginning immediately and continuing for all future graduations, Southern Virginia University will recognize Institute of Religion graduates with a white cord to wear at the commencement ceremony.
Institute Graduates
Mary Ann Albin
Madison Alston Armstrong
Eve Charity Bonney Babb
Jacob Thomas Babb
Paul Marriott Candland
Kyla Caudill
Kinsey Marie Cluff
Spencer Grant Dennis
Tessa Dennis
Blake Emily Tebbs Dingman
Leilani Hansen Fogal
Shalynn Larae Franzen
Bradley Howard Gardner
James Kenneth Gebler
Anna Taylor Goodmansen
Shannon Lee Harrell
Emma Frances Herrington
Metta Himes
Amanda Howe
Taryn Faye Kartchner
Jaocb M. Lamb
Sydney Kuhni Liles
Madeleine Nicole Maher
Sallie McGuire
Dawn Hailey Mead
Chloe Lynn Mitchell
Justin Robert Mitchell
Madeleine Taylor Mitchell
Paul S. Monson
Madison Jane Moore
Elizabeth Morphonios
Joseph Morphonios
Thomas Everett Moyer
Miranda Loraine Nunnally
Rodney Morgan Peterson
Alyssa Sewell
Matthew Shyang Valentine
Elle Meg Warnick
Audrey Mae Zalar
Leader-Servant Distinction
Eve Babb
Jacob Babb
Jonathan Dye
Jackson Gwilliam
Barrus Scholars
James Gebler
Whitney John
Martha Bakkemo Loyalty Award
Hannah Crave
Pioneer Award
Jonathan Dye
4.0 Students
Madison Armstrong
Jarod Banks
Kenneth Black
James Gebler
Norlene Gowdy
Mitchell Kmetz
Andrew Knecht
Carolyn Leavett
Justin Mitchell
Paul Monson
Ross Moore
Emily Nerdin
Morgan Richardson
Zachary Zalar