News Release
Chris Packer Named Interim Dean of Students
Today President Reed N. Wilcox announced Chris Packer as Southern Virginia University's interim dean of students for the upcoming academic year.
"Chris Packer is a first-rate colleague, manager, and leader," said President Wilcox. "In his first year on campus, he's had a major positive impact on improving and streamlining campus operations, while also becoming a universally respected and trusted professional."
Packer joined the university last August as Vice President of Operations. In this role, he has supervised and overseen several areas of campus including student life and dean of students, university housing, food services, campus operations, and facilities management.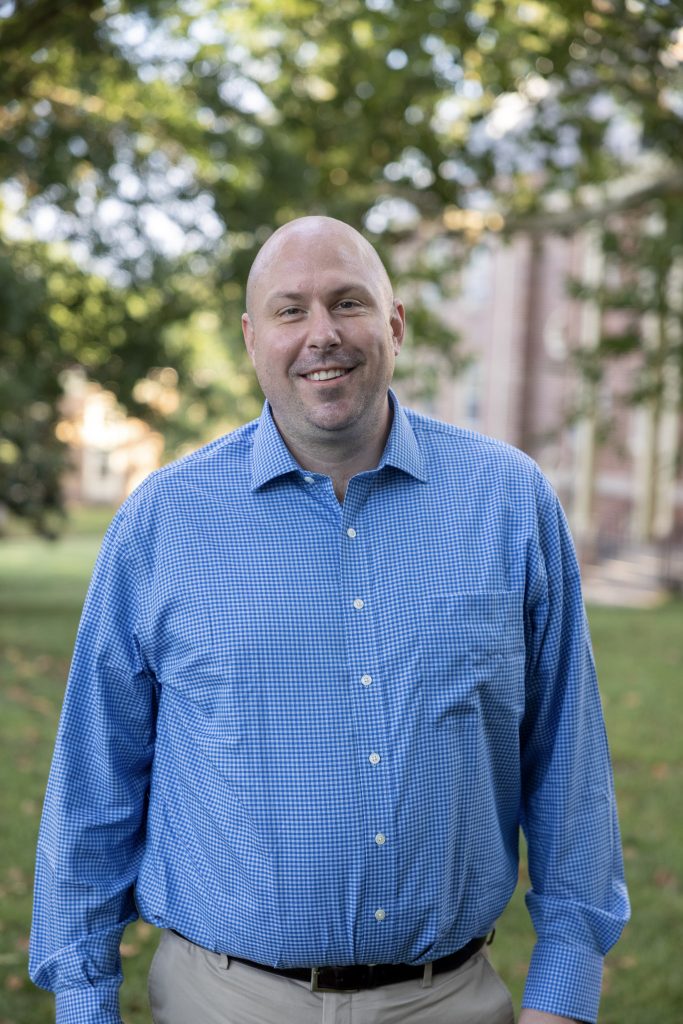 Over the past year, Packer has spearheaded several high-impact initiatives while overseeing numerous facilities upgrades—including the ongoing revitalization of the Main Hall Lobby. Perhaps most notably, Packer helped the university partner with world-class food service provider, Sodexo, to outsource and significantly upgrade the dining experience for students. He has also spent a significant amount of time working with the Student Life and Housing teams.
"Having made major strides to streamline, automate, or outsource much of his previous workload, we've asked Chris to serve as interim dean to give him and other University leaders time and opportunity to assess the needs of Student Life," said Executive Vice President and Chief Development Officer Brett Garcia. "For now, this will be an interim role as Chris helps us assess the best path forward. Having demonstrated exemplary management and leadership over the past year while overseeing student life and the acting dean of students, Chris's experience, insights, and perspectives will be invaluable to this process."
Prior to joining the University, Packer held senior management roles at ASSA ABLOY and Xerox. He earned a master's of business administration from the University of Rochester.
"The students are the reason I came here," said Packer. "I believe strongly in the mission to Gather, Lift, and Launch, and I want students to come here and feel a part of our community. I'm excited to take a more active part in fulfilling our unique mission and helping students."
"I want students to know that they belong here," concluded Packer.
According to Packer, his first priorities as interim dean of students will be to strengthen policies and procedures within the dean's office while exploring ways to add broader support and leadership to the department—which may include an expansion of the dean's council.
Packer follows Bill Braddy who has served as the acting dean of students for the past two years while the university operated under pandemic conditions. Braddy, whose professional background is in capital project management and university development, will return to his previous role as an officer within the Office of University Development.
"Bill did not ask to be the acting dean of students," said Garcia. "He stepped up and agreed to temporarily fill this critical role upon request when our previous dean stepped away to pursue other professional opportunities just before the start of the Fall 2020 semester, which was our first semester trying to operate with students on campus in pandemic conditions."
"After working valiantly for the past two years, we wanted to keep our promise to Bill that his service as acting dean during the pandemic would be temporary. With campus operations returning closer to pre-pandemic conditions and our new Sodexo partnership freeing up Chris [Packer] to take a more active role in student life—one of his current stewardships—we feel it is the right time to let Bill return to University Development."
"We want to publicly recognize and sincerely thank the good Bill Braddy who has selflessly served as our acting dean for the past two pandemic years," said President Wilcox. "Bill has worked tirelessly to care for students while helping to manage the complexities of operating a campus during the pandemic. He has gone above and beyond the call of duty, personally tending to the needs of students at all hours of the day and night. He's provided meals, transportation, and other support to any student in need.
"I've personally witnessed many of Bill's thoughtful acts of kindness toward students and other individuals over the past two years," continued President Wilcox. "Frankly, I do not know how we would have successfully navigated the pandemic if he had not been willing to serve in this temporary capacity. He's been a true friend to students and a trusted partner to colleagues."