News Release
Chamber Singers to Perform at the Virginia Music Educators Association Fall Conference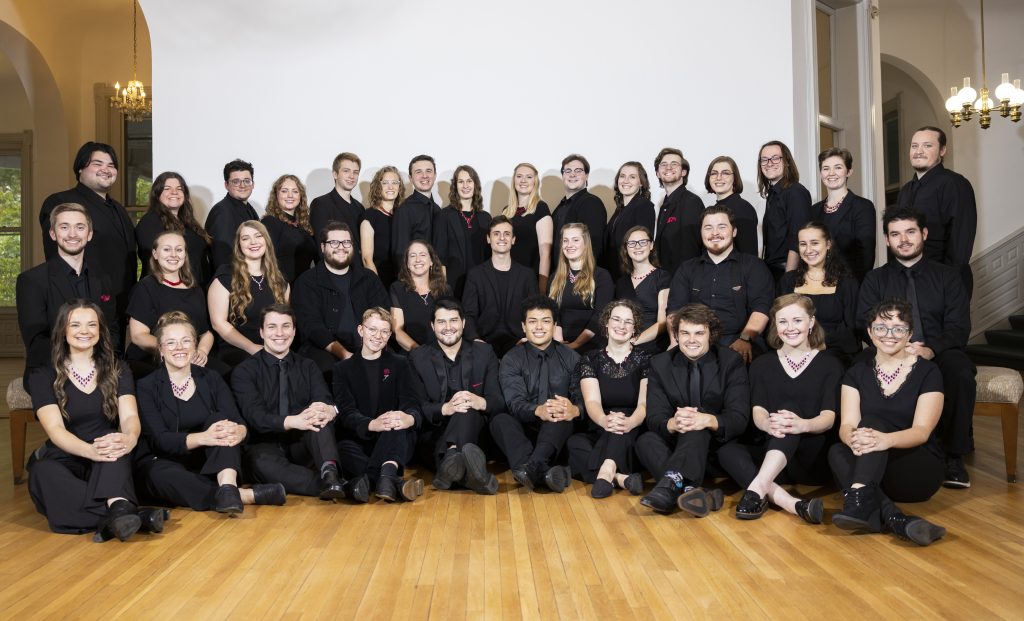 The Southern Virginia University Chamber Singers was selected to perform at the Virginia Music Educators Association Fall Conference as a featured performing ensemble. Led by Director of Choral Activities Dr. Kyle Nielsen, the Chamber Singers will perform on Friday, Nov. 18 at the conference in Richmond, Va. This conference will be the first time any of the University choirs have performed at this scale in their 27-year history.
With only one collegiate choir selected each year, each applicant must submit two years' worth of recordings to be reviewed and selected by a committee of peer institutions throughout the state. With this in mind, Nielsen began compiling recordings of the Chamber Singers in 2020 during COVID-19 when the University choirs were unable to perform to a live audience.
"This conference is a perfect gather, lift, launch opportunity for the students," said Nielson. "I've had my eye on this conference for a while, and it was during COVID-19 that we decided that since we can't perform we would record instead, and having that base of recordings has proven really fruitful.
"A whole year's worth of the recordings were done with the singers all wearing a mask and spread out," Nielsen continued. "The diligence of the students is really admirable with what they did during that time."
The Chamber Singers have previously performed at Carnegie Hall and the Festival of Lights at the Washington D.C. Temple Visitors Center in 2019. They also released a Christmas music video, "Angels We Have Heard On High," in 2021.
"Dr. Nielsen has raised the collective skill level of the choir, and that collective skill level just keeps on rising," said Zach Shiraki ('23), a senior member of the Chamber Singers. "Even though members of the Chamber Singers graduate and move on every semester, we're still able to maintain and grow that level of excellence over the years with Dr. Nielsen."
Prior to leaving for the conference, the Chamber Singers will perform a send-off concert on Nov. 16 for the campus community.
Established in 1997, the Chamber Singers is Southern Virginia University's premiere auditioned SATB ensemble. With a motto to spread joy through heavenly music, Chamber Singers build community, compassion, integrity, and excellence while obtaining choral mastery.
The Virginia Music Educators Association's mission is to actively promote quality music education throughout Virginia by providing leadership, instructional resources, and professional development opportunities for Virginia's music educators at every level from Pre-K through University.