News Release
"A Midsummer Night's Dream" Performance Creates Unique Audience Involvement in Staging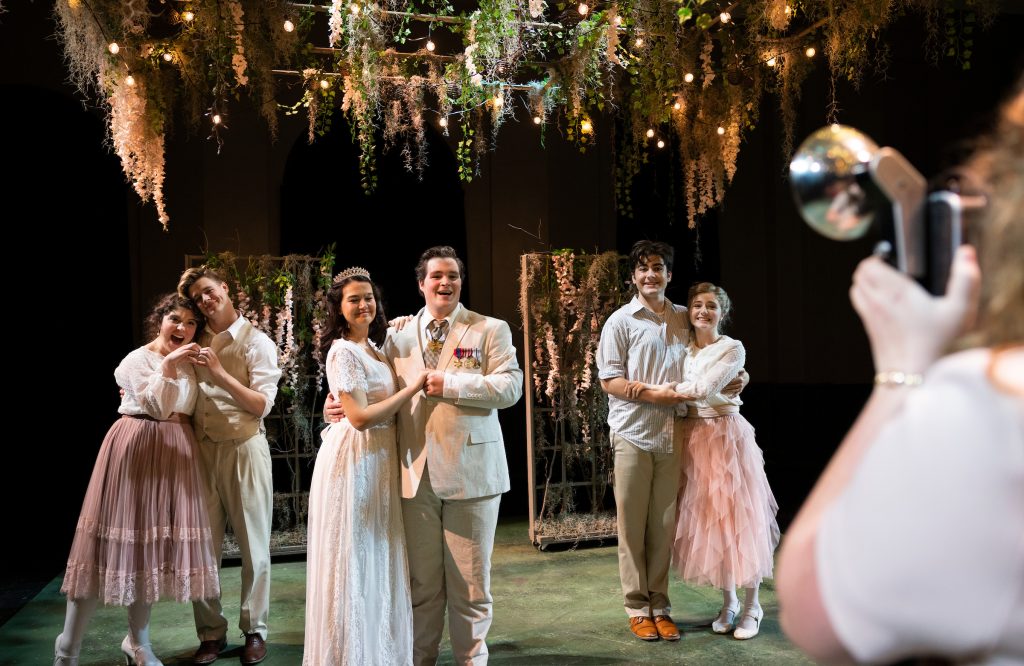 Full of laughter and mirth, Southern Virginia University's Theatre Program cast its spell over the community with their performance of William Shakespeare's hilarious and magical play, "A Midsummer Night's Dream."
"I like introducing Shakespeare to people who haven't really seen his work before," said Professor of Theatre Robert Stoddard. "It's been fun seeing everything come together, and to watch both the audience and cast enjoy it and laugh."
Directed by Stoddard, with Assistant Professor of Theatre Amaree Cluff over set and production design, the play follows the Duke of Theseus and Hippolyta arguing over their political marriage, the two Fairie rulers, Oberon and Titania, squabbling over a page boy, lovers Hermia and Lysnader and Helena and Demetrius becoming pawns to the impish Puck, whose magic turns their affections topsy-turvy, and a group of working men attempting to rehearse a romantic tragedy. Following several intentional and mistaken pranks by Puck, these characters are led into hilarious confusion.
Performing in a similar fashion to the Shakespearian times, the stage was placed on the floor with the audience sitting on either side, using minimal props and scenery. This staging allowed the actors to not only interact with the audience, talking directly to or hiding from fellow actors behind attendees, but also become part of the audience as well, often sitting with them and commenting on the antics of the cast.
"The cast knew they wanted to include the audience in the play," said Cluff. "It was really something that the cast got to discover in performance, and I think that's why it feels so spontaneous and fun."
"A Midsummer Night's Dream" consisted of 18 cast members. Ranging from freshman to seniors, they are as follows:
Theseus/Oberon: Stephen Ewan ('24)
Hippolyta/Titania: Liv Offen ('25)
Philostrate: Gabrielle Atwood ('25)
Egeus: Colton Sorenson ('25)
Demetrius: Jake Maloy ('25)
Lysander: Jaq Léger ('25)
Hermia: Ella Foutz ('24)
Helena: Kinsey Cluff ('22)
Peter Quince: Brea Moore ('24)
Nick Bottom (Pyramus): Ethan Goodmansen ('22)
Francis Flute (Thisbe): Ryan Pugh ('24)
Tom Snout (Wall): Kaia Hoyt ('25)
Robin Starveling (Moonshine): Elizabeth Kerr ('25)
Snug (Lion): Tyson Bench ('26)
Puck: Gracyn Austin ('23)
Cobweb: Brianna Roberts Gonzalez ('24)
Moth: Wendi Goldthorpe ('25)
Peaseblossum: Emma Adell Wilson ('26)
Mustardseed: Gabrielle Atwood ('25)
Emma Hardy served as stage manager, with Anna Dryden as the assistant stage manager, Joshua Bowen as light board operator, and Christan Clement as sound operator. Lighting was designed by Jacob Gardner, with Preston Rodriguez as the technical director.
The production opened on April 8 and closed April 16, taking place in the Performing Arts Center.