Spotlight
The Student-athlete experience: Abby Kinoshita-Johnson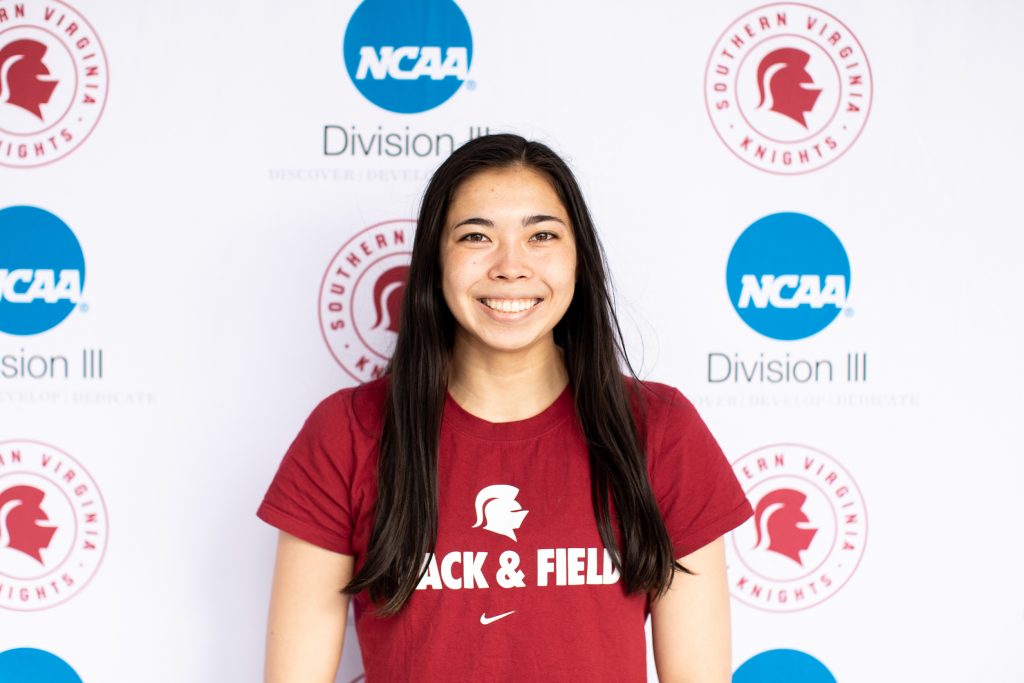 Abby Kinoshita-Johnson ('21) just concluded her four years of education at Southern Virginia University and is leaving her mark as a record-breaking member of the Track and Field team. 
Kinoshita-Johnson, who grew up in Hood River, Oregon, holds the current program record in all four events in which she competes. These records are 8.26 seconds in the 60-meter dash, 27.57 seconds in the 200-meter dash, 4.85 meters in the long jump, and 10.29 meters in the triple jump.
This last season, Kinoshita-Johnson was a key contributor to the women's team placing third in the Coast-to-Coast Athletic Conference Championships by winning each of her events as the top seed and single-handedly earning 40 points for the team.
In an interview, Kinoshita-Johnson shared her experiences, accomplishments, and growth as a student-athlete at Southern Virginia University.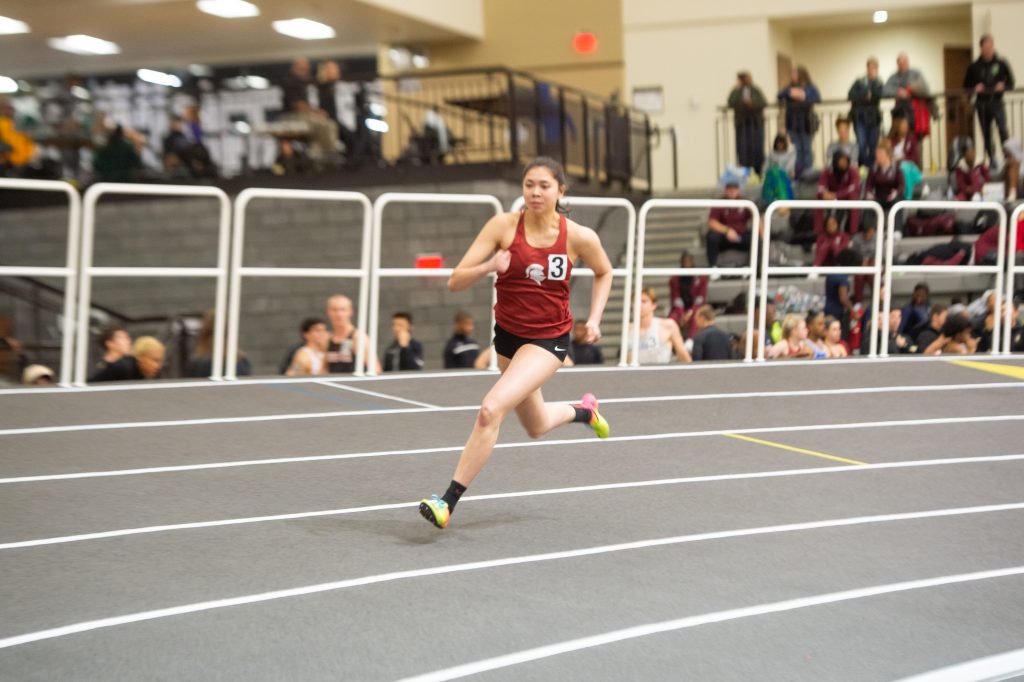 Note: The interview has been edited for length and clarity.
What is the biggest sports achievement you have received at Southern Virginia University?
"Taking home the Track Athlete of the Year and having my teammate, Mesi, take home the Field Athlete of the Year was really big. We have never had anyone at Southern Virginia University take home the Track Athlete award, and the fact that two women were able to earn both the track and the field awards the same day was really amazing. Coming first in the conference for all four of my events—the 100 meter, 200 meter, long jump, and triple jump— was so exciting. I showed myself that I can do anything I set my mind to as long as I work hard and stay dedicated."
How do you deal with a meet that doesn't go the way you had hoped?
"Don't get so focused on the little things that happen. For example, a couple of weeks ago I had a meet that wasn't as great as I wanted it to be, but I just needed to brush it off. You will have more opportunities to compete, so keep going. That's how my coaches have been encouraging me, especially through this season and school year when many meets and other events were canceled. Just think about it one event at a time, and one day at a time. Trying to balance it all has been tricky, but I'm really grateful that I have professors and people around me that want to help me and see me succeed."
How do you create a balance between academics and athletics?
"I think it's all about knowing what you can handle since everyone's a little bit different. I also try to communicate with my professors pretty frequently, because sometimes we have long meets or get back really late at night. Communication with professors is a big part of showing them that you are dedicated and putting in as much effort in your classes as you are your sport. I think a good balance is just that—when I am willing to put as much time into the classroom as I am the track. Sometimes that means I have to give up things, like going to activities or hanging out late on school nights. But I focus on doing the little things every day in school and in sports that will help me see big results down the road."
How do you feel you've grown as a student and athlete since your freshman year?
"Oh, so much. Looking back on my freshman year, I wasn't very confident in myself. My coaches have been working with me on that this year, especially when I come into competitions. Now, I try not to question myself or think, "Oh, I hope I can do it." This year, it's not a question in my head, it's, "I'm going to do this, and I'm going to do this well!" My coaches have really helped me change the way I feel and think about myself. That's the biggest reason I've seen so much improvement since freshman year."
What does a normal day in your life look like?
"My morning starts around 8 a.m. (if I don't have early-morning weights). I have some tendinitis in my Achilles and in my right foot, so I start the day with stretching and rolling out my legs. I'm in the classroom until around 2 p.m., and I work on homework after that. Then, I go to the training room on campus and see the physical trainers for a heat or ice treatment on my muscles that need it. I then head to practice from 5:30-8 p.m. Three times a week, I work on campus until 11 p.m. I like to study any chance I get, like at the trainers or on my way to work."
With all you have going on, what do you do to relax or refresh?
"I think rest and recovery are so important. When I need a refresher, I like to bullet journal in my free time. I also like to do something creative, like taking pictures. My husband and I go on long hikes to disconnect so we can just talk and not think about school or sports for a minute. These moments throughout the week are really important for me to let my stress go and not feel too overwhelmed."
How will your athletic experiences help you post-graduation and in your future career?
"These experiences at Southern Virginia University have shown me that you will see the results that you are willing to put in the effort for. Track is really unique since it's more of an individual sport than a team sport. At the end of the day, if I miss a practice, it only affects me. I've seen that as I hold myself to a higher level of dedication, like going to every practice and every meet, then I see better results. I've learned that if you want something, you have to put in the time to earn it. Post-graduation, I want to get an MBA, and I think that those lessons I learned on the track will help me."
What's the biggest lesson that your experience at Southern Virginia University has taught you?
"It's all about integrity and doing the extra work even if it feels like it's going unnoticed. In the summer, no one is checking in on you—it's just up to you to work out and keep training. At some point, it will pay off. One of the biggest lessons I've learned is to be patient since you won't see results right away. Sometimes at the gym I feel sore, and I get frustrated with myself and feel really low. But in those moments, when you feel the lowest and keep pushing through, is where you make the most improvement. There was a time I wanted to give up on a lot of things, but I'm so glad I kept my head down and kept grinding through school, work, and sports. All of the hard work I've put in recently is paying off. I learned that I can do anything I set my mind to as long as I put the work into it."