News Release
Special University Meeting Gathers Campus to Launch 25th Anniversary Celebration
For the first time in almost two years, Southern Virginia University gathered together as one campus community for a Special University Meeting in front of Main Hall on Sept. 10, 2021. This meeting included a traditional convocation, a dedication and blessing on the Fall 2021 semester, and an address from President Reed N. Wilcox about the future and destiny of the University.
"You all need to know that you have been on our minds and in our hearts for months and we are so happy you are here," said President Wilcox. "We love you, we are proud of you, and we have faith in you."
In his address, President Wilcox shared a snapshot of Southern Virginia University's first 25 years. He explained that the University began as an experiment to see if a private, self-reliant school aligned with The Church of Jesus Christ of Latter-day Saints could succeed against all odds. As the University began with a handful of students, no accreditation, no endowment, and no digital support, President Wilcox stated that much was stacked against the experiment.
"Most new private colleges…fail within two or three years," said President Wilcox. "Yet here we are today: twenty-five years of classes, learning, performances, competitions and concerts. Enrollment has doubled…four times. We're nationally and internationally accredited. Our graduates work in leading companies and attend the finest graduate schools.
"On behalf of the Board of Trustees, the faculty, and the leadership of this University, I can today declare that the experiment is over," President Wilcox continued. "The start-up is completed. Against all odds we have won. Our University is strong, it's self-sustaining, it's thriving. Beginning today and throughout this entire year, we can celebrate victory."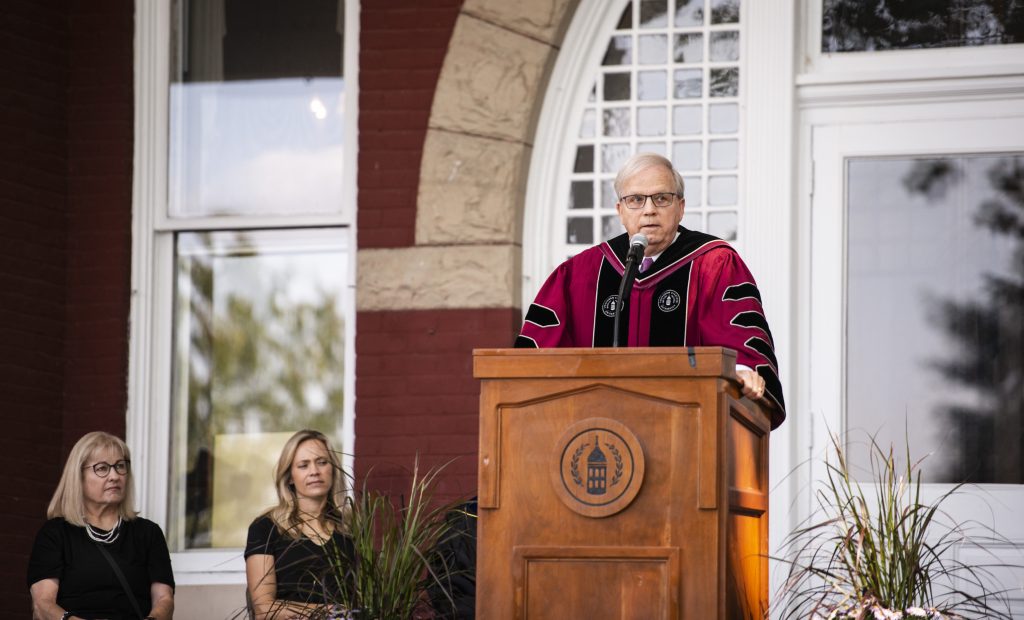 In addition to this declaration, President Wilcox urged the campus community to find sanctuaries of faith to sustain them through hard times, and to keep Jesus Christ at the center of their lives to find happiness and peace.
"I know Him," President Wilcox testified. "He is our best and our truest friend and you can know Him too. Coming to know Him is the greatest adventure of life."
In Chief Academic Officer and Provost James Lambert's remarks, he expounded on Southern Virginia University's mission and what it means to be a Knight.
"We are all knights in this quest and together we make up this University, which is itself a knight on a quest to be honest, kind, and faithful in a world that is crying out for exactly those virtues," said Lambert. "If the Church is a body with Christ at the head, our University is a knight; truth as its armour and light as its horse."
Looking forward to what the Fall 2021 semester will bring, Lambert encouraged students to make the most out of these next four months.
"Right now you have four months of time before you to become someone new, to find someone new, and to learn many things new," said Lambert. "Let's go–– let's do!"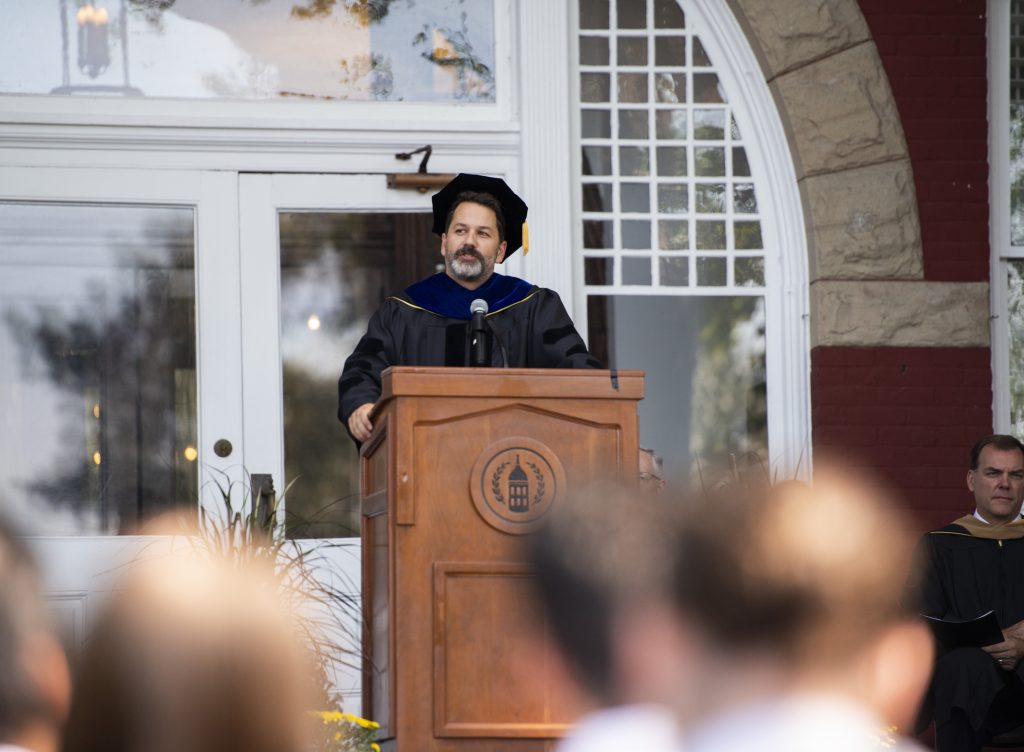 Following Lambert, Southern Virginia Institute President Darrin Palmer encouraged students to enroll in institute classes.
"I invite you to come [to the Institute of Religion]," said Palmer. "Come anytime and come often. We are always blessed by heaven when we make choices that will strengthen our relationship with Jesus Christ."
Palmer also urged students to take the time to slow down and to hear Christ.
"As you are finishing this third week that you are in school, I sincerely hope that you continue to feel blessed…energized and…protected because of your choice to attend this wonderful University," Palmer added. "Let us take advantage of this historic moment, let us choose to slow down, let us choose to hear Him, let us choose joy."
President Todd Brotherson, a professor of business who recently returned from serving as president of the Chile Santiago East Mission, closed the meeting by offering a dedicatory prayer for the semester. In his prayer, Brotherson asked for a blessing of peace, comfort, and enlightenment on the campus community, and for clarity, purity, love, and goodness to prevail in the lives of its members.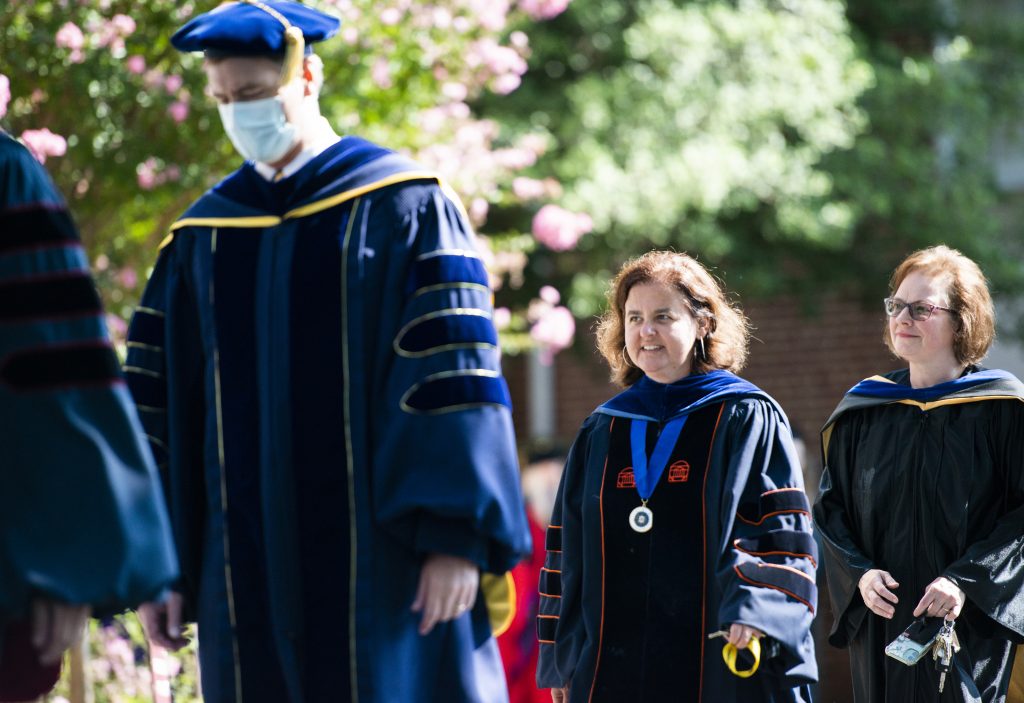 At the open and close of the Special University Meeting, the faculty processed in their academic regalia to mark the beginning of a new academic year. The meeting also featured a performance of the American folk song "Oh Shenandoah" by the Chamber Singers.
---
See all Welcome Weekend photos at our Photo Gallery.