News Release
Southern Virginia University's Homecoming Assembly: "You Belong Here"
On Oct. 11, 2021, students, faculty, and professional staff gathered in front of Main Hall to commemorate the University's 25th Homecoming Celebration. The event featured speakers from the athletics department who reflected on belonging and what it means to be a Knight.
The assembly's first speaker, Head Rugby Coach David Smyth, encouraged students to be themselves, take a stand for what is right, and always remember that love, faith and service conquer fear.
"None of us are perfect," said Smyth. "We're here to learn and to grow. And if we're progressing, that's all we can be expected to do."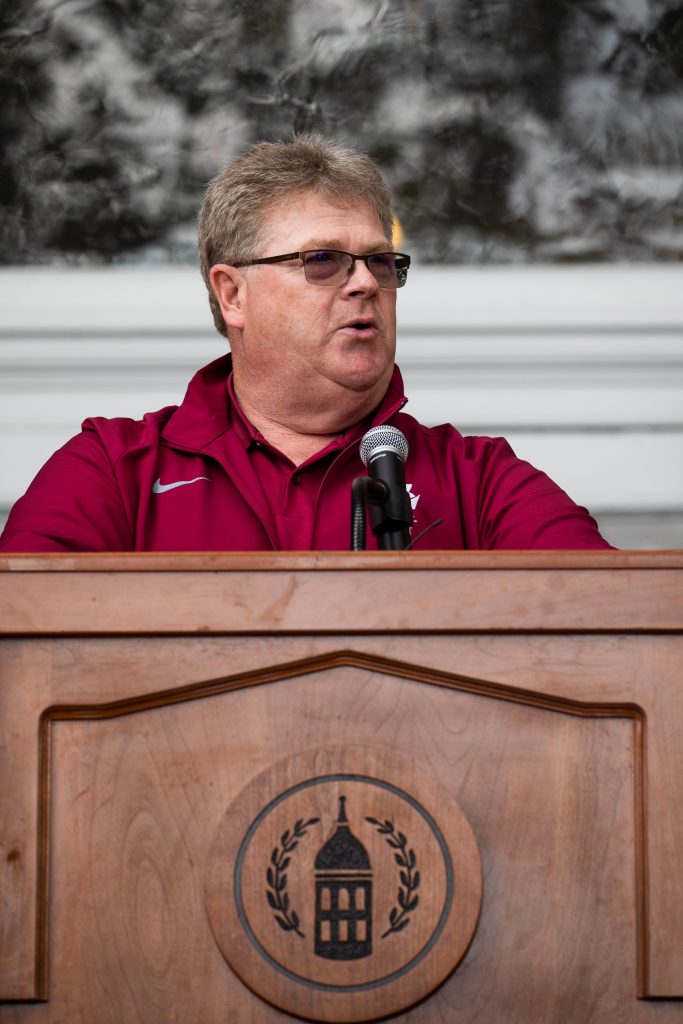 President of the Student-Athletes Advisory Committee (SAAC) and Women's Lacrosse Team Captain Chloe Mitchell ('22) then shared her experience finding belonging as a new student at Southern Virginia University.
"Know that there is a place for you here regardless of your background, trials or shortcomings," said Mitchell. "You are at this school, at this time, for a reason. That reason might be different than you anticipate but it is real nonetheless. And ultimately, you belong here because of exactly who you are."
Davis Pinkston ('22), senior quarterback of the Knights football team, then added his perspective of belonging and advice as a student-athlete.
"[I] can say with total surety that this was the greatest decision I ever made," said Pinkston. "The friendships I made, the knowledge I gained, the brothers I found on the football team…not to mention this is where I met my amazing wife Courtney. No matter…what your story is, you'll find the best opportunity to succeed here, and there will be countless people to help you out along the way."
Following Pinkston, Head Women's Volleyball Coach Debby Baker gave a snapshot of how she has seen her team lift and serve one another, and encouraged attendees to do the same.
"I promise you that if you spend a little time investing in relationships with your classmates, your roommates and your teammates, you are going to have an incredible experience at Southern Virginia; you are going to feel like you belong."
"Know that you are not just another number at Southern Virginia University," Baker emphasized. "You are valued and you are loved."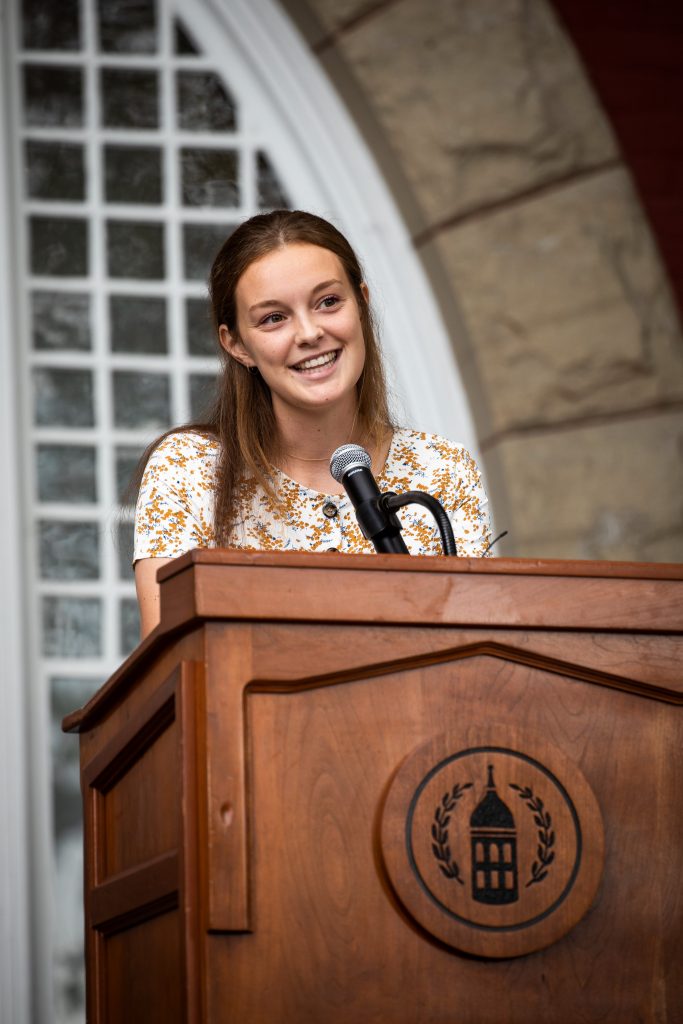 Director of Athletics Diedra Dryden concluded the assembly by asking everyone to stand and sing the school's fight song. She then recognized the student body for the ways everyone helps to contribute to the school's culture of belonging.
"I've seen you lift each other. That's why we belong here together," said Dryden. "And the bedrock of that lifting is the light of Christ. We must always remember that the light of Christ influences for good. It's the bedrock of belonging; it's the bedrock of home; it's the bedrock of Southern Virginia University."
In addition to the speakers, the newly relaunched Marching Band performed at the assembly. After concluding with the University's traditional hymn, "Love One Another" and a prayer, attendees enjoyed Krispy Kreme donuts provided by the Office of Student Life.
---
See all Homecoming Weekend photos at our Photo Gallery.