News Release
Southern Virginia University Announces New Honors Program for Fall 2021
Southern Virginia University is pleased to announce the addition of an Honors Program to its curriculum beginning Fall 2021. Led by Willis J. Smith Professor of Philosophy, Dr. John Armstrong, the Honors Program will provide motivated students additional opportunities for learning and service during their time at Southern Virginia University.
"The Honors Program is for active learners who want to be challenged, who like to discuss important ideas and hear others' opinions, and who seek the best college education they can get," said Dr. Armstrong, Director of the Honors Program.
The program includes honors courses aimed at broadening and deepening students' understanding of what is good, true, and beautiful in nature, society, and humanity's relation to God. As students complete the honors requirements—11–21 credit hours of additional academic material—they will graduate with "University Honors" on their transcript.
"I'm really excited about introducing this program because my colleagues and I love sharing and discussing with students ideas that we think are really important for understanding the world and oneself," said Armstrong.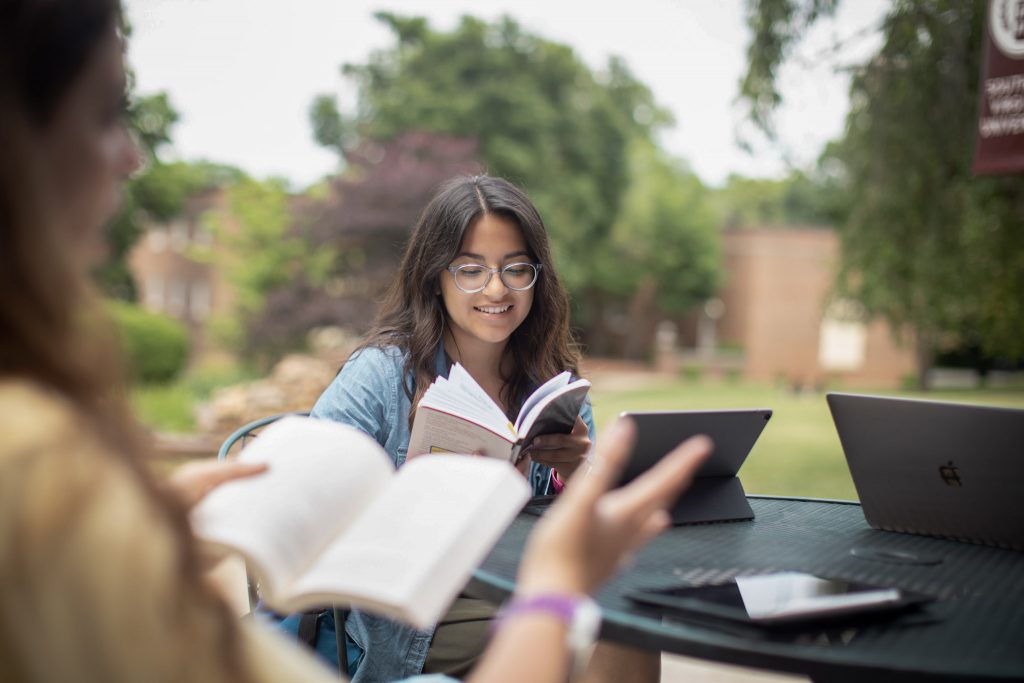 To facilitate idea sharing and question-led dialogues, honors courses will be more discussion-based than lecture-based. Because of this collaborative approach, students will have unique opportunities to connect with their like-minded peers and cultivate even stronger scholarly relationships with their professors—building on the tradition of meaningful faculty-student mentorships that is a key benefit of attending Southern Virginia University.
"By participating in discussion-based honors courses and by researching and writing an honors thesis under the supervision of a faculty member, honors students will form special bonds with their professors," explained Armstrong. "Those relationships will support the students well into the future, not just for letters of reference but for advice and counsel on their future decisions."
One intent of the Honors Program is to connect honors students to service opportunities across campus, including roles as teaching assistants, research assistants, academic coaches, and peer mentors. Honors students may also serve on the Honors Student Council, which advises the program's faculty leadership.
"The Honors Program should be a vehicle for the pursuit of knowledge and the love of learning," Armstrong said. "It should also be a platform for serving and lifting others."
An inclusive approach is key to the direction of the University's Honors Program. Any student who wishes to deepen their learning may apply, and honors focus courses (HNR 219R) are open to all students, whether or not they are members of the Honors Program or aim to graduate with University Honors. By welcoming all applicants, the Honors Program emphasizes the student's performance at Southern Virginia University rather than past academic accomplishments.
"Membership in the program should not cultivate an unhealthy pride or imply that one student is more important than another," said Armstrong. "As a community that commits itself to the teachings of Christ, everyone here is of equal importance even if interests and abilities differ."
All students who are interested in joining the Honors Program may view the program's requirements in the University Catalog and apply at svu.edu/academics/honors-program.