News Release
Southern Virginia Theatre Returns With Professor's Original Play "Martin and Margaret and the M.I.N.D.S.W.A.P."
Southern Virginia University's Theatre department returned to live in-person, in-house productions after a nearly two-year break due to COVID-19 with an original play co-written by Professor Amaree Cluff.
"We wanted to do a play that was lighthearted and fun that would make people laugh after these grueling months of COVID-19," said Cluff.
Written in 2013 by Cluff and Mike Long, the play opens in Switzerland with the threat of World War II and follows intelligence agent Martin Buchanan as he helps Margaret Henkel rescue her German grandfather, scientist Professor Georg Wachtendorf, from Nazi members Natascha Von Metzgemörder and her evil minion, Hans.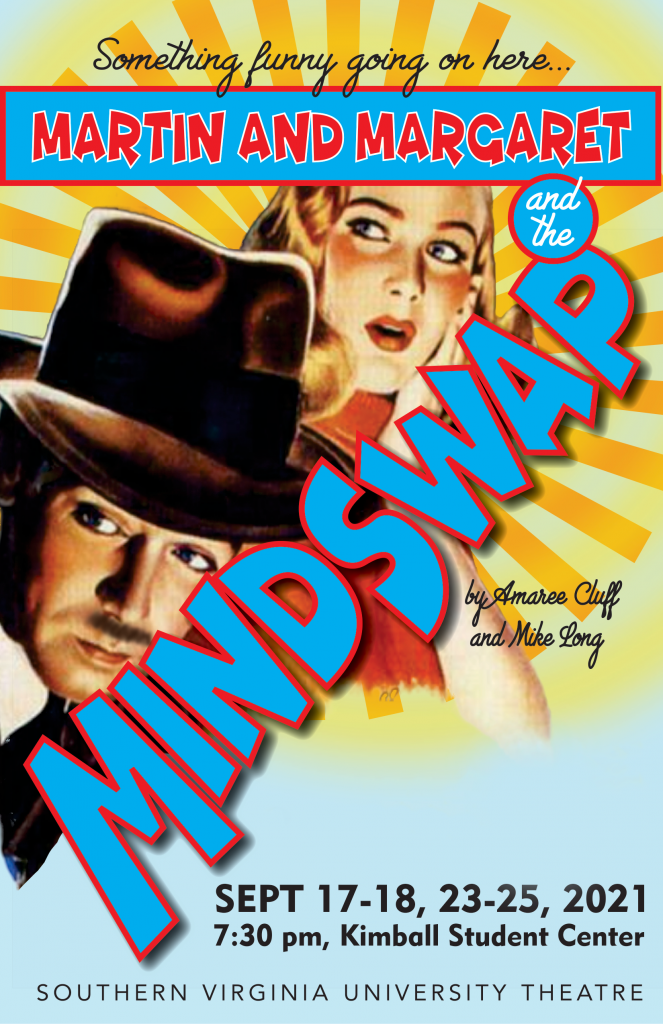 However, everyone literally loses their minds as the M.I.N.D.S.W.A.P. machine swaps their minds with the others around them, creating hilarious chaos and comedy as Martin and Margaret try to uncover who is who and capture the Nazis before they can kidnap the professor to build a Nazi superweapon.
Kinsey Cluff ('22) played Margaret Henkel, with Jared Mattson ('24) as Martin Buchanan, Stephan Ewan ('24) as both James the Butler and Hans, Ethan Goodmanson ('22) as Professor Georg Wachtendorf, and Gracious Pack ('23) as Natascha Von Metzgemörder.
With a sold-out house every performance night, the audience and crew continually roared with laughter at the confusion and antics of the characters from beginning to end.
Due to the theatre room in the Performing Arts Center undergoing repairs, the performance was held on the first floor of the Kimball Student Center. This was the first time a University play was held in that location, which presented unique opportunities for the actors and crew.
"It was a blessing that we chose this play, as we ended up performing in a much smaller building," said Cuff. "But as this play had a small set, it worked perfectly."
"Like how heat and pressure are necessary for the formation of a diamond, the challenges and limitations we faced for this play have produced a truly wonderful production," said Jacob Gardner ('22), who served as the lighting designer and master electrician for production.
Per theatre policy during the COVID-19 pandemic, the audience and crew were masked during the performance, and there was no intermission and concessions sold. The play ran for two weekends on Sept. 17 and 18, and the 23 through the 25 from 7:30 p.m to 9 p.m.