News Release
Philosophy Professors Cut Textbook Costs, Create Free Proprietary Ebook
Southern Virginia University's philosophy professors Dr. John Armstrong, Dr. Jan-Erik Jones, and Dr. Bryce Gessell have eliminated textbook costs for every new student who takes their foundational philosophy course by compiling a free, media-rich, digital textbook. The trio is also currently working to record an accompanying narration for their cost-free ebook to further increase accessibility and inclusiveness for all of their students.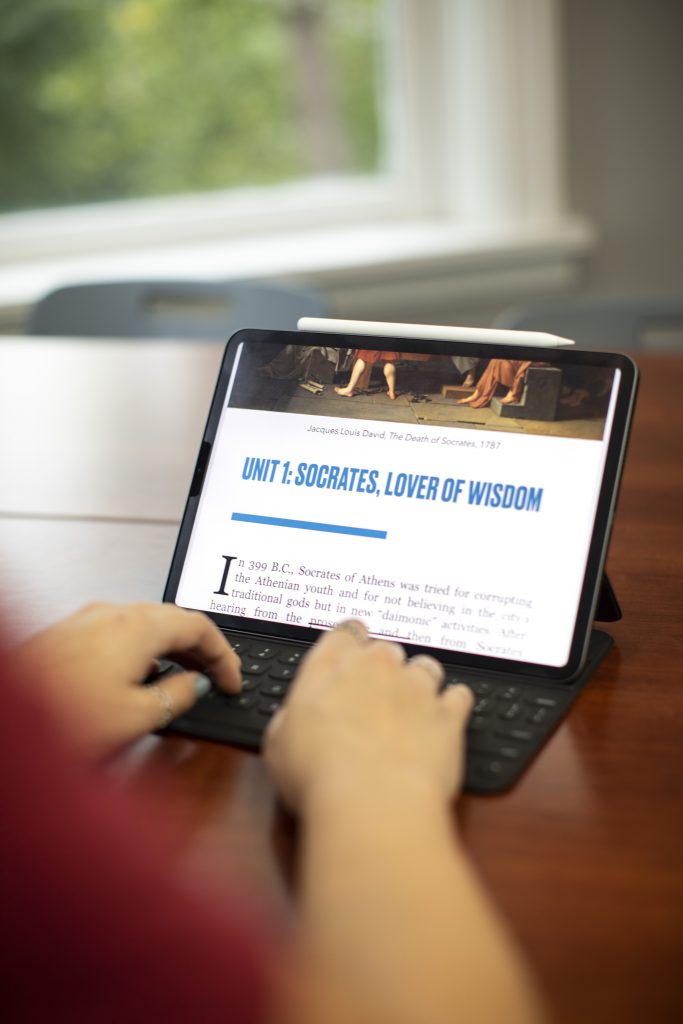 For more than two years, Professors Armstrong, Jones, and Gessell have worked on their ebook, which helps leverage Southern Virginia's LaunchPad Initiative—a universal technology platform designed to close the digital divide by placing an iPad Pro in the hands of every student and faculty member at the University. By creating a free digital textbook together that contains the required readings for Reason and the Self—a foundational philosophy course which every student takes as part of their Academic Core—these professors save the student body $46,000 annually in textbook costs, about $120 per student in the course.
"Having the iPad was a wonderful bonus in creating and recording our textbook," says Armstrong. "It harmonizes beautifully with the LaunchPad Initiative and provides the students with an even platform for learning."
This innovative ebook is a compilation of public-domain texts, texts available for educational use, and new original translations that replace the previously required texts for the course. In instances where the available public-domain texts used old translations with vernacular unfamiliar to today's students, Armstrong replaced these with his own Greek-to-English translations of Plato's Apology, Euthyphro, Crito, and Meno, and selected chapters from Aristotle. In addition to these proprietary translations, the professors have also included multimedia content for a richer learning experience.
"When making these translations, I aim to express the meaning of the original Greek texts in English that today's college students will understand," said Armstrong. "To further help our students, we embed links in the ebook to podcast episodes and videos that give helpful background information to the assigned readings."
Once registered for Reason and the Self, students can immediately access and download the ebook directly from Canvas, the University's learning management system, onto their University-issued iPad Pro.
"This ebook is one less thing that the students have to carry," added Gessell. "It eliminates the chance of books being forgotten, ordered late, or left at home."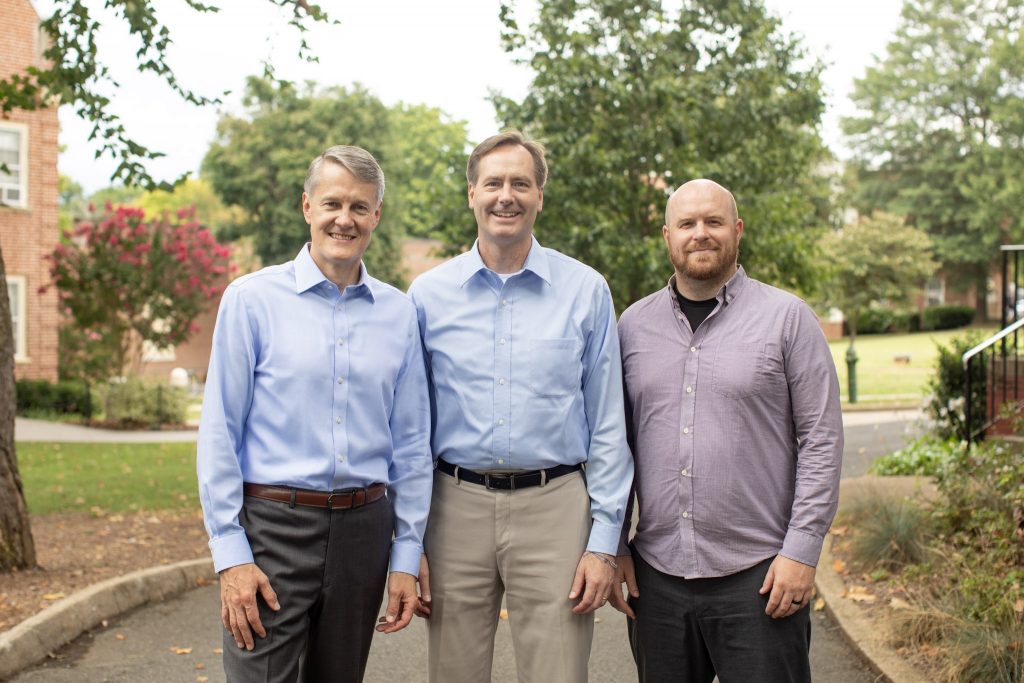 In addition to creating the free textbook, Armstrong, Jones, and Gessell are almost finished recording a narration of the course readings to enhance learning and create a more level learning ground for students with auditory learning styles or other learning disabilities.
"It gave us an opportunity to fully integrate the digital equipment that the students have here," says Jones. "By having the books and recordings on their iPad, we made it a one-stop-shop for their Canvas course."
Armstrong was first inspired to record the textbooks when visually-impaired student Nick Cantos ('23) joined his Reason and the Self class in 2019.
"I made the first recordings for Nick, which led us professors to the decision to record the textbooks for all of the students," says Armstrong. "The goal of this is to help the students understand and ponder what they are reading."
While Armstrong, Jones, and Gessell have provided most of the recordings—uploading them to Canvas as they complete them—Armstrong's wife, Carol, and daughter, Joanna, have also lent their voices. The professors have also included publicly available recordings by actor Mil Nicholson for Descartes and Hume and recordings by Bob Neufeld for Plato's Phaedo.
Integrating low- or zero-cost, engaging ebooks into the curriculum is one of many benefits of the University's Launchpad Initiative, adopted in Fall 2017. The initiative provides every full-time student and faculty member with an iPad Pro, a Smart Keyboard, and an Apple Pencil. Within two years, due to innovative uses of technology in learning, teaching, and school environment, Apple named Southern Virginia University an Apple Distinguished School.