News Release
Dr. James Lambert Named Chief Academic Officer
President Reed N. Wilcox has named Dr. James Lambert as Southern Virginia University's next Chief Academic Officer and Provost. Lambert succeeds Dr. Jeremiah John who served as the University's provost since 2018. Most recently, Lambert worked closely with Provost John while serving as the executive vice president of academic operations during the past academic year.
"Higher education is the peak of what we do as humanity," said Lambert. "And at Southern Virginia University, you add on top of that encouraging students to have virtuous lives, and to build a foundation of beauty, truth, conviction, and faith. I want nothing more than to be a part of that, and I will do whatever I'm asked within the University—as professor or provost."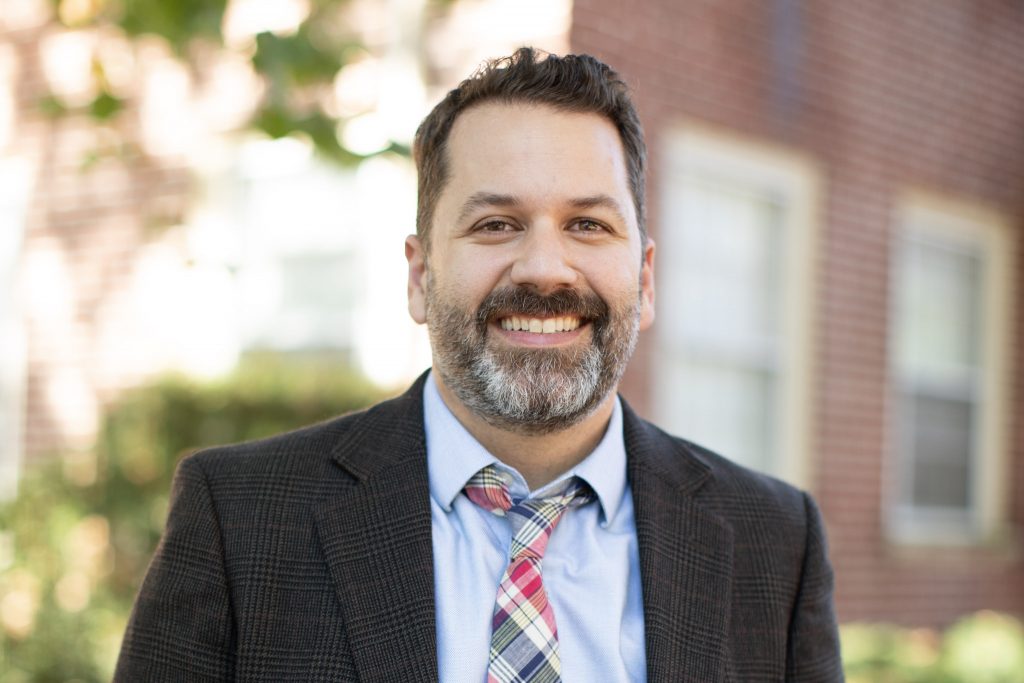 Since joining Southern Virginia in 2016 as an associate professor of English, Lambert has served in several leadership roles at the University including chair of the humanities division, director of the writing center where he helped execute the school's quality enhancement program, and director of the newly founded and implemented Personal Learning Center.
"James has an incredible amount of personal enthusiasm and energy, and he focuses on things that are most important," said John. "Every day he's focusing on things that are going to solve problems for the students. And the students and faculty who have interacted with him really love him as an academic leader."
In his new role as provost, Lambert expressed his enthusiasm for furthering the mission of Southern Virginia University—a private, self-reliant, residential university aligned with The Church of Jesus Christ of Latter-day Saints—as well as the school's fresh take on education.
"It seems that every decade makes higher education a little bit more exclusive, a little bit more expensive," said Lambert. "To me it's not about where you went, but about what you learned and how you grew there, who helped lift you, and where you are now because of what you did."
"It's great to be part of a school whose reputation is built on what we can and will do, rather than based on what we have done," Lambert continued. "I love the interaction of professors and students; I love the idea that learning is the goal, and I want to be involved in anything that promotes that."
Lambert earned his doctorate in British Literature from the University of Iowa, his master's degree in American Literature from the University of Arizona, and his bachelor's degree in English from Brigham Young University. In his field he has published peer-reviewed articles in Studies in English Literature, Shakespeare Bulletin, Studies in Philology, Religion and Literature, and Modern Philology.
He has also delivered more than 40 invited scholarly talks and presentations in locations including Los Angeles, Chicago, Abu Dhabi, and Berlin. Additionally, Lambert received various residential fellowships to study at the Folger Shakespeare Library in Washington, D.C. and the Dr. Williams Library in London, to work at Dartmouth College as a teacher and researcher, and two national Andrew Mellon Institute fellowships to study the early modern religious book trade and narrative theory. 
Prior to teaching at Southern Virginia University, Lambert taught at the University of Arizona and its College of Medicine, the University of Iowa, and the American University of Kuwait where he also served as writing program administrator and chair of the English department.
After successfully completing his three-year term as provost, John will return to his former position as full-time professor and director of the politics program at the University.
"I'm grateful for all the people who worked so hard and are so dedicated to the students' success," said John. "That is something that I could see as Provost probably better than anyone at the school. I came to appreciate, more than ever, all the efforts that students take to get their education."