News Release
Brett Garcia Named as Executive Vice President and Chief Development Officer
President Reed N. Wilcox recently named Brett Garcia as executive vice president and chief development officer for Southern Virginia University. In this role, Garcia will continue to oversee operations and finance, with support from his direct reports, while focusing on a mission-critical initiative: advancing the institution through fundraising and other strategic partnerships.
"In my work, I have come to understand the whole financial picture of the University," said Garcia. "Now, I am looking forward to making connections with the right people to move Southern Virginia University and its mission forward."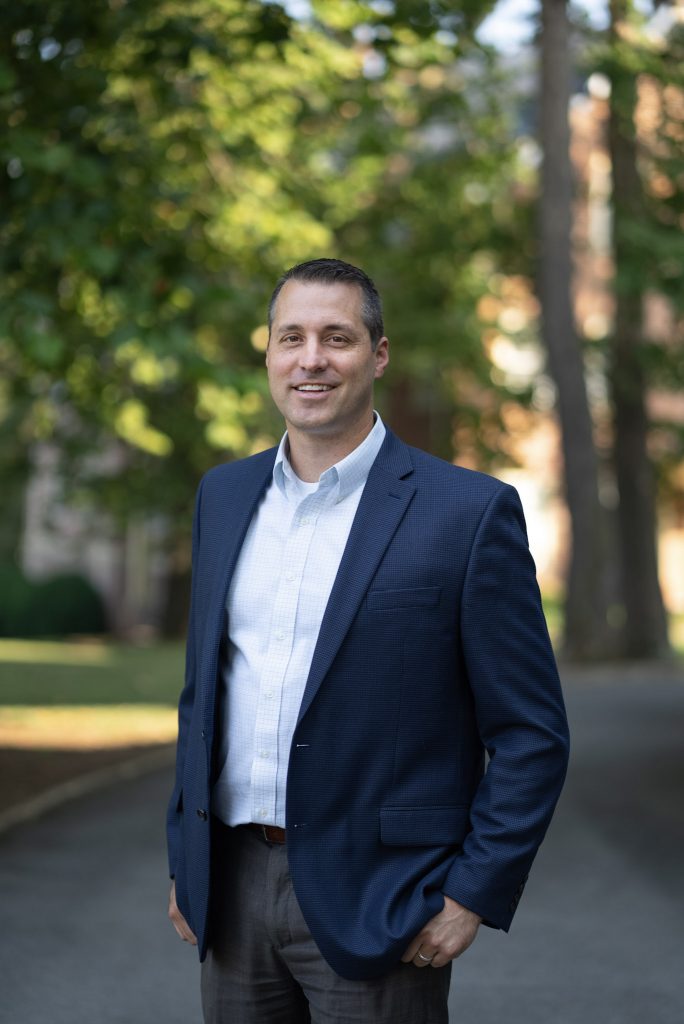 Among his many accomplishments at the University, Garcia has overseen various strategic initiatives including the renovations of current facilities, the construction of new facilities, the development of enrollment magnets, the implementation of technology and software, and the school's successful bid for full NCAA Division III membership and conference affiliation. Garcia also served on the search committee that hired President Wilcox in the summer of 2014.
Perhaps the most visible and sweeping of Garcia's projects is seen in the University's ongoing partnership with Apple—called the LaunchPad Initiative—that equips every full-time student, faculty, and staff member with an iPad Pro, Smart Keyboard, and Apple Pencil, and every classroom with an Apple TV and monitor. In 2017, Garcia spearheaded the institution's efforts to implement, adopt, and integrate this new technology across campus in less than six months.
"Brett [Garcia] oversaw the logistics of this complex process and was one of the primary reasons the implementation happened in record time," said Southern Virginia's Chief Information Officer Jon Wallin. "The LaunchPad Initiative has transformed the technology infrastructure of our University, but more importantly, it has leveled the educational playing field by giving every student universal access to the world's best technology regardless of their financial means or background."
In 2019, two years after Garcia helped the University launch its universal technology platform, Apple named Southern Virginia University an Apple Distinguished School in recognition of "continuous innovation in learning, teaching, and the school environment." Fewer than two dozen other colleges in the world are currently recognized with this prestigious award.
"Brett [Garcia] has personally and painstakingly built most of the foundation upon which we've grown and expanded over the past decade," said Chris Pendleton, Southern Virginia's Chief Marketing Officer. "Our partnership with Apple alone has completely transformed our institution and vastly improved the student experience. And that's just one small example of the dozens of strategic initiatives that he has led or supported during his time at the University."
"After helping to manage and professionalize so many mission-critical areas across our campus, I cannot think of a better or more qualified person to lead our University Advancement," concluded Pendleton.
Before joining Southern Virginia University, Garcia worked at Bausch & Lomb, where he was a senior territory manager for the entire Northwest Region. Prior to that, he spent five years with Pfizer, Inc. where he received numerous awards for his high achievement, including being twice honored with the prestigious Vice President's Cabinet Award. Garcia also co-owned a small company that provided industrial training seminars.
Garcia served a full-time mission for The Church of Jesus Christ of Latter-day Saints in the Italy Milan Mission and earned a bachelor's degree from Brigham Young University and an M.B.A. with an emphasis in marketing from the University of North Carolina at Chapel Hill.
He and his wife Suzanne, a PA-C who helps oversee the University's COVID Resource Center and Healthy Campus Plan, live in Lexington with their four children.