News Release
Southern Virginia University Ranked in U.S. News & World Report Best Colleges
Buena Vista, Va.—The U.S. News & World Report announced its 2021 Best Colleges, ranking Southern Virginia University 63rd among liberal arts colleges for Social Mobility—defined as successfully enrolling and graduating economically disadvantaged students.
A private, four-year, residential college aligned with The Church of Jesus Christ of Latter-day Saints, Southern Virginia University's mission is to gather faithful Latter-day Saints and like-minded students, lift them in intellect, character, and spirituality, and launch them into successful lives and careers.
"Inclusivity is key to our mission and purpose," said Chris Pendleton, the University's Executive Vice President and Chief Marketing Officer. "We believe in the principle of gathering; of providing opportunities for learning to anyone willing to live our standards. After gathering students at all levels, it's our responsibility to help lift them; to help them maximize their individual potential."
"That's what makes our mission so exciting and inspiring," continued Pendleton. "Traditionally, in higher education, excellence often goes hand-in-hand with exclusivity. We want to be excellent while remaining inclusive. In other words, we measure our success not in terms of our ability to exclude students who wish they could attend, but by lifting and adding value to every student who walks through our doors."
Over the past six years under President Wilcox's leadership, Southern Virginia University has made major investments in serving and supporting disadvantaged students, including the adoption of universal state-of-the-art technology—iPad Pros, Smart Keyboard, Apple Pencils and AirPods Pro—for all students at no additional cost to them. Based on this, Apple recently recognized Southern Virginia University as an Apple Distinguished School for its innovative implementation and use of educational technology.
"Schools across the country struggle to handle the disparity between students who can afford the latest learning technology and students who can't afford those tools," said Chief of Staff Jon Wallin. "By adopting Apple's learning platform at no out-of-pocket cost to students, we've bridged this gap and given all students—regardless of their socioeconomic background—the same opportunities for learning."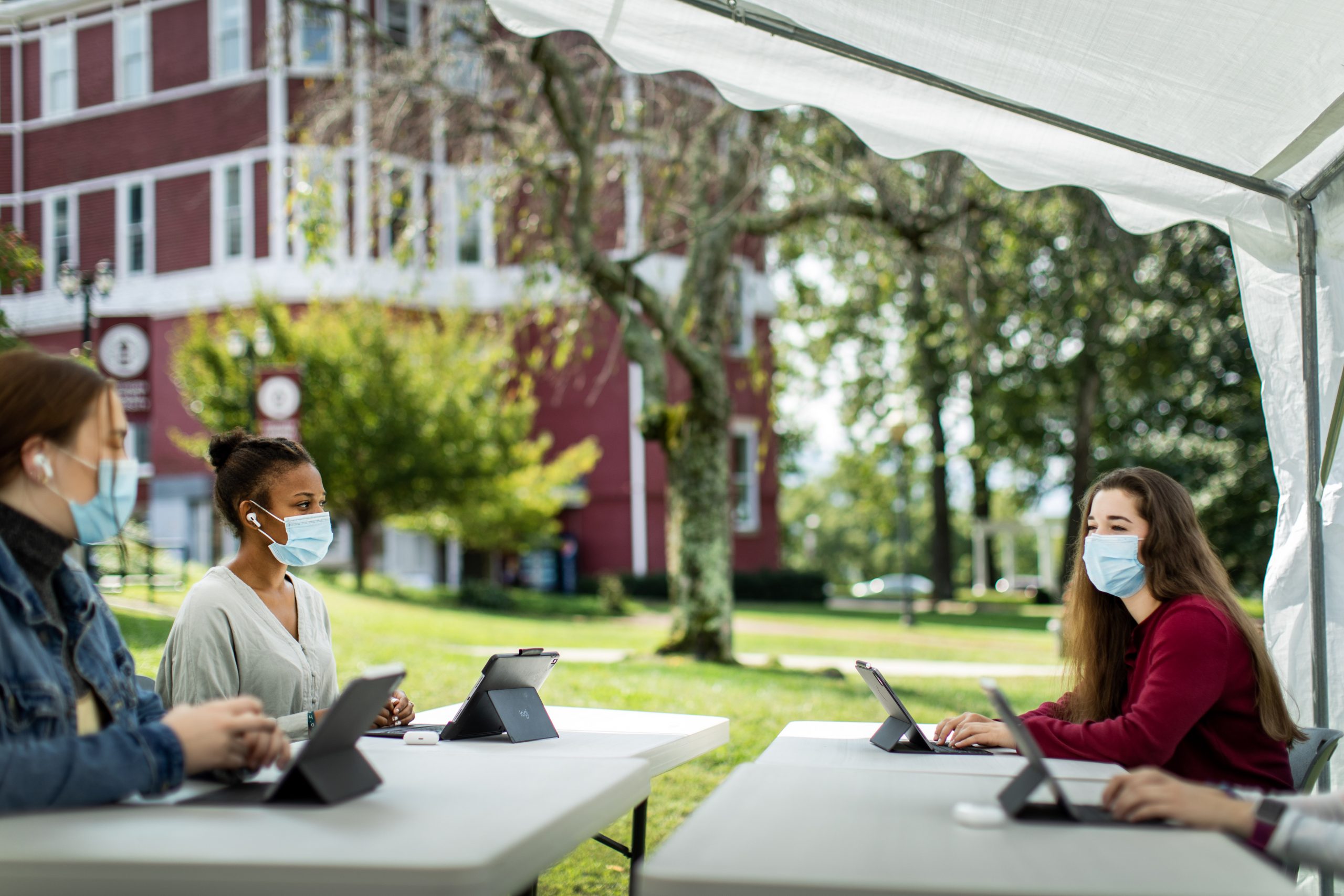 Additionally, the University recently organized an Office of Student Success designed to work with students on an individual basis to help them successfully navigate college life and persist to graduation—with special emphasis on serving and supporting first-generation and underprivileged students.
"We identify students who come from those backgrounds before they get to school and assign them their own personal student success coordinator, and in some cases an academic coach, to support them throughout their time at the University," said Student Success Director Aaron Carlson.
"Every student has something special and positive to contribute in our University community," continued Carlson. "Whether they come from a disadvantaged financial background or they're first-generation college students—we value what they bring to the table."
Furthermore, Southern Virginia is in the process of building a first-of-its-kind Personal Learning Center designed to create an additional layer of support for all students, including those from disadvantaged backgrounds. With the help of technology not yet available at any other institution in the U.S., the Personal Learning Center is pioneering new methods for assessing and optimizing each student's individual learning style by leveraging strengths and helping to bridge any learning gaps.
"Students come to Southern Virginia University not only from many different locations but also from many different learning experiences and styles," said Personal Learning Center Director James Lambert. "The Personal Learning Center meets individual students where they are, provides tools to settle them in to where they need to be, and prepares them for where they need to go."
"One of the ways we meet students where they are is to give a cutting-edge neurodiversity assessment that has just started to take root in Europe," continued Lambert. "It allows us to understand individual learning needs from students so we can then provide power learning tools and academic coaches to assist with reading, concentration, management, or overall learning."
In its mission to lift all students, Southern Virginia University has ranked in the top seven percent nationally for freshman-to-senior improvement according to the College Learning Assessment (CLA+). In addition to investing in innovative programs and partnerships, the University's commitment to personalized teaching and learning in small classes with caring professors and mentors remains the key component in lifting all students.
"We have always had a spirit of student-teacher engagement," said Provost Jeremiah John. "Our professors really like to be engaged with their students, to know their students, and be available for them. Of all the rankings that the U.S. News and World Report has, Social Mobility is the one to be most proud of, because that's where you show your value as college—that you're taking someone and lifting them higher."
"We are happy to receive this recognition from the U.S. News and World Report," concluded Pendleton. "But this is just the beginning for us. Ultimately, we want to become one of the most effective colleges anywhere at lifting students from all backgrounds and creating social mobility for them."