News Release
Southern Virginia University First in World to Give AirPods Pro to Every Student
Buena Vista, Va.—Southern Virginia University made history this semester as the first school in the world to give AirPods Pro to every full-time student, faculty, and staff member. The devices were gifted to the campus community at no extra cost to help overcome communication barriers caused by the COVID-19 pandemic while also providing students with equal access to the world's best technology.
"To help balance some of the challenges of communicating through masks at social distance — whether in classes or with friends — we're pioneering with Apple to create the world's most advanced iPad/smartphone communication system," wrote University President Reed N. Wilcox in his letter introducing the devices.
The AirPods Pro initiative is another exciting innovation from Southern Virginia University—an Apple Distinguished School that supplies every student and faculty member with an iPad Pro, Smart Keyboard, and Apple Pencil, and equips each classroom with an Apple TV for interactive and accessible personalized learning.
The addition of the AirPods Pro to this technology suite allowed the University to implement a hybrid-classroom model for the 2020 Fall Semester to accommodate flexible and virtual learning during the COVID-19 pandemic. Students may attend their classes either in person or online and seamlessly shift between the two depending on situational changes.
"Each classroom setting has been set up with micro-audio networks, where everyone who's in the classroom can tap into that, and anyone who's in the dorm or remote can also tap in and hear, experience and learn in the same way that they would if they were participating in-person," said Chief of Staff Jon Wallin.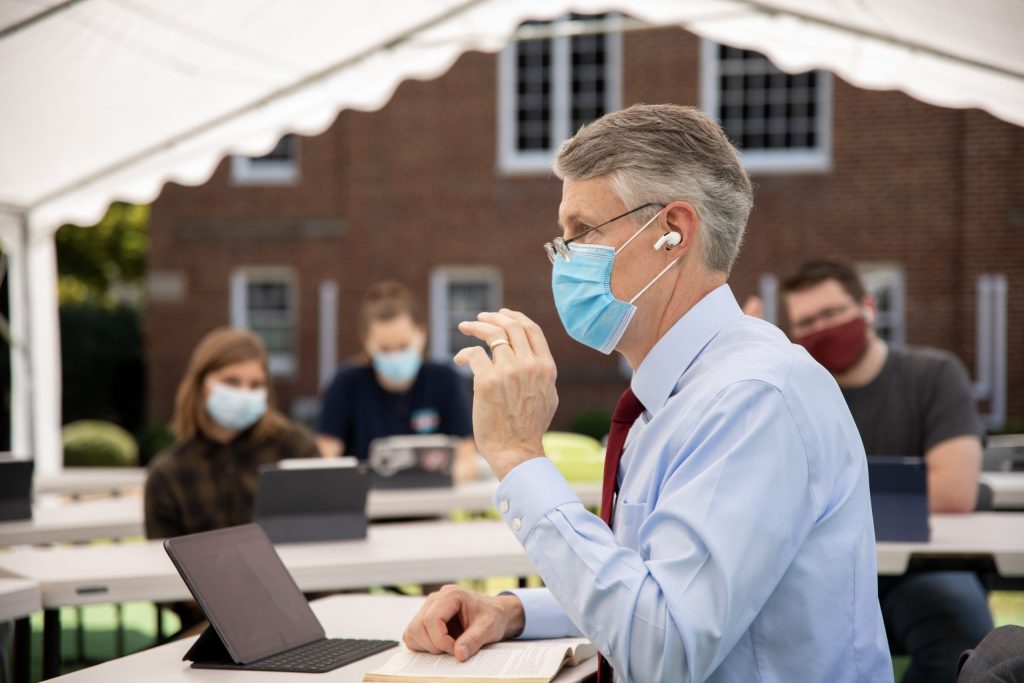 These micro-audio networks also solve hearing obstacles created by masking and social distancing—two essential safety measures of the University's Healthy Campus Plan that are followed by all members of the campus community during the pandemic.
"One of my students told me…that even though she's present, she wears her AirPods Pro during class because she is hearing impaired," said John Armstrong, professor of Philosophy. "She can hear me talk better than she could if I was wearing a mask over my face, where she couldn't see my lips move."
To produce the clearest sound possible, the AirPods Pro apply industry-leading audio technology in the form of a high dynamic range amplifier. Additionally, the devices use best-in-class active noise cancellation technology to reduce external noise.
"We received an email from a student who said that these…devices allowed her to concentrate for the first time in her life," said Executive Vice President of Academic Operations James Lambert.
Like their iPad, students use AirPods Pro both inside and outside of the classroom. For example, student-athletes who are unable to be on campus this semester can still be included in team meetings, and music students can listen to vocal demonstrations while practicing at home.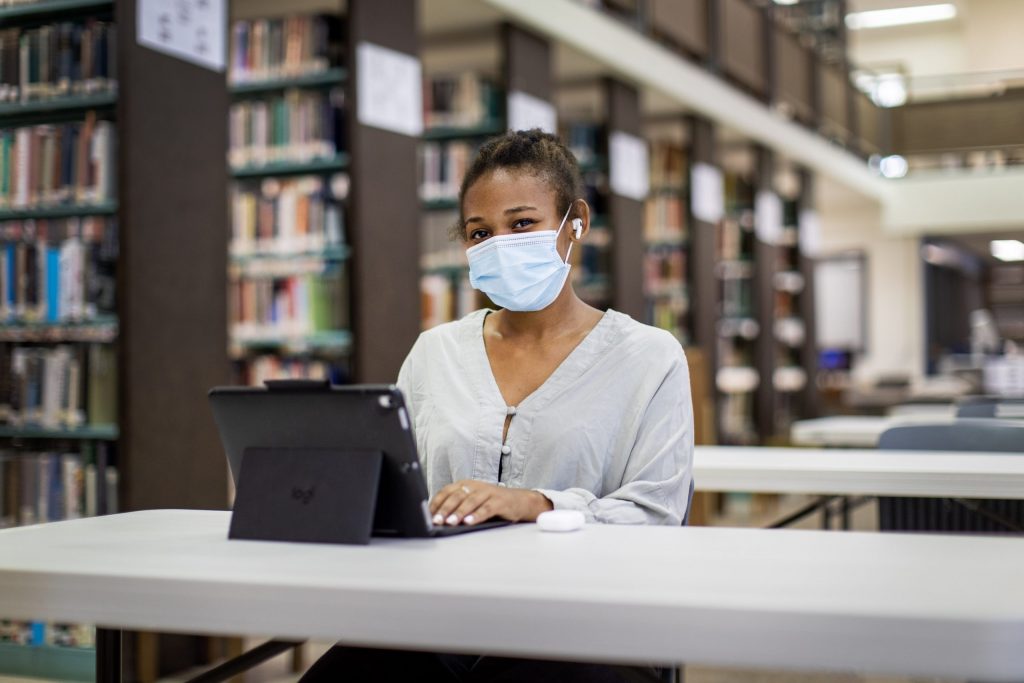 "[The AirPods Pro] really help with the learning process outside of class, inside of class, and in my own voice studio practices," said music major Jessica Simpson ('21). "I can use the AirPods to listen to a recording while I sing, or play the piano on my app. It's been really helpful in the learning process—they help us become more independent musicians."
Overall, providing AirPods Pro and other state-of-the-art technology to every student—regardless of means or background—is one way Southern Virginia University strives to fulfill its mission to gather and promote inclusivity.
"It levels out the playing field and brings this feeling of continuity to the entire campus where everyone's equal, we're all in this together, we all have access to the same resources," said Jared Mattson, ('23). "It's just a really comforting feeling to have."