Speeches
Former Olympian Richard George on Personal Integrity and Faith
Buena Vista, Va.— Southern Virginia University Senior Advisor Richard George spoke to students, faculty and professional staff at a University-wide forum about the value of personal integrity and the relationship between honesty and faith.
"Honesty is truth, and truth is absolute," said George. "There are dozens of reasons why we should be honest. However, there is one important spiritual reason why we need to be honest and that is so we can have faith in Jesus Christ."
George explained that faith is a fundamental principle of the Gospel of Jesus Christ and honesty is a prerequisite of that faith.
"When we exercise faith in Christ…we explicitly acknowledge Christ to be genuine and honest in all his dealings," George explained. "When someone asks if we are honest in our dealings, we are really being asked if we have faith, are faithful, and are faith worthy."
George spoke of two individuals in his life who exemplified great integrity. The first was his former Harvard Business School classmate and renowned innovator, scholar, and religious leader, Dr. Clayton Christensen.
"Clayton was one of the most honest people that I've ever known," said George. "He was also one of the brightest. He exuded personal integrity."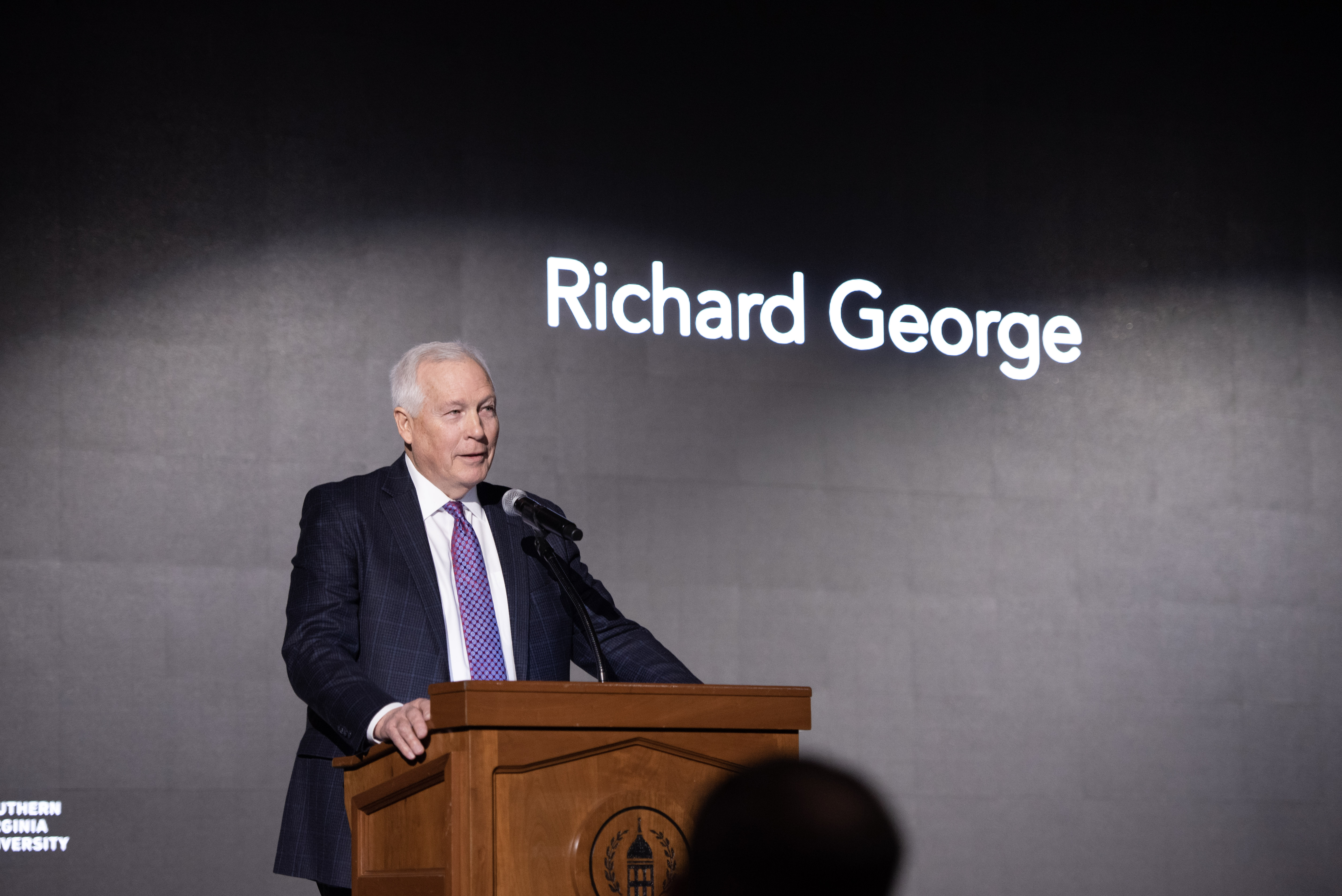 George related a famous story from Christensen's time on the University of Oxford's basketball team when he chose to sit out of the championship game because of his personal commitment to keep the Sabbath Day holy.
"'Your personal moral line is powerful because you don't cross it…Decide what you stand for and then stand for it all of the time'" George quoted from Christensen's book, "How Will You Measure Your Life?"
The second individual George spoke of was his father, a former World War II pilot and member of the First Quorum of the Seventy of The Church of Jesus Christ of Latter-day Saints.
George shared his father's example of integrity when he chose to be truthful about personal medical conditions on his pilot application, even though doing so put him at risk of being sent back to the infantry and the war's extremely dangerous front line.
"My father had told the truth, despite the consequences," George said. "Against all odds, he was accepted into pilot school."
His father's example throughout his life, said George, was one of high moral integrity and faith. In his closing remarks, George urged those in attendance to do the same.
"We need to be vigilant in protecting our integrity," he said. "It is just too important to risk the loss of faith and salvation."
George earned his undergraduate degree in economics from Brigham Young University where he was a three-time NCAA All-American track and field athlete. He also competed on the U.S. Olympic team, was a National AAU Champion, and won a bronze medal in the World Games. After earning his Master of Business Administrations at Harvard Business School, George went on to hold many financial and strategic roles with large companies throughout his life.