Speeches
Dr. Brigitte Madrian: Risks Worth Taking
Buena Vista, Va.— Dr. Brigitte Madrian, Dean of the Marriott School of Business at Brigham Young University, expounded on Jesus Christ's Parable of the Talents found in the New Testament and discussed "risks worth taking."
To open her address, Madrian read the Parable of the Talents as found in Matthew 25:14-30 which teaches about the risks and rewards of investing financial resources—or "talents" in ancient Hebrew.
"Burying one talent in the earth involves very little risk," explained Dr. Madrian. "The talent will most likely be there later…but you will also guarantee yourself no return. The only way to turn five talents into ten…is by being willing to assume some measure of risk."
This parable, Madrian said, is true not only for our finances but for all aspects of life.
"Our purpose here on this earth is to grow and progress," said Madrian. "As with a financial investment, the only way that we are going to be able to…fulfill the measure of our creation is by being willing and able to take some risks."
Madrian listed five risks in life she believes are worth taking:
Humble yourself and solicit feedback

Stand up for right

Learn a new skill

Live someplace different

Apologize
Other risks, explained Madrian, are not worth taking as she named faith, family, and testimony as values worth guarding. To help assess whether a risk is worth taking, Madrian encouraged students to access spiritual help.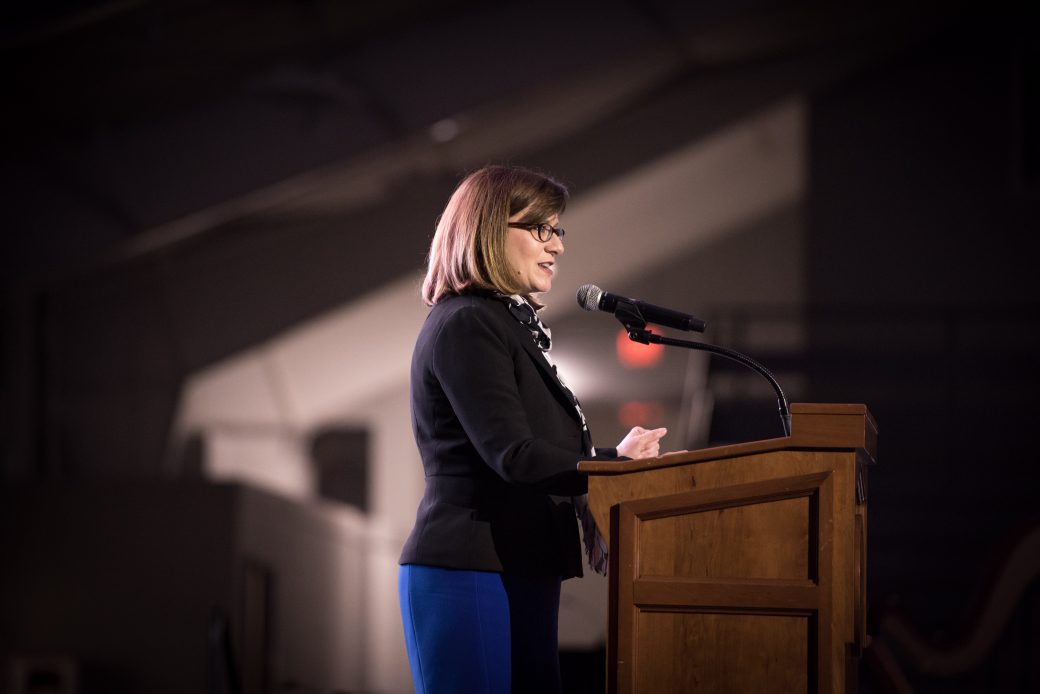 "We can access the ultimate source of wisdom through personal revelation if we do our due diligence," said Madrian. "Doing so requires living in a way where we can hear the promptings of the Holy Spirit."
In her closing remarks, Madrian shared passages from Matthew 14:14-21 in which Jesus feeds a great multitude of people with five loaves and two fishes. This food was given to Jesus by a young boy who took the risk of giving up his meal to help the Lord.
"If there is any risk worth taking, it is the risk of consecrating what we have to the Lord," said Madrian. "I invite you to bring your five loaves and two fishes to the table with full faith that miracles will happen if you do."
Madrian earned her doctorate in economics from the Massachusetts Institute of Technology before serving as a faculty member at the Harvard University Economics Department, the Wharton School of the University of Pennsylvania, the University of Chicago Booth School of Business, and the Harvard Kennedy School.
She is a Marriott Distinguished Professor and the first female to serve as dean of the Marriott School of Business at Brigham Young University. She also has a joint appointment in the Department of Finance and the George W. Romney Institute of Public Service and Ethics.