Spotlight
Black Student Union Helps Campus Honor Black History
Buena Vista, Va.—In commemoration of Black History Month, Southern Virginia University's Black Student Union hosted events celebrating black culture from Feb. 17-21, inviting all members of campus to learn and grow together.
"We have a chance to celebrate this month and help the students around us grow," said Black Student Union Vice President Michael Benjamin ('20). "We can educate and have displays all year round, but [this month] is a focus point. It's an opportunity to share."
The BSU-sponsored events began on Monday, Feb. 17 with a movie night featuring "Harriet," the 2019 critically-acclaimed film detailing Harriet Tubman's crucial role in the abolition movement. The following evening, students gathered to create artwork inspired by African culture.
"We were given canvases and told to find something in African culture and illustrate it," said Devon Riddle, ('22). "I think it's important for us to participate in these events. It was cool to be able to support the Black Student Union members—they're good friends of mine."
The rest of the week featured a Karaoke night that Wednesday and poetry reading on Friday.
"My favorite had to be poetry night," said Michael Frye, the Black Student Union's staff supervisor. "It went from reciting Langston Hughes and all these poets to my own personal poem and then to chain link poems.
"[Chain Link poems] are where I'd start with three words, and the next person adds three words to it, and then we all create this unique poem between our own mindsets," Frye continued. "A lot of people got things off of their chests. It was empowering."
James Hue ('20), President of Southern Virginia's chapter of the Black Student Union, believes the week's events opened up opportunities for his fellow students to learn more about and gain understanding of black history and culture.
"That's a big factor of the club, because people are scared, in a way, to come in, or they think they won't really fit in," said Hue. "It's not about fitting in, it's really just coming here to understand, to learn."
For Frye, unity and inclusion have been the driving forces for the association.
"We want to make sure everybody knows we love them, make sure they know it's a safe place, and invite them to join the culture in whatever we do," said Frye. "It's always better to become aware and gain more social intelligence in whatever you do in life."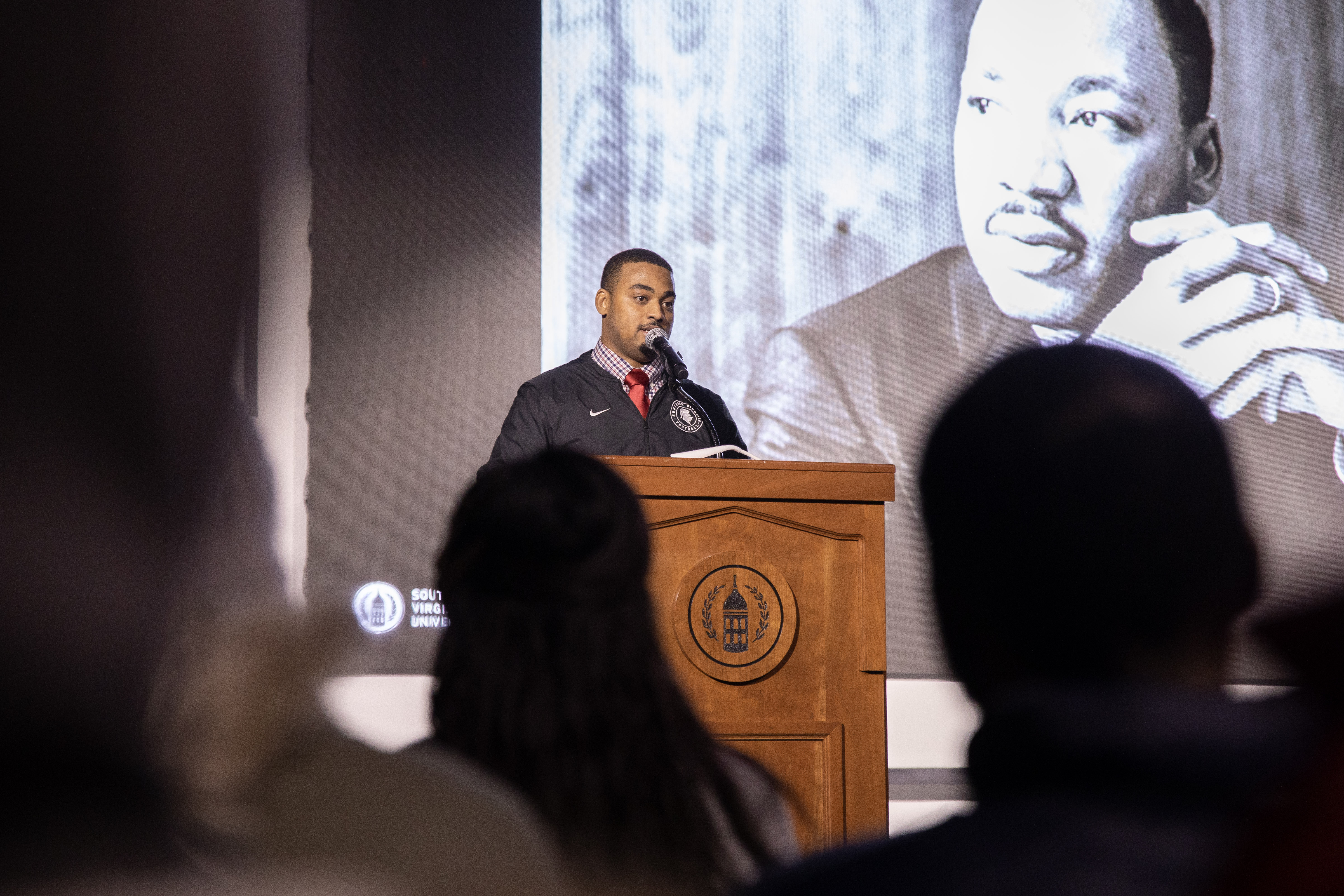 Southern Virginia University's chapter of the Black Student Union was founded in 2018 by Frye and Benjamin. In the last two years, the Black Student Union has helped host two forums in honor of Martin Luther King, Jr., and has worked to preserve local African American history.
Looking forward, the association hopes to host additional types of events in the upcoming years.
"We're grinding for numbers, recruiting great students here to put on fashion shows, stomp shows—I'm telling you, the culture's coming!" said Frye. "We'd even love to [host] an anxiety group and talk about anxiety or depression."
As the Black Student Union continues to grow in size, Frye encourages all members of the Southern Virginia campus community to come and join.
"This is my call to action," Frye said. "Come out to a meeting and see what we're about. Hopefully, we can all learn a lot of new things. Here, this is a safe place."