Speeches
This Year's Exceptional Student Achievements
Southern Virginia University recognized and celebrated students' exceptional achievements from the 2018-2019 school year in Friday's forum on April 12.
"If we had a title for today's forum," said Chief of Staff Brett Garcia, "it would be, 'Best. Year. Ever.'"
Dean of Students Michael Gibbons first recognized achievements in Student Life. He began by recognizing all of the recently returned and newly called missionaries for The Church of Jesus Christ of Latter-day Saints. Gibbons said this year featured a record number of student-begun and student-led clubs and highlighted the successes of the black student union, Polynesian heritage association and the University's first esports team.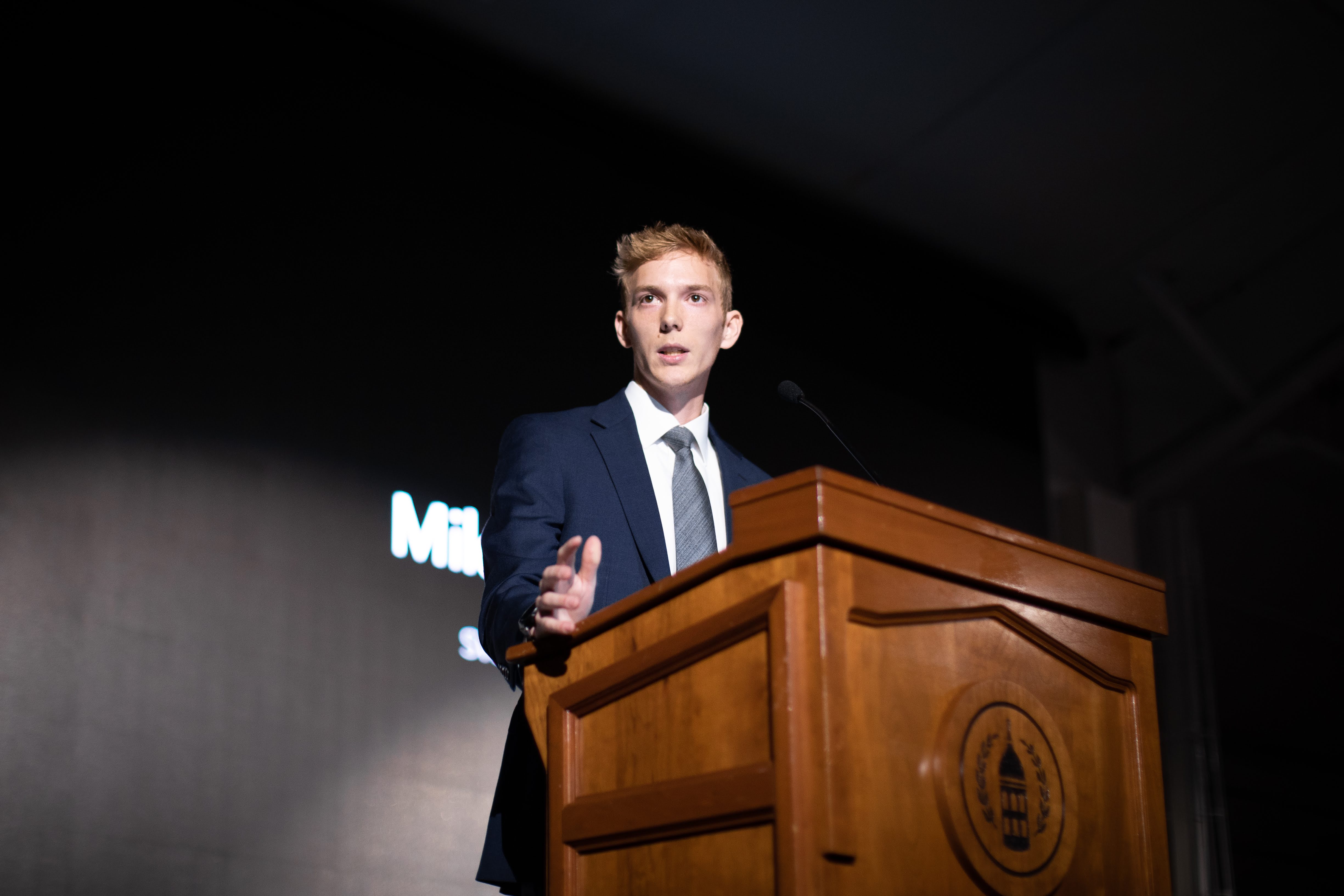 Outgoing Southern Virginia Student Association President Mike Myers spoke about the SVSA accomplishments including addressing mental health issues through art, honoring a recently deceased student by creating a scholarship in his name, and achieving over 4000 hours of service as a university. Incoming SVSA President Brynn Siefkes then spoke about her excitement to serve the following year.
Athletic Director Jason Lamb recognized the year's sports achievements, including 25 conference players of week, 12 All-Conference individual awards, eight new head coaches, five All-Region awards, three All-American honors, one CAC Player of year, one Rookie of year, and one CAC champion.
"What a great year," said Lamb. "It's hard not to think about how amazing it is to be with you and how much we want you to become. It reminds me why I'm here. We're building and making something here that is unlike anything on this earth. This is a fantastic place"
Dr. Eric Hanson, division chair for the performing arts, recognized the new ensembles including the commercial ensemble and marching band as well as the many performances throughout the year.
"It is such a privilege to learn from you and grow from you," he said. "Best year ever, for sure."
Two graduating seniors, Pita Moala and Tara Caputo, then spoke about their Southern Virginia experiences and how the university helped launch them into their next phase in life.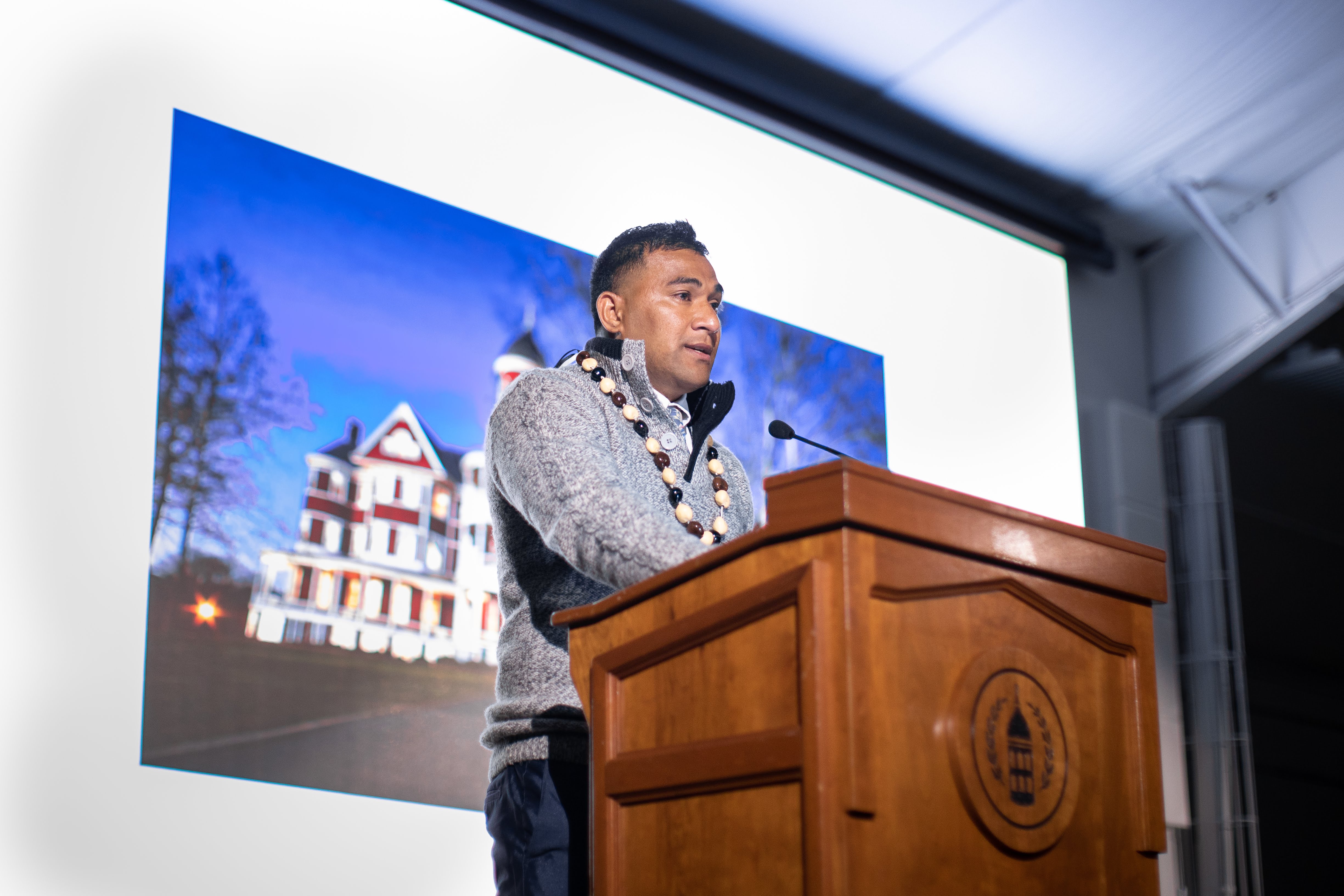 Moala, a math major from Tonga, explained how he wanted to become an engineer since he was a young boy. After completing his associate's degree, interning at NASA and playing for the U.S. national rugby team for four years, Moala chose to attend Southern Virginia to finish his bachelor's degree. He is the first member of his entire extended family to attend college. After graduating he will attend the University of Virginia's engineering graduate program.
"Southern Virginia was an answer to my prayers and has helped me refocus on [the schooling] I had started," said Moala. "It allowed me to practice, live and share my culture and allowed me to see my full potential. I learned here to never give up. I am grateful for my professors, the staff members, and especially for the career center who have helped me every step of the way."
Caputo, a history major from Henderson, Nevada, explained that her experience as a college athlete helped make an impression on her future boss and land her the job. Caputo completing the teaching-licensure track at Southern Virginia while also participating in SVSA and Institute Council. After graduating she will teach at Great Hearts Academy in San Antonio, Texas, an opportunity she discovered after meeting with a recruiter on campus.
"Southern Virginia is unlike any university," she said. "Here we receive a great personalized education [while] also being able to strengthen our testimonies as members of The Church of Jesus Christ of Latter-day Saints. We have professors at this university to help shape us into individuals that people in the workforce are looking to hire. I've received a wonderful education here at Southern Virginia and feel prepared to move onto the next chapter in my life."
The forum also featured a video produced by the University showcasing some of the highlights from the 2018-19 academic year. Watch the highlight video on YouTube.