Spotlight
Students Share Faith, Testimonies through Performance at Annual Festival of Lights
Kensington, Md. —Taking time from classes the week before finals, the Southern Virginia University Chamber Singers drove to the Washington D.C. Temple Visitors Center to share their testimonies through performance as a featured ensemble in annual The Festival of Lights hosted by The Church of Jesus Christ of Latter-day Saints.
This yearly holiday festival held near our nation's capital welcomes thousands of visitors worldwide to celebrate the birth of Christ together through free nightly concerts, special exhibits and 40,000 beautiful lights displayed throughout the temple grounds.
"When we were invited to perform on this concert series, I checked with each of my students to ensure our participation would align with what was being asked of them academically," said Chamber Singers Conductor Dr. Kyle Nielsen. "They all quickly agreed to do it, which really spoke to me regarding how important sharing who we are and what we believe, in a setting like the Visitors Center, is to them."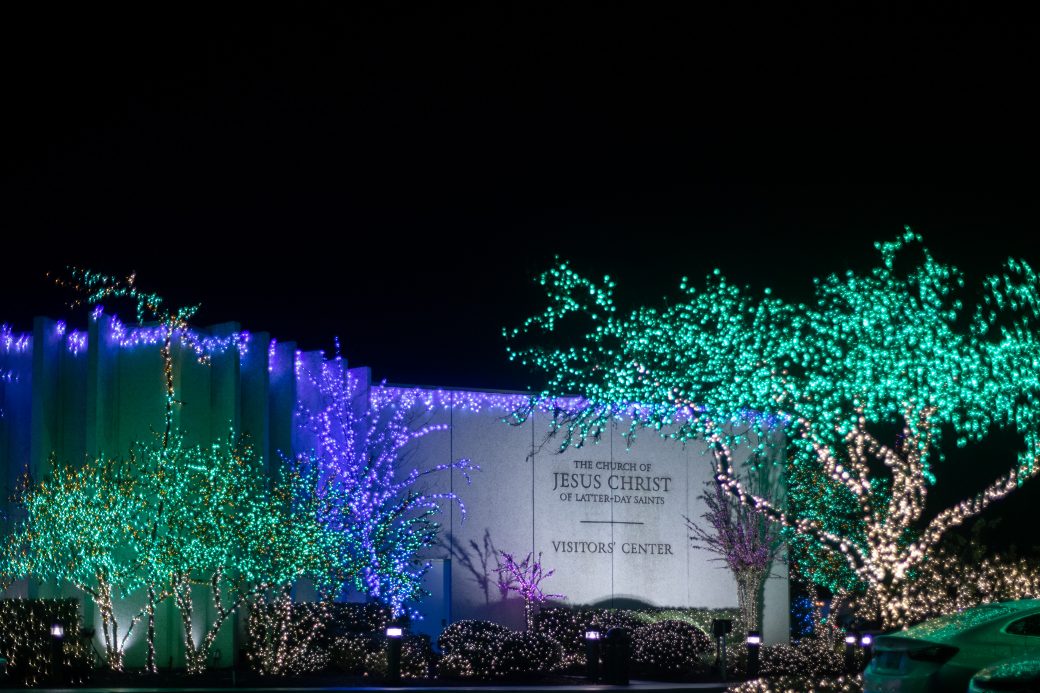 The Chamber Singers—Southern Virginia University's premier ensemble—is comprised of college-aged musicians, most of whom are members of The Church from all over the country. After performing in venues such as Carnegie Hall and the National Cathedral, singing at the Washington D.C. Temple Visitors Center presented a unique opportunity for students to share their talents in an especially meaningful venue.
"Our audience was filled with hundreds of people that had come to the Visitors Center as part of their holiday celebration," told Rachel Rust, senior liberal arts major from Atlanta, Georgia. "Many were members of The Church, but there were also many who were not.
"It was an opportunity to remember together that Christ's birth continues to be momentous and joyful," Rust continued. "I wanted to sing my best not only because it was huge event, but more importantly to add to the spirit already present in such a beautiful, holy place."
Sharing faith and testimonies through performance is nothing new for Southern Virginia students. The University's music ensembles participate in many interfaith events throughout the Shenandoah Valley.
"We performed parts of a Christmas concert last Sunday with choirs from two Protestant congregations," said Jon Clawson, a junior music and history double major from South Jordan, Utah. "It's an exciting way to share our faith with others—both within and without our own faith."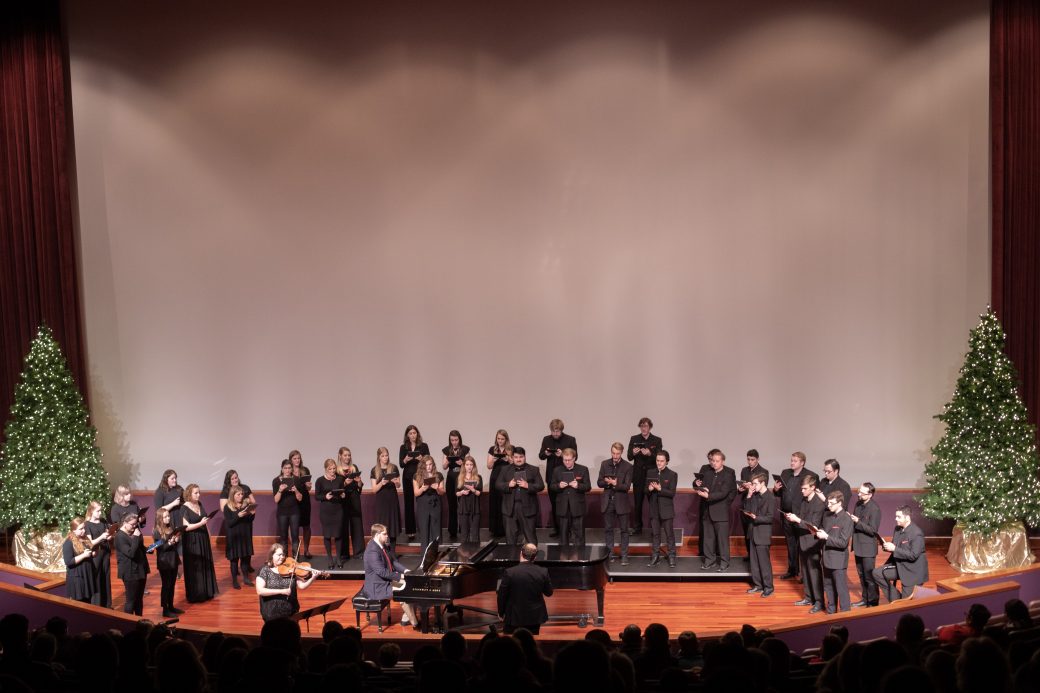 For Clawson, sharing his beliefs has been a highlight of participating in Southern Virginia University's music program. One such experience has been working as an organist at a local Methodist congregation—a part-time job made possible through a connection from one of his music professors. He also interns as a choral conductor with the University's music program.
"I got to work through a piece in my mission language with the Chamber Singers and perform it," said Clawson, who served in Frankfurt, Germany. "I taught them what they were singing about and got to talk in an openly religious way about why the text was important and fit in our faith."
Nielsen explained he enjoys creating and finding these kinds of moments with his students— intentionally selecting a repertoire of concert themes that "resonate with them as humans." The Southern Virginia alum who earned his doctorate of musical arts from the University of Miami in 2017, also prays regularly with his ensembles and holds a spiritual thought each class period.
"At the other universities I attended, there was no talk of spiritual things outside of the Church's Institute of Religion—you were actually afraid to mention anything like that on campus," said Keegan Briggs, a sophomore theatre major from Pleasant Grove, Utah. "But here, our professors encourage us to share spiritual insights."
Open about his own life experiences, Nielsen discusses gospel-related topics in class and encourages his students to not be afraid to ask questions. He refers to these open discussions as his "21-century approach to discipleship:" firmly believing that questions foster conviction.
"Dr. Nielsen talks about how we are all on a journey, and how that is fine," said Pearl Allen, a junior in the teaching education program from Keene, New Hampshire. "It's helped me feel like I belong and understand who I am as a person—especially in terms of spirituality."
Once the Chamber Singers finished their set at the sold-out concert, they joined the nearly 400 attendees in the lobby to mingle and discuss the concert, the Christmas season and their faith.
"We have all been uplifted here [at Southern Virginia University] and it's a pleasure to uplift others by the music we've prepared" said Clawson.