News Release
Southern Virginia University Set to Join USA South
This press release is courtesy of the USA South Athletic Conference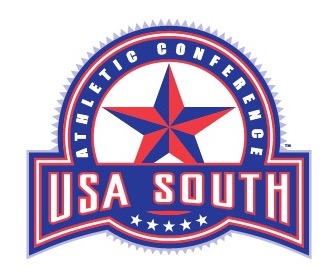 The USA South Athletic Conference is pleased to announce that Southern Virginia University has been accepted for full membership within the League. The Knights are currently an NCAA Division III institution primarily competing in the Capital Athletic Conference. Southern Virginia University's football program currently is an affiliate member of the Old Dominion Athletic Conference. The Knights will begin play as USA South members in the 2021-22 academic year, growing the League's membership to 19 institutions.
"I am very pleased that the USA South Presidents Council agreed to extend membership to Southern Virginia University," said Dr. Tom Bogart, President of Maryville College and Chair, USA South Presidents Council. "Southern Virginia University is an institution that aligns well with the rest of the Conference members, and this decision coincides with the strategic direction of the Conference. I welcome them wholeheartedly."
"We are pleased to have Southern Virginia University join the USA South," stated Dr. Tom Hart, USA South Commissioner. "Southern Virginia University adds to our membership by providing another high-quality institution dedicated to the ideals of Division III. The site visit team was impressed by the leadership demonstrated by President Wilcox and his team for the commitment to the student-athlete experience and its place within the overall University mission. Levels of athletic staffing, facilities, budget, sport sponsorship and location were all factors that indicated a strong fit with our other 18 members."
Southern Virginia is a private, self-reliant, residential university aligned with The Church of Jesus Christ of Latter-day Saints and its principles and values. The University mission is to gather faithful Latter-day Saints and like-minded students, lift them in intellect, character, and spirituality, and launch them into successful lives and careers. The Knights currently offer 12 men's sports (baseball, basketball, cross country, football, golf, lacrosse, soccer, swimming, tennis, track & field, volleyball and wrestling) and 11 women's sports (basketball, cross country, field hockey, golf, lacrosse, soccer, softball, swimming, tennis, track & field, volleyball).
"We are thrilled to have been invited and to now accept the invitation to join the USA South Athletic Conference in 2021," shared Southern Virginia University President Reed Wilcox. "We are a private, faith-based institution fully committed to educational excellence and the NCAA Division III approach to athletics. Over the past five years, we have built a growing friendship and familiarity with many conference members. We believe in the power of partnership and are committed to being strong, reliable, and proud partners with the USA South and its member institutions."
"We're excited to join and become a contributing member of the USA South and look forward to being aligned with the conference and its member schools," stated Deidra Dryden, Southern Virginia Director of Athletics. "We're also extremely grateful for our membership in the CAC and ODAC—both of which have been great partners. Joining the USA South allows us to have as many of our sports as possible competing in the same conference, which has been a goal of ours. We've really enjoyed our competitive relationship with the USA South over the years and we admire their commitment to student-athletes both academically and athletically. We've also been particularly impressed with their student-athlete leadership development."