News Release
Phi Kappa Phi Recognizes Southern Virginia as Platinum Chapter
This press release is courtesy of Phi Kappa Phi
The Honor Society of Phi Kappa Phi—the nation's oldest and most selective collegiate honor society for all academic disciplines—recently recognized the Southern Virginia University chapter of Phi Kappa Phi as a Circle of Excellence Platinum Chapter, the highest commendation a chapter can receive from the organization. The award is given to chapters that exceed expectations in chapter operations and who demonstrate sustainability and vitality as a chapter of Phi Kappa Phi.
The Circle of Excellence distinction is a part of the Society's Circle of Honor program, which was introduced in 2018 and awarded for the first time this year. The program recognized 75 chapters this year, including 16 with the Platinum distinction. Phi Kappa Phi currently has chapters on more than 300 select campuses in the United States and the Philippines.
"The Circle of Honor program recognizes Phi Kappa Phi chapters that have gone above and beyond to promote academic excellence on their campuses," said Society Executive Director Dr. Mary Todd.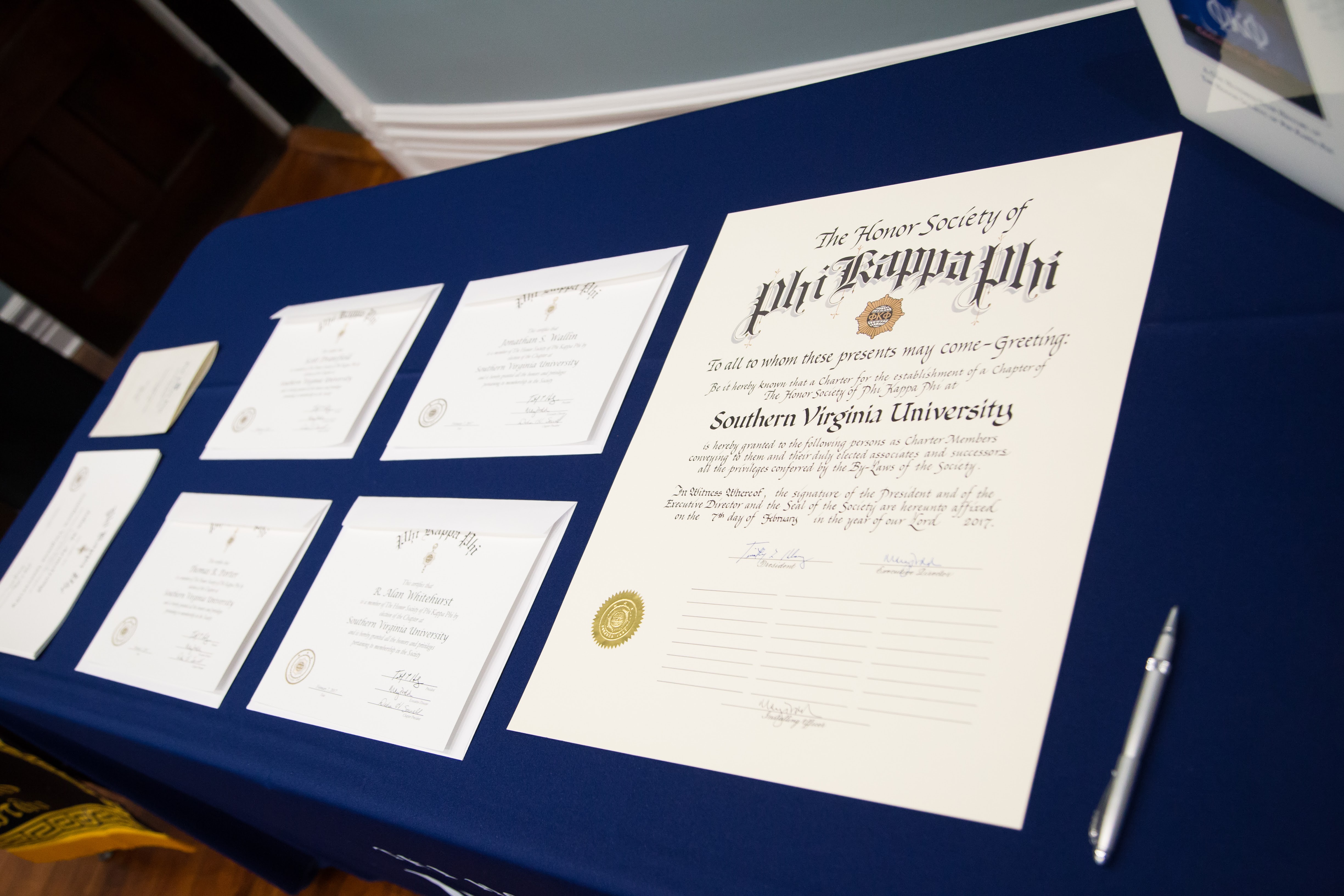 The Circle of Excellence Platinum honor is given to chapters who scored a perfect 100 on a criteria scale that evaluates chapter health indicators. By receiving the Platinum distinction, the SVU chapter is recognized as a thriving organization that holds annual initiations, upholds the Society Bylaws, regularly attends chapter training opportunities and submits a chapter-endorsed nominee to the Phi Kappa Phi Fellowship Program.
"Phi Kappa Phi recognizes Southern Virginia juniors and seniors at the top of their class and encourages them to serve others," said John Armstrong, chapter president. "This fits with the university's aim of launching students into meaningful lives as Christ's disciples. I am grateful to Madison and Debra Sowell for starting the chapter a few years ago and for generous support from the university's administration and faculty."
Chapters achieving the Circle of Excellence Platinum distinction receive:
a commendation letter from the Society sent to chapter officers and campus administration
special recognition on the Phi Kappa Phi website
specially-designed logo for use in chapter communications
choice of a $300 cash award or applicable event registration grant
To learn more about the Circle of Honor program, please visit www.phikappaphi.org/2019Excellence.
End of press release
2019 Initiation Ceremony
On March 27, the Southern Virginia University Chapter (Chapter 341) held their 2019 initiation ceremony. Phi Kappa Phi Professor of the Year Barbara Crawford delivered the keynote address, "Scholars as Artists: Tools and Perceptions." She used famous works by Michelangelo, Masaccio and Caravaggio to show how to choose methods and tools wisely and the importance of being guided by one's code of ethics.
The initiation ceremony consisted of six faculty initiates and 25 student initiates. To be initiated, seniors must be in the upper 10 percent of their class, juniors must be from the upper seven and one-half percent, and faculty, administrators and professional staff must qualify through achieving scholarly distinction.
Faculty Initiates
Amaree Cluff
Doug Himes
Jeremiah John
Iana Konstantinova
Gertrud Kraut
Marcel Widzisz
Student Initiates
Clarissa Barton
Rebecca Burlett
Kyle Coburn
Kristen Cochran
Cole Critchfield
Jack Dryden
Nicholas Francis
Aubrie Goldhamer
Greyson Gurley
Coulson Hardy
Michaela Humphrey
Dallin Hunt
Heidi Jacobson
Autumn Jenkins
Hannah Jones
Natalie Kelly
Hannah Larsen
Morgan Mayne
Rachel Miller
Jason Newman
Ashley Preisler
Brianna Robertson
Emma Stirling
Cory Stout
Sydney Winterton