Spotlight
Knights Awarded Best Domain at NCSU Hackathon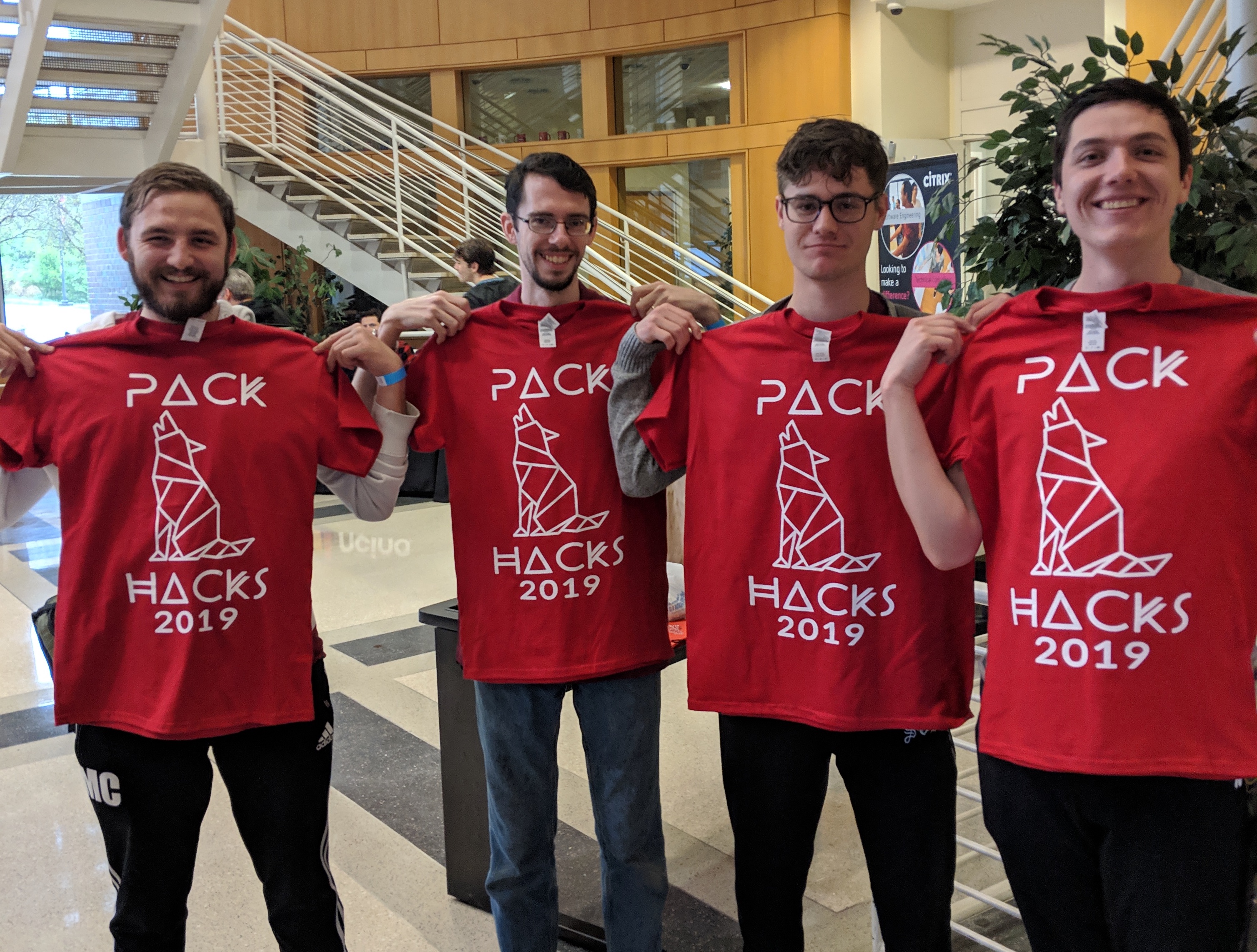 Competing in their first ever hackathon at the North Carolina State University 'Pack Hacks' event, four Southern Virginia University computer science students earned Best Domain honors for their app, Vicinia— a localized chat service that connects friends within a close radius.
Hackathons are coding competitions hosted by universities and tech firms where teams create software products in response to an assigned prompt or theme. In addition to providing a forum for computer-based competitions which include awards and prizes for contest winners, hackathons also serve as key networking and recruiting hubs for the computer science industry.
Working together for 24 hours straight, Southern Virginia's team consisting of four friends—Boston Cartwright, Francesco Hayes, Mitch Charette, and Tyler Smith—developed their Vicinia software with Pokémon Go enthusiasts in mind. The app's branding and web design were deemed best in the hackathon competition, which consisted of about 40 teams from 27 different universities including graduate programs.
Cartwright, a junior computer science major from Castle Rock, Colorado, who has been coding since the age of 12, created and led the Southern Virginia hackathon team.
"I've been wanting to go to a hackathon for a while, but I didn't feel like my skills were up to par," Cartwright said. "But then I started interning in the IT department as a team lead, so from that experience I've learned how to manage and lead teams which was helpful for this event."
In addition to leading the team, Cartwright also created Vicinia's animations, implemented BLoC and repository design patterns, and connected the app's front-end and back-end. Thanks to Cartwright's leadership and development experience, the hacking team was able to produce a finished project—something only half of the other competitors were able to accomplish.
Hayes, a sophomore computer science major from Washington, D.C., also contributed to the team in several ways as the lead user-experience (UX) and user-interface (UI) developer. In addition to designing the team's app, logo and website, Hayes also came up with the name, Vicinia, which is Latin for vicinity or radius.
"You can thank my mom for making me take Latin," said Hayes.
While building the Vicinia website with Vue.js and WebGl technology, Hayes tackled the difficult task of configuring a 3-D sphere on the product homepage which required additional help from teammate Charette—the group's math expert who joined the hackathon team despite no prior programming experience.
A sophomore math and computer science double major from Windsor Locks, Connecticut, Charette was recruited by the hackathon team to design the complex algorithms required for software development. During the competition, Charette taught himself to use two new development tools with which he had no previous experience—a programming language called C#, as well as a database framework called Flutter—to help construct the app's back-end database.
Charette also received help from hackathon teammate Smith, a senior computer science major from Forest Grove, Oregon, who specializes in API development and application integration. Smith took the lead on creating the business logic for Vicinia and writing the project's entire back-end code in less than 12 hours—all while teaching Charette to set up the project's database to function with Azure, a cloud computing service.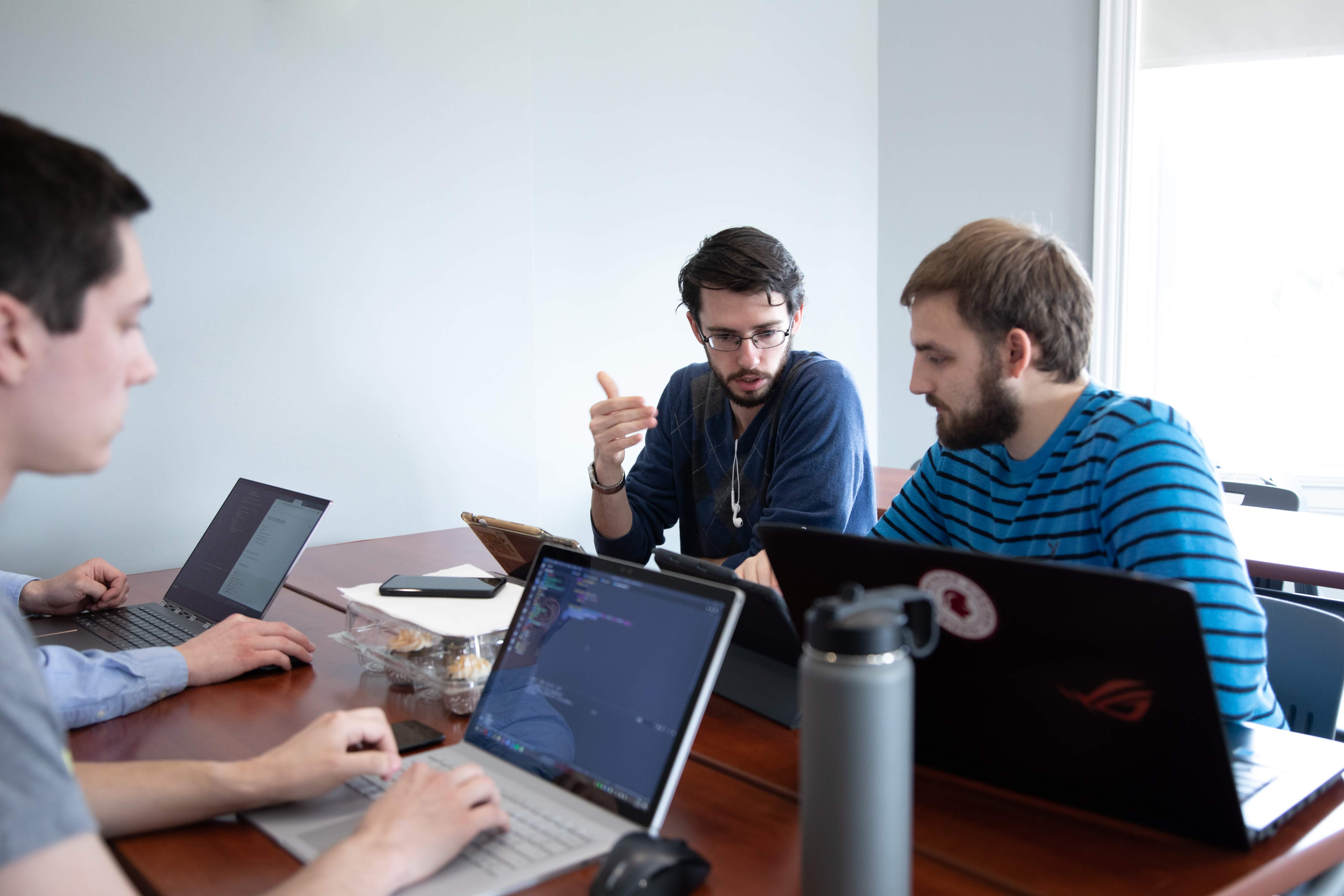 "Our team did great," said Cartwright. "We were all proactive."
"My teammates took charge and did it all," continued Cartwright. "Even Mitchell [Charrette] who didn't have much prior programming experience."
Cartwright's goals for the hackathon were 1) to learn as much as possible and 2) to place in the top ten. He also wanted to expand his professional network and make connections with the leading tech companies that send recruiters to search for potential hires at such events.
As a relative newcomer to development, Hayes also wanted to make professional connections at the hackathon event. After serving a mission for The Church of Jesus Christ of Latter-day Saints in the Spain Barcelona Mission from 2015-17, Hayes taught himself the basics of website development.
Within only a few months of training, Hayes took a leap of faith and started his own company, Alowh, LLC, where he designs and builds websites for clients. Now, just one year later, Hayes runs his company while also attending classes full-time and interning in the University's marketing department with Southern Virginia's lead web developer, Alec Johnson.
"The opportunities and friendships I've gained during my internship [at Southern Virginia] are examples of what a team should be in any work environment," said Hayes. "Interning in the marketing department with Alec has been a priceless experience."
Hayes was also excited to tackle the challenge of completing an unknown project in 24 hours.
"It's definitely extreme, but that's the best part about it," Hayes said. "Sometimes people are afraid to push themselves to their limits—but these types of settings and experiences that push your limits really help you to grow, learn, and see what your abilities are."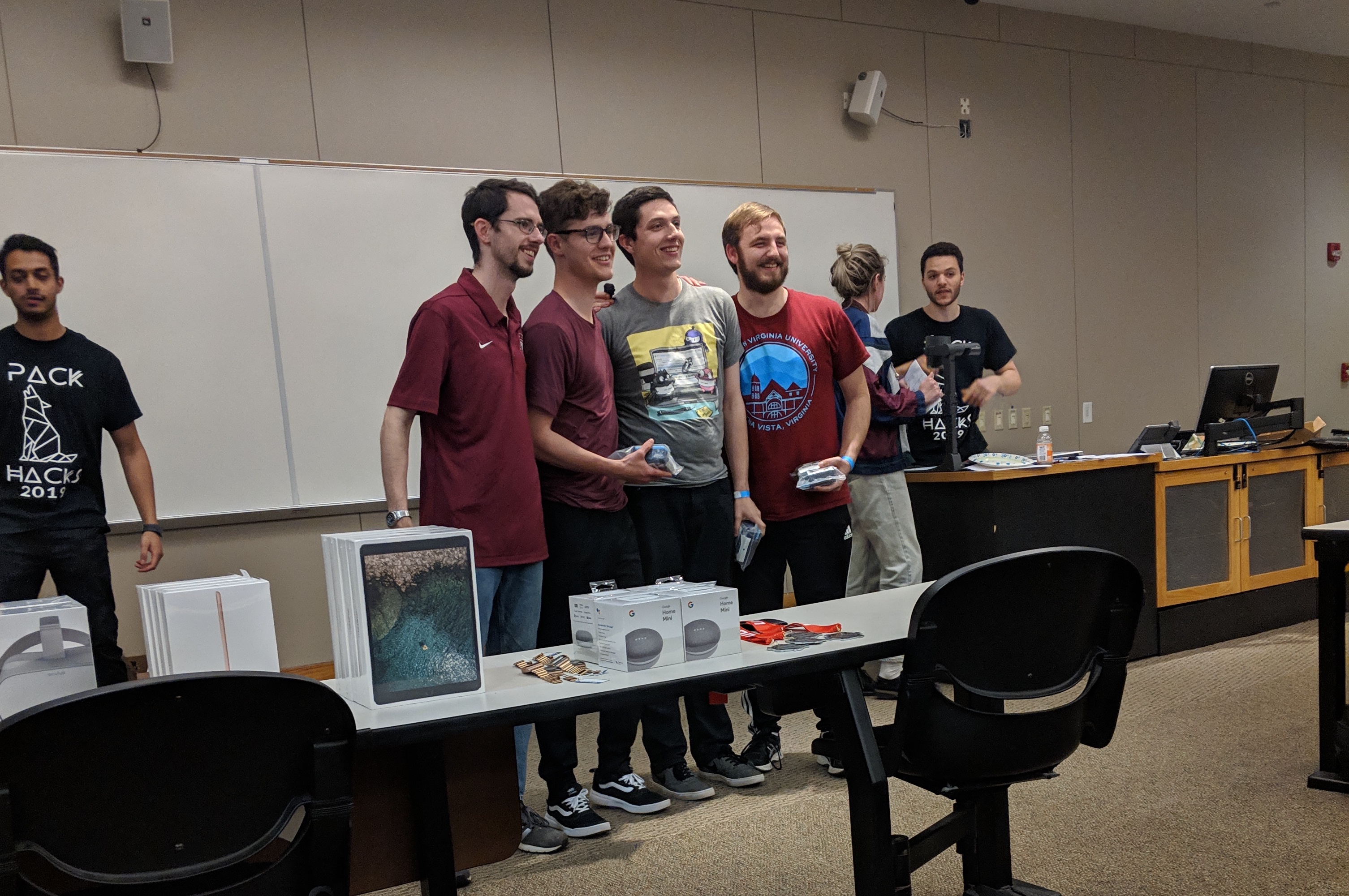 Charette was also excited to push his limits during the competition. Having never previously programmed before Cartwright invited him to join the team, he was initially uneasy about the idea, however, Charette eventually saw this new challenge as an opportunity to learn and grow.
"I was just excited to learn and try to do things I didn't think I could," Charette said.
Despite being new to development, Charette's mathematics background prepared him to excel at the logic and algorithms behind applications and software. He first discovered his affinity for math while participating in classroom addition competitions during elementary school.
"I got more competitive as I kept going and found that I liked it more and more," said Charette. "Then in high school, when I took calculus during my senior year, everything I had learned up until that point was suddenly applicable and made sense; it made me even more excited to learn more. I love calculus."
While Smith's fellow teammates were motivated to learn and network, his top priority for the competition was to have fun with friends during his last semester of college.
"I talked to [my wife] Lizzie and thought 'You know what, that would be fun to just go down, spend the day making something, and just have that experience,'" said Smith.
Since transferring to Southern Virginia in 2017 from Brigham Young University-Idaho with his wife and infant daughter, Smith has worked for the student newspaper, tutored fellow students in math, played percussion in the marching band, and interned in the IT department—which he credits as one of his most valuable learning experiences.
"That's where I've learned the most and probably had the most fun because I'm able to create something real that's actually being used," Smith said of his internship experience in IT.
During his internship, Smith learned how to create production-ready code and also gained experience with common work-technologies like shared repositories. Recently, Smith landed a job as a Research Associate for Ford Credit, where he will research, test, and share new technology within the automotive finance industry.
As Smith graduates and moves on to the next phase of his life after college, the remaining undergraduate members of the hackathon team plan to create an official club next fall to attract new recruits, practice together and compete at many more hackathons to come.