Spotlight
Six Students Recognized at Southern Virginia University's Inaugural Model U.N. Conference
Buena Vista, Va.—Following their inaugural Model United Nations competition in the Appalachia Regional Model Arab League on November 4-6, members of Southern Virginia University's newly formed Model U.N. team were awarded Best Delegation and Distinguished Delegation.
The Knights' 10-student delegation represented Bahrain at the intercollegiate event hosted by Hollins University competing against 16 other delegations from 11 schools, including Virginia Tech, the Virginia Military Institute and Roanoke College.
"As this semester was the first for the University's team, I'm really impressed with how our students did," said Provost Jeremiah John, who advises the club. "They took to it really well and outperformed a lot of people, including a lot of schools who have done it before."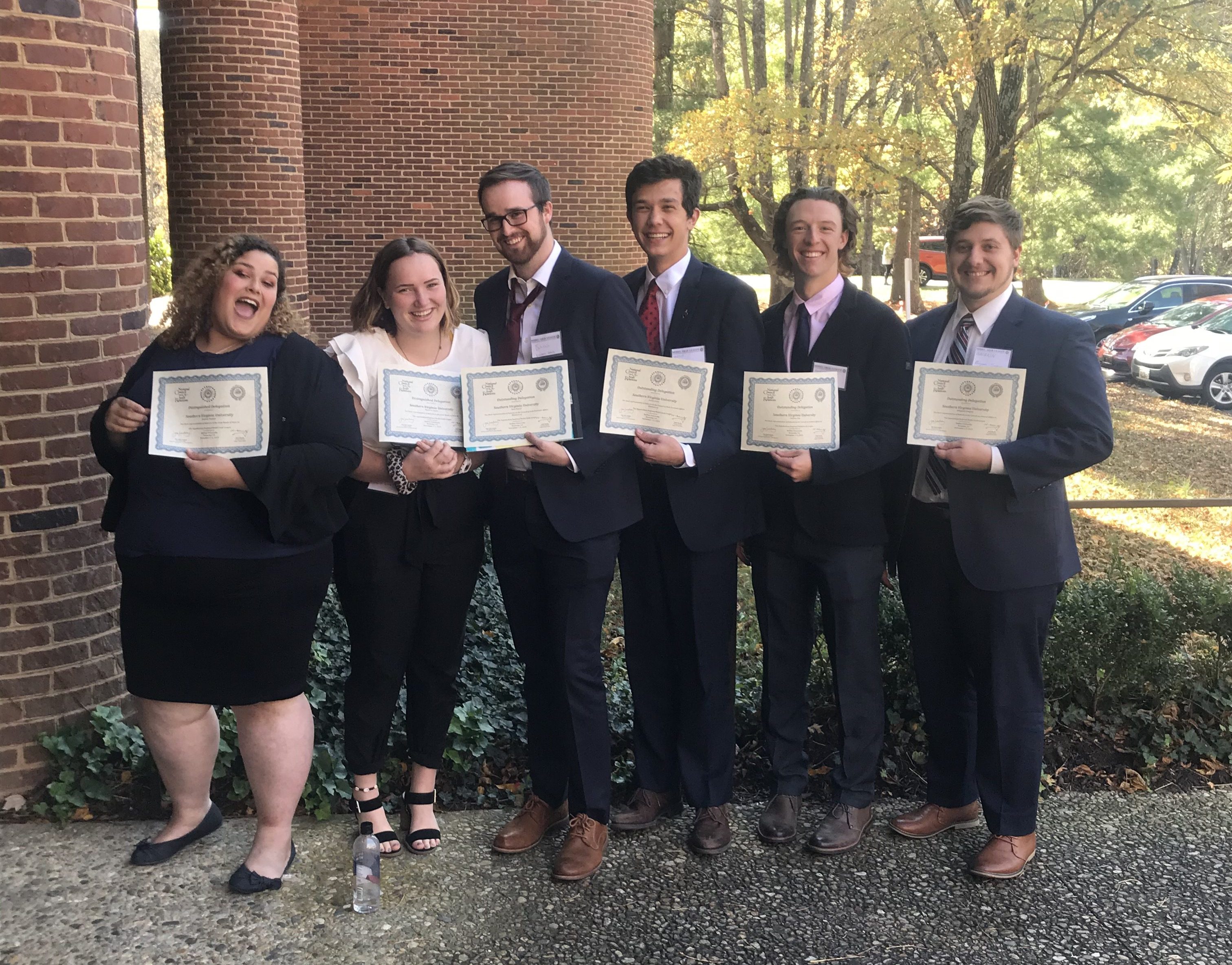 In all, six Southern Virginia students were recognized for their performances at the competition. Best Delegation was awarded to senior Nate Pearce and freshman Ethan Lister for their work as economics affairs council, as well as junior Ben Simpson and freshman A.J. Colt for their respective work as political affairs council. Additionally, junior Jaelyn Thomas and freshman Majorie Taylor were awarded Distinguished Delegation for their work as heads of state council.
"Our student body is a great fit for Model U.N.," explained John. "We have lots of students that are interested in international affairs, students that have lived in other countries, and students that speak a second language."
According to John, Model U.N. was introduced as a new co-curricular activity—both a one-credit class and a club—to help teach skills like teamwork and real-life application.
"The range of skills students develop is really valuable," said John. "Writing, speaking, negotiation, listening, creativity, good communication—those are all really important skills that apply to a variety of academic and professional contexts, and are beneficial in life."
Members of the Model U.N. team meet for one hour each week to fine-tune their skills and research, and to prepare for competitions. Each semester, participants compete at a 15-hour conference over the course of a single weekend. The Model U.N. club is open to all students and majors, regardless of prior experience.
"There's something about this team where we put in that hard work, but we also made time to connect with each other on a deeper level," said Thomas, the team's co-leader. "If you have any inkling or small thought that you would be interested in politics, Model U.N. is a great club to join."