Speeches
Launching into the Deep: The 2019 Commencement Exercises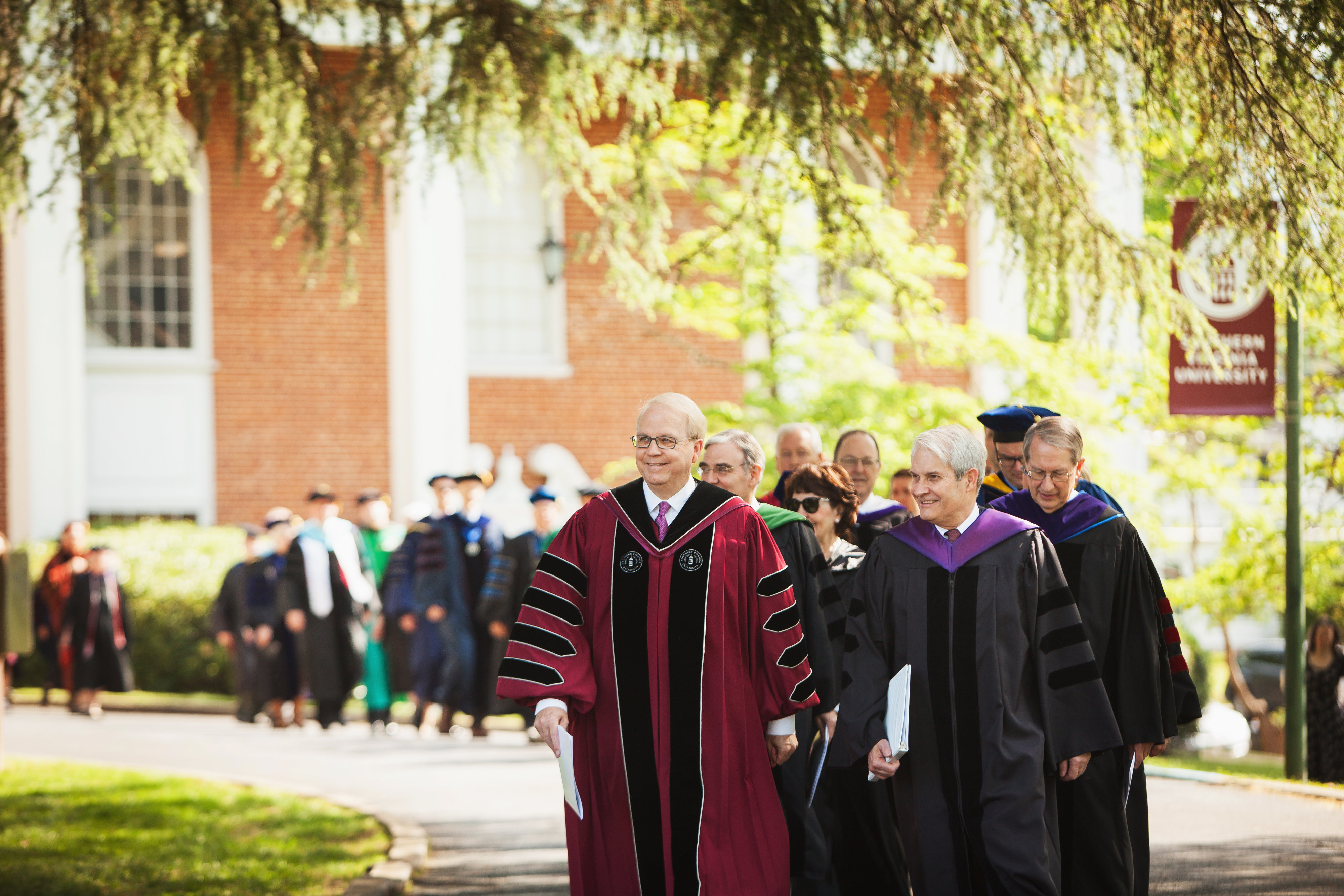 Celebrating the graduating class of 2019 with family and friends gathered in front of historic Main Hall, Southern Virginia University held Commencement exercises on Thursday, May 2.
"Today's ceremony marks something of a miracle," said University President Reed N. Wilcox. "This is the conclusion of the 23rd year of continuous successful operations since this new University was organized on this beautiful campus.
"Typically, starting a new university is a high-risk venture; typically, they don't survive more than four or five years," continued President Wilcox. "We're not only surviving, we're thriving."
President Wilcox noted that the University's growth during its 23 years of operation has made it percentage-wise one of the fastest-growing schools in the country.
"Southern Virginia has become a true national university, drawing students from great distance, traveling an average of 1,300 miles from home to attend college here," said President Wilcox. "This national attraction level that is represented by our graduating class and by our student body places the school in the top one-tenth of one percent in all the colleges in the United States."
The ceremony's keynote speaker, The Honorable Thomas B. Griffith, Circuit Judge of the United States Court of Appeals for the D.C. Circuit., spoke about "Launching into the Deep," by drawing parallels between Jesus Christ's first words to Peter in the New Testament and the mission statement of Southern Virginia University.
"Gather, lift, launch—what a great description of the role of a liberal arts college," said Judge Griffith. "Over the last four years, you have gathered at Southern Virginia with the purpose of lifting one another…Today is about the launch."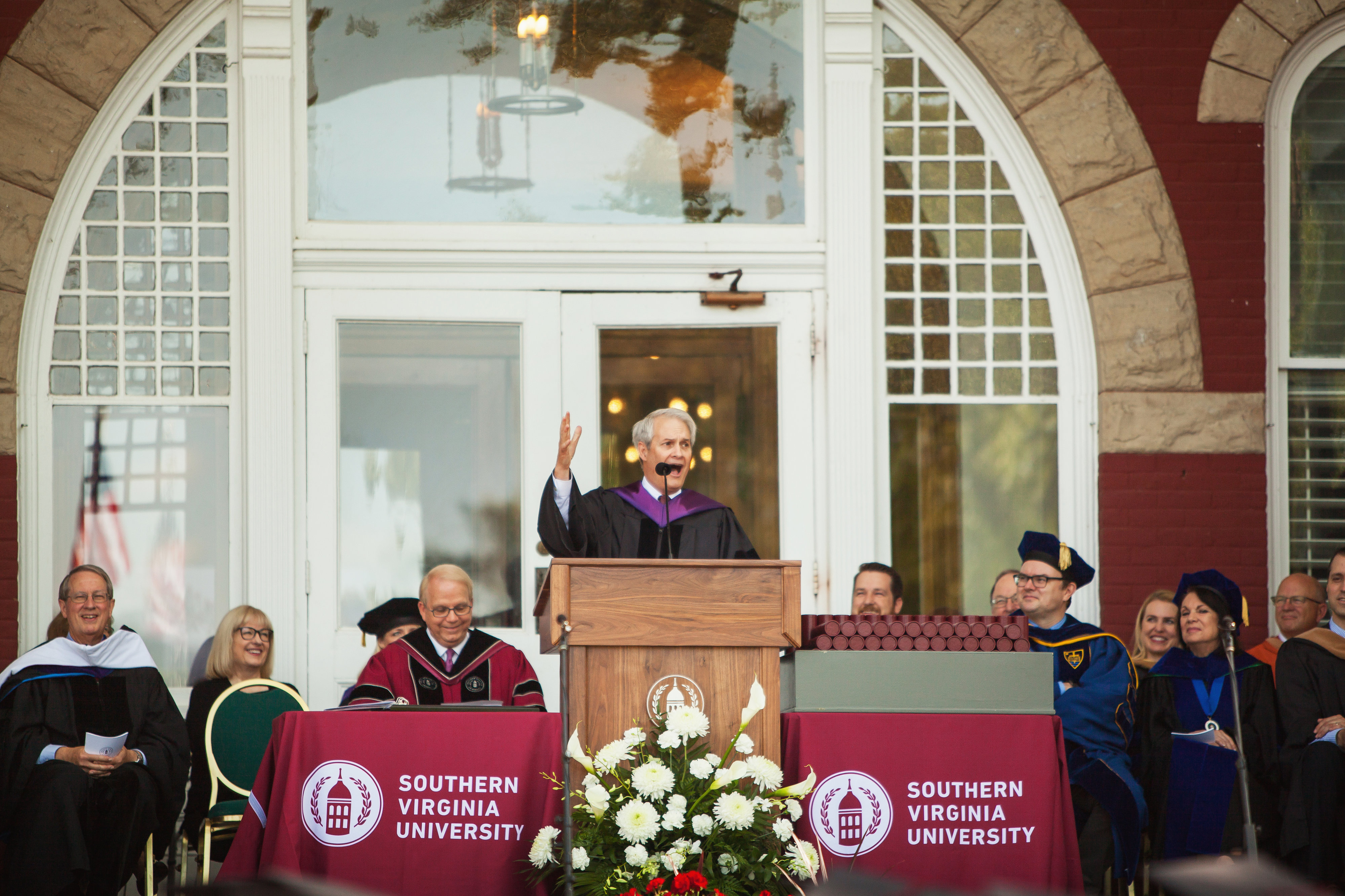 Throughout his commencement address, Judge Griffith shared three important life assignments: (1) strengthen your faith despite ever-increasing secularism, (2) heal political tribalism through community and (3) stay committed and involved in the progress of The Church of Jesus Christ of Latter-day Saints.
"As you launch out into the deep, may I suggest your wholehearted involvement in a start-up that is, I believe, the most exciting enterprise in the world today—and you don't need to move to Silicon Valley to get in on the action," said Judge Griffith. "That enterprise, of course, is The Church of Jesus Christ of Latter-day Saints."
Read the full text of Justice Griffith's remarks.
As part of the Commencement ceremony, University leaders awarded former congressman Bob Goodlatte with an honorary doctorate of humane letters for his "exemplary leadership and service in the workplace, the community and in the home." Goodlatte served in the United States House of Representatives for 26 years representing the Virginia 6th district—the district in which Southern Virginia University is located.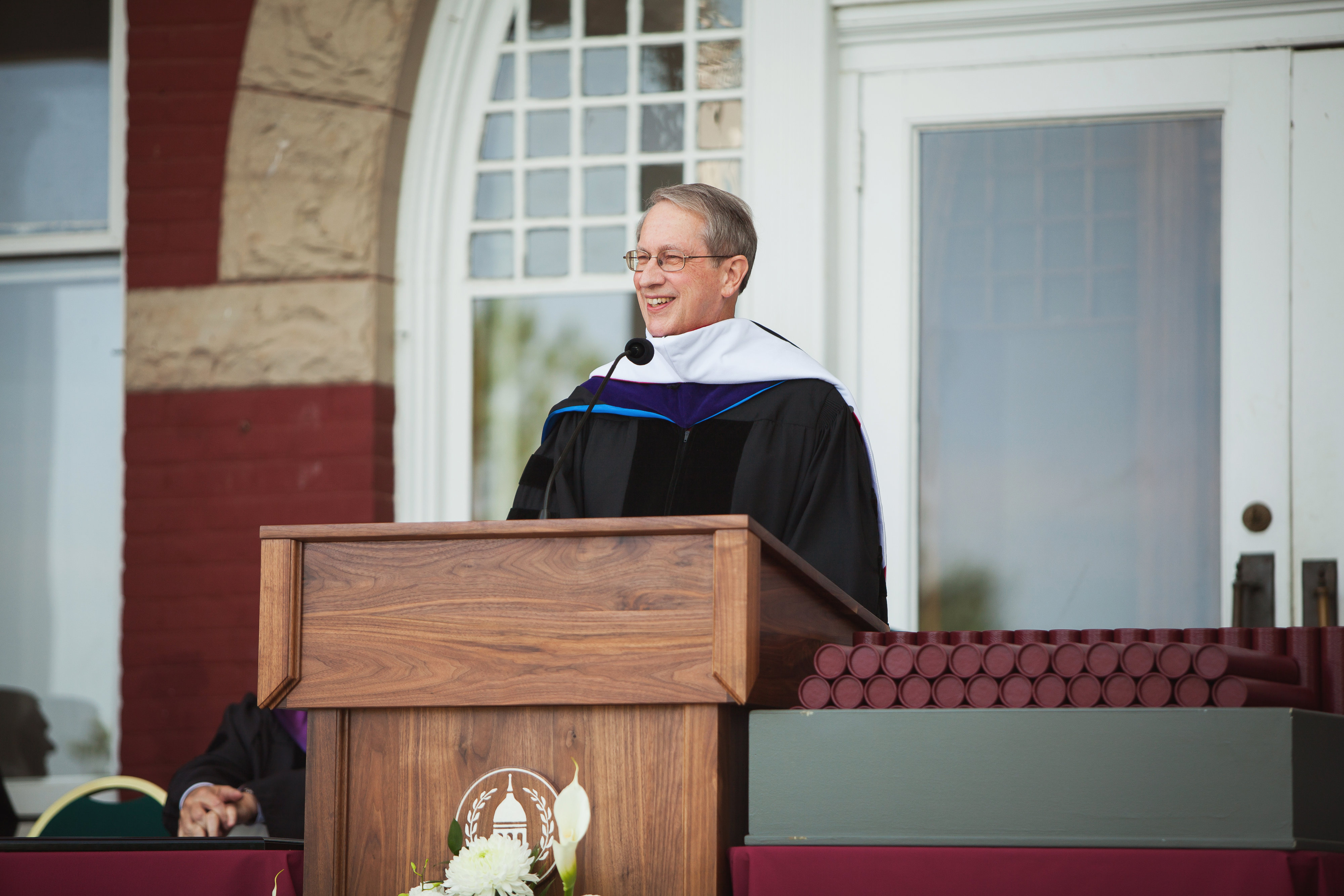 "It's been an honor to work with this school and with the presidents who have served this school including President Wilcox, who has done such an outstanding job growing this University, "said Goodlatte. "It means so very much to me to be here and to participate in this today."
The University also recognized three valedictorians—Cassandra Johnson, Summer Rathfon, and John Mellor—during the commencement ceremony. Johnson, who earned her degree in English with a concentration in international affairs, spoke to her fellow graduates on behalf of the valedictorians about the creativity that is inherited from Heavenly Father and developed through education, and encouraged students to go forward and create.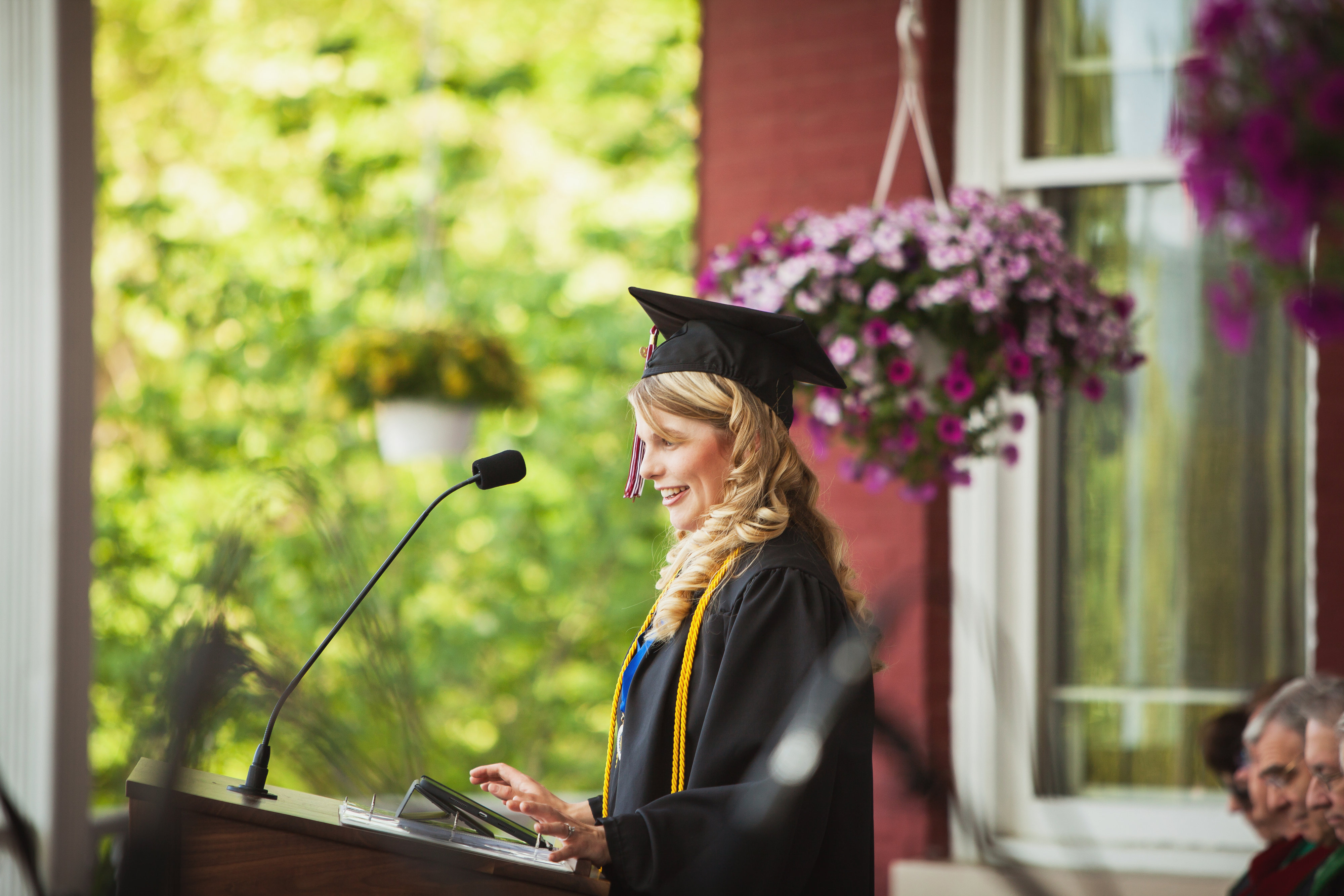 "Take what you've learned here, take the feeling of love and confidence you've felt from your professors, take the boundless love that God is always extending towards you—take that and become a creator," said Johnson.
Senior Speaker Aaron Vinson, a biology major from Mineral Point, Mo., shared his journey of discovering academic passions as a student-athlete at Southern Virginia.
"I want to thank Southern Virginia University for its outstanding faculty and staff in teaching me to pursue knowledge in every facet of life, introducing me to my beautiful wife and providing a campus where I can be educated around others with the same beliefs and values as myself," Vinson said.
Following the conferral of degrees by Provost Jeremy John, Alumnus Lemuel Harsh ('14) welcomed the new graduates to the Southern Virginia Alumni Association.
"Your families are proud of you, this faculty at Southern Virginia is proud of you and the alumni of Southern Virginia are so proud of you and we are cheering you on," said Harsh. "Reach out to us, connect with us. We want your success and we will do everything we can to help you."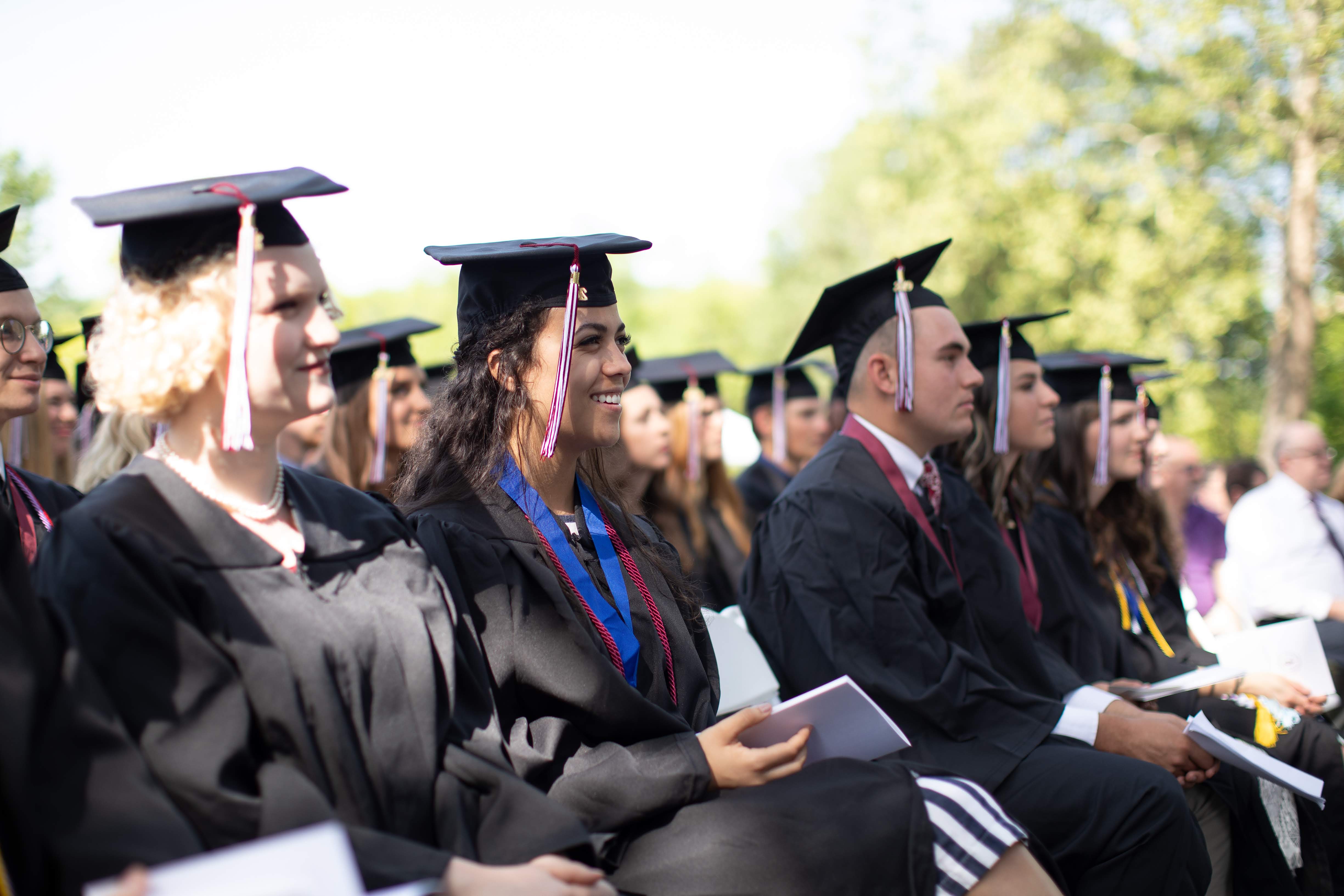 The ceremony closed with the Concert Chorale joined by choir alumni in attendance singing the American folk song, "Oh Shenandoah," which is part of a longstanding University tradition.
Special guests in attendance were Buena Vista Mayor Billy Fitzgerald, Lexington Mayor Frank Freedman, Southern Virginia Board of Trustees Chairman Dane McBride, Board Members Jeff Cotton, Hugh Redd, Jim Skeen, and Founders Glade and Kathleen Knight.
Photos from Commencement are available to view and download here.