News Release
Judge Thomas B. Griffith to Speak at Commencement May 2
Keynote Speaker
The Honorable Thomas B. Griffith, Circuit Judge of the United States Court of Appeals for the D.C. Circuit will address graduates, faculty, staff, students and friends of Southern Virginia University at Commencement on Thursday, May 2, 2019, at 10 a.m.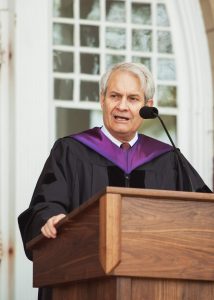 Judge Griffith was appointed to the U. S. Court of Appeals for the D. C. Circuit by President George W. Bush in 2005. A native of Washington, D. C., Griffith graduated from Brigham Young University and the University of Virginia School of Law. Immediately prior to his appointment to the bench, Griffith was Assistant to the President and General Counsel of BYU. At BYU, he worked primarily on religious liberty issues in American higher education. Most of his professional career has been spent in Washington, D. C. where he was a litigation partner at a major law firm and for four years served as Senate Legal Counsel, the chief legal officer of the U. S. Senate. Judge Griffith has taught courses at the law schools at BYU, Stanford, and is currently a lecturer at Harvard Law School. He has long been involved in rule of law projects in the former communist nations of Eastern Europe and Eurasia.
Before embarking on a legal career, Brother Griffith worked in the Church Educational System as the director of Seminaries and Institutes for the Baltimore, Maryland area. He has served in various capacities in the Church, including as a full-time missionary in southern Africa and a president of a BYU campus stake. He is a member of the advisory board of the Neal A. Maxwell Institute for Religious Scholarship at BYU and is the founder of the Temple and Observatory Group, an effort to bring leading scholars of the Church into conversation with those in faith crisis. Brother Griffith is married to Susan Stell, who is also a graduate of BYU and a professional genealogist.
Honorary Degree to Be Awarded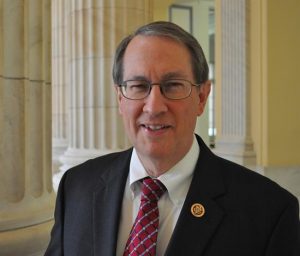 Former Congressman Bob Goodlatte will receive an honorary Doctorate of Humane Letters from the University at the Commencement ceremony.
Goodlatte served in the United States House of Representatives for over 26 years representing the Virginia 6th District, in which Southern Virginia University is located. During his time in the House, he served as the chairman of the House Judiciary Committee and the House Committee of Agriculture. Goodlatte is a graduate of Bates College and Washington and Lee University School of Law.
Valedictorians
Three valedictorians will be honored at Commencement: Summer Rathfon, John Mellor and Cassandra Johnson, with Johnson selected to speak.
Summer Rathfon is a biology major from French Lick, Indiana. During her time at Southern Virginia she played in the orchestra and Chamber Music ensembles and participated in a string quartet. Rathfon served a mission for The Church of Jesus Christ of Latter-day Saints in Barcelona, Spain. After graduation, she plans to work for the U.S. Forest Service on a national forest in Idaho and eventually attend graduate school to study Forest Ecology and Natural Resource Management.
John Mellor is a biochemistry major from Colfax, Washington. He played on the Southern Virginia football team all four years as a middle linebacker. Mellor served a mission for the Church in Budapest, Hungary. He plans to attend medical school to become a surgeon after graduation.
Cassandra Johnson is an English major with a concentration in international affairs from Gainesville, Florida. She served a mission for the Church in Bangkok, Thailand, and last summer returned to Thailand to intern in the U.S. embassy. Johnson met her fiancé at the University and will marry in May. She plans to go into international communications and have a family after graduation.
A reception will follow the commencement exercises. On the night prior to the ceremony, the University will host a Senior Reception in the Stoddard Center for graduating seniors and their families.