Speeches
Sean Covey: Frameworks for Making Critical Decisions
Buena Vista, Va.—Sean Covey, president of FranklinCovey and author of several best-selling business books including "The Seven Habits of Highly Effective Teens," spoke to Southern Virginia University students about frameworks that can serve as guides in making critical life decisions.
"You are at a crossroads in your life right now, Covey said. "Decisions you make over the next few years are going to have such impact on your whole life."
Covey taught that placing Jesus Christ at the center of one's life and following the habits and principles taught in his father's book, "The Seven Habits of Highly Effective People," are two frameworks that can lead to a happy and productive life.
"I encourage you to put Christ at the center of your life," he said. "I was football-centered at one point in my life, I've been self-centered before, I've been career-centered—and they are all insufficient and won't lead you down the right path.
"Make your commitment to the Gospel—the most important thing," continued Covey "This is the only true center."
Covey shared stories from his own life to demonstrate how these frameworks can help provide guidance. including a story about how his young son overcame tremendous shyness after reading Ether 12:27 in the Book of Mormon and looking to Christ for help.
"It was amazing to see him draw power from that scripture," Covey said. "I promise you the same—whatever weakness you have, make it your strength and center your life on Jesus Christ. There is no better, faster, smarter way."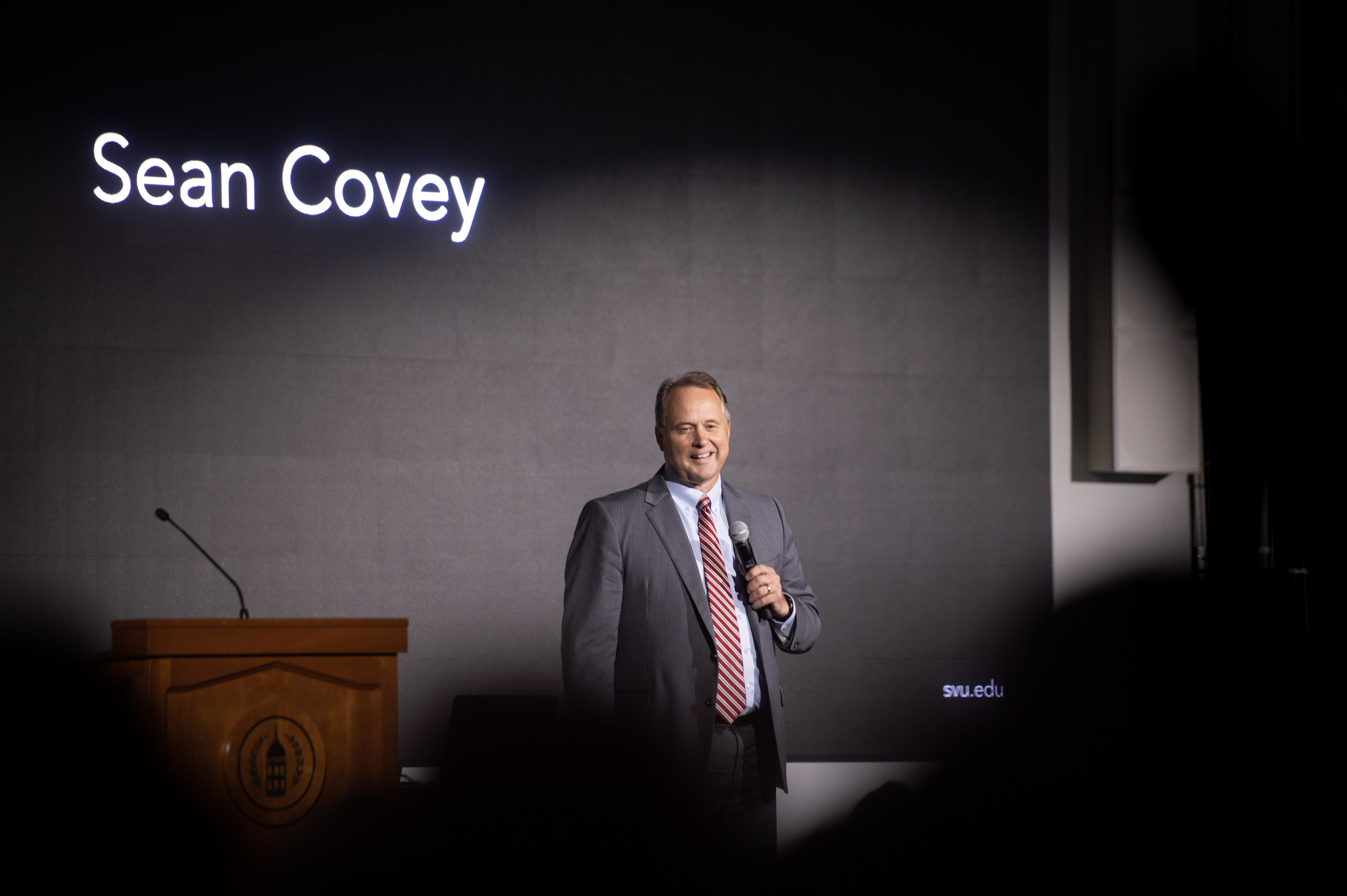 Using the "Seven Habits of Highly Effective People" framework, Covey spoke about how he benefitted from one of the principles—to have a private victory—by taking an hour every morning to exercise, read the scriptures, pray, and think about his day.
"It does wonders for me; it's my spiritual nourishment," he said. "I call it my daily private victory because if I can win in the morning, I can win that day."
Shifting his focus from his own experiences to the potential experiences of those in attendance, Covey gave three challenges to help everyone in their future decisions:
1.) Write down your personal mission statement
2.) Find your own way to have a daily private victory
3.) Commit—to your responsibilities and upping your game.
Covey praised Southern Virginia University and President Reed N. Wilcox for being committed to helping students prepare for their futures and spoke about his daughter's positive experiences as a current student.
"We're so glad she's going here; she's loving it," he said. "You have such a great school here…I so admire your theme, your vision, and everything you do."