Speeches
Elder Robert C. Gay: Aligning with God to Return Back to Him
Buena Vista, Va. — More than 1,100 members of the Southern Virginia University campus community gathered in the Knight Arena to hear from Elder Robert C. Gay of the Presidency of the Seventy of The Church of Jesus Christ of Latter-day Saints who spoke about aligning ourselves with God to reach our ultimate goal of returning home to Him.
"You are blessed to be at a university that espouses this mission of alignment with the values and principles of The Church of Jesus Christ of Latter-day Saints," said Elder Gay. "Don't underestimate that statement. In a world that is growing increasingly polarized, to stand up and be a light is no easy thing."
Elder Gay encouraged everyone in attendance to continue to align themselves with God and emphasized God's support as they journey to return back to Him.
"When you ascend to a summit, the goal is never the summit," he said. "The goal is always to return home. We gather, lift, and launch to help you return home to your Heavenly Father as covenant disciples of Jesus Christ."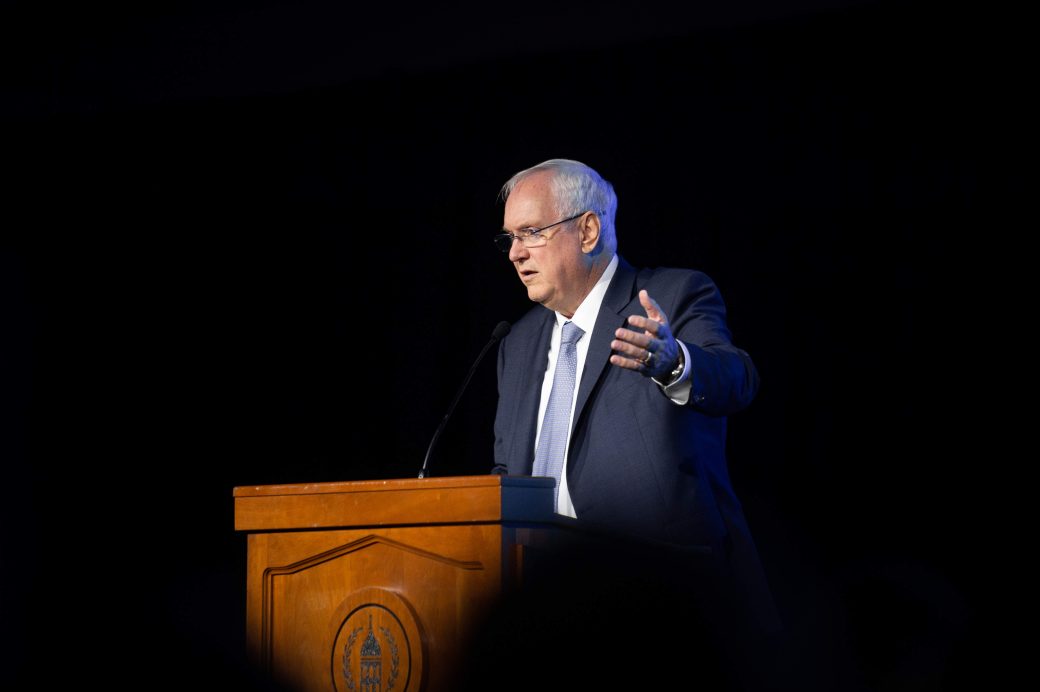 Using graduation as one example of a potential life summit, Elder Gay taught students to see the spiritual benefits of their college education and to understand how the skills they learn will help them in their eternal journey.
"As you come to a university, you need to see what you are doing here is not a temporal task, it is a spiritual task," explained Elder Gay (see Doctrine & Covenants 29:34). "There is nothing more spiritual in life than gaining the power to stand spiritually and temporally self-reliant. We are to become like your Heavenly Father."
Elder Gay also invited students to support one another in becoming aligned with God throughout their eternal journey by simply reaching out and supporting one another.
"Some of the greatest strength you will ever receive is from talking with one another," he explained. "Reading the scriptures together, talking about schoolwork. Reinforce your commitments by relying and supporting one another."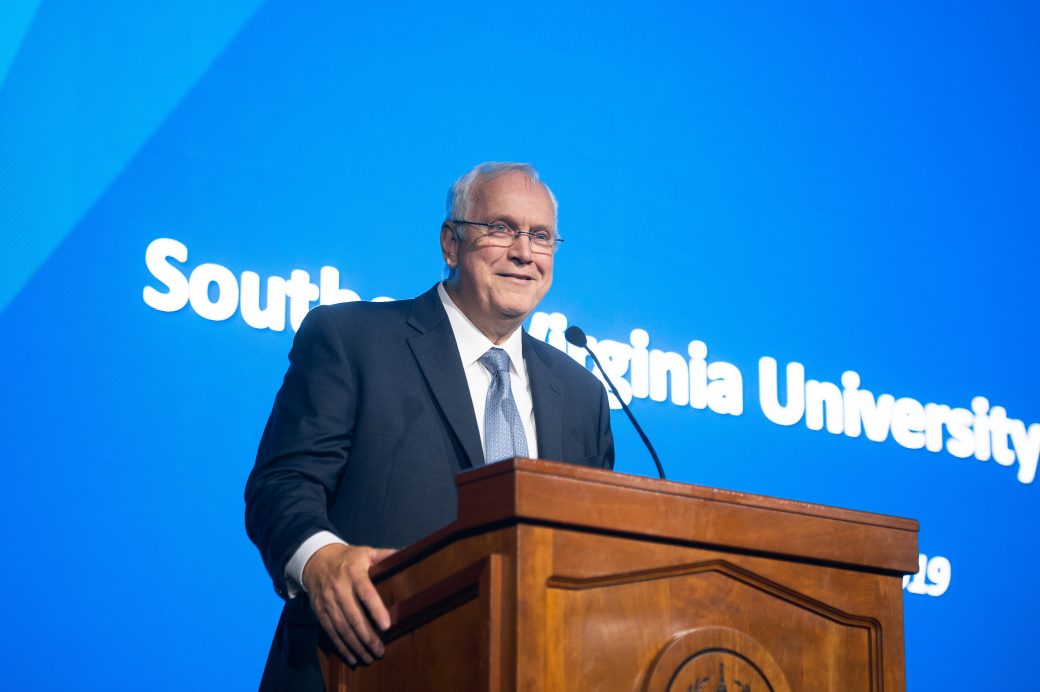 As he closed his remarks, Elder Gay reflected on Heavenly Father's abounding love and support for all of His children.
"May you always remember, He knows your name, He knows your life," he said. "I bear you my testimony that your mission in life is to return home to Him on the covenant path. You will arrive there as you keep His commandments."
Elder Gay was accompanied by Elder Randall K. Bennett of the Seventy and President of the North America Northeast Area. Prior to this visit, Elder Gay was awarded an honorary doctoral degree from Southern Virginia University in 2010, and his wife Lynette previously served on the University's Board of Trustees.