News Release
Deidra Dryden Named Vice President and Director of Athletics
Buena Vista, Va.— Southern Virginia University President Reed N. Wilcox today announced that Deidra Dryden has been named Vice President and Director of Athletics for the University's NCAA Division III athletics program.
"I am excited and thankful for this new opportunity," said Dryden. "I am completely invested in Southern Virginia University athletics—I love it! And I'm excited to play our part alongside the rest of the University to gather, lift, and launch our amazing students."
Dryden steps into the role of Athletics Director at Southern Virginia with more than two decades of experience as an athletic administrator and head coach at the University—most recently as Associate Athletics Director for the past five years, Senior Woman Athletics Administrator for the past eight years, and head women's tennis coach for the past ten years.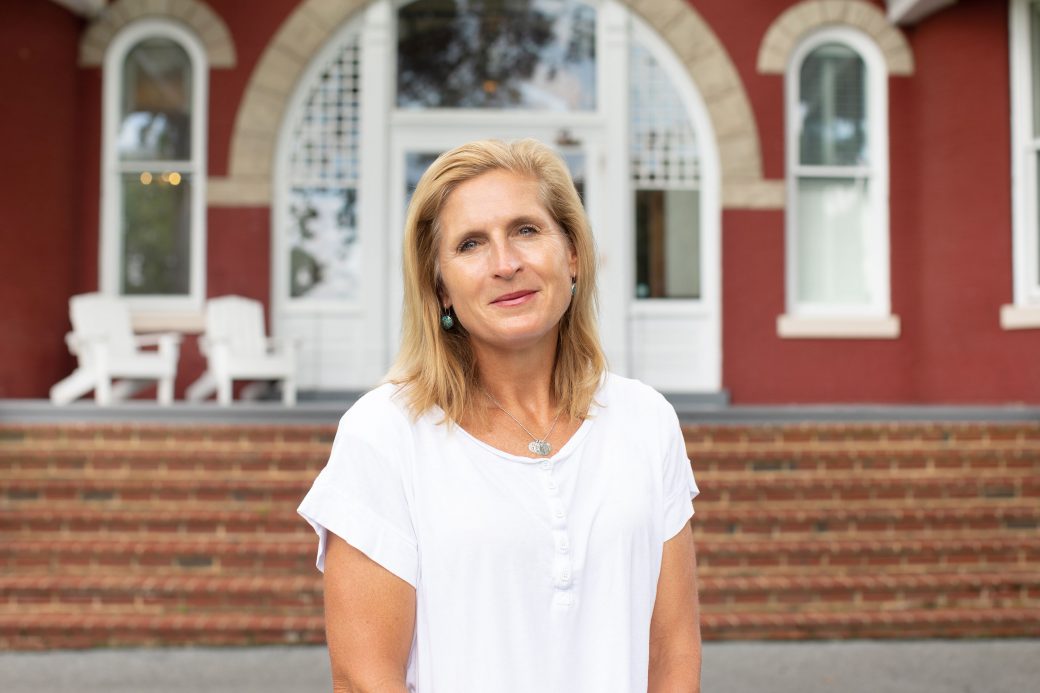 "I feel very strongly about building people one-by-one through the experience of athletics," said Dryden. "Athletics is such a powerful vehicle for building student-athletes academically, physically, and spiritually. My priority as a coach has always been to build my players in these three areas and that will continue to be my priority as the Director of Athletics."
In addition to coaching women's tennis at Southern Virginia for the past decade, Dryden has successfully coached several women's teams since joining the University in 1997, including women's basketball, soccer, and volleyball. Last season, Dryden guided women's tennis to an NCAA-era program-best 15-5 overall record and 4-3 finish in the Capital Athletic Conference.
"I love coaching and teaching student-athletes and I'm so grateful for the teams I've been part of these past 22 years," Dryden said. "The culture that we've been able to build and develop in the women's tennis program these past ten years has made coaching absolute joy.
"Stepping away from coaching now into full-time administration was a difficult decision," continued Dryden. "But I look forward to sharing the lessons I've learned from my coaching experience to help our coaches and student-athletes reach their goals."
As a member of the athletics administration, Dryden led the University's initial application process for NCAA Division III provisional membership in 2012 and helped spearhead the department's successful transition to full-fledged NCAA DIII membership in 2016. While serving as Southern Virginia's Title IX coordinator for the past three years, Dryden has been at the forefront of promoting gender equality within athletics and across the University.
"Deidra is the right person to lead our athletics program at this time," said Brett Garcia, the University's Chief of Staff and direct report for the athletics department. "She has been building our athletics department since its inception and coaching at the University for more than two decades. She's universally admired and respected across the campus and will continue to build upon the strong athletics foundation laid by her predecessors."
Dryden replaces Jason Lamb who will continue to serve as head coach of men's lacrosse. In parallel, after successfully growing the athletics department from 15 teams to 26 teams during his five-year tenure as athletics director, Lamb has been tasked with creating and building a program for athletics development and fundraising to help optimize and increase self-reliance of the University's athletics program.
"This advancement role will be much more complementary and flexible than was my role as athletics director, so I'm excited for the opportunity to bring more time and focus back to my first priority—coaching men's lacrosse," Lamb said.
"Jason is a builder and leader by nature," said Garcia. "He's done an incredible job building up our men's lacrosse and University athletics program over the past five years, and we're thankful he will continue building lacrosse and help build support for our NCAA athletics program with fundraising and relationships."
"I'm super grateful for the work Jason's done to build the athletics program," said Dryden. "I'm excited to work with our great coaches and student-athletes to continue building and unifying athletics while aligning ourselves with the mission of Southern Virginia University."
A native of Columbus, Georgia, Dryden played tennis for Brigham Young University-Hawaii and tennis and basketball at Columbus State University where she received her bachelor's degree in math education. She also holds a master's in math education from James Madison University.
"This University is a special place where members of The Church of Jesus Christ of Latter-day Saints and like-minded students can flourish and thrive," said Dryden. "Any student-athlete who chooses to come will have the opportunity of a lifetime to attend a great university, be an NCAA college athlete, and become their best self."