Speeches
Academic Convocation: Celebrating the Blessings of Education and Faith
Southern Virginia University students, faculty, and professional staff celebrated the beginning of the academic year at its annual Academic Convocation. Following University tradition, the event began with a faculty processional in academic regalia.
"I feel the Lord is raining down blessings constantly on this University," said Provost Jeremiah John in his opening remarks. "I think this meeting, Academic Convocation, is an opportunity for us to share some of those blessings with you that you may not be aware of."
Featured speakers Dr. James Lambert, associate professor of English, humanities division chair and director of the Writing Center, and Dr. Dave Dixon, assistant professor of business and program coordinator for Business Management & Leadership expounded on those blessings during their respective remarks.
"College is meaningful in part because it gives meaning to things we didn't know originally existed or even matter," explained Lambert.
Lambert continued to share his views about specific advantages of a Southern Virginia education—a University where every student participates in Core courses, founded in the liberal arts, designed to help improve key skills in critical thinking, careful writing, and analytical reasoning.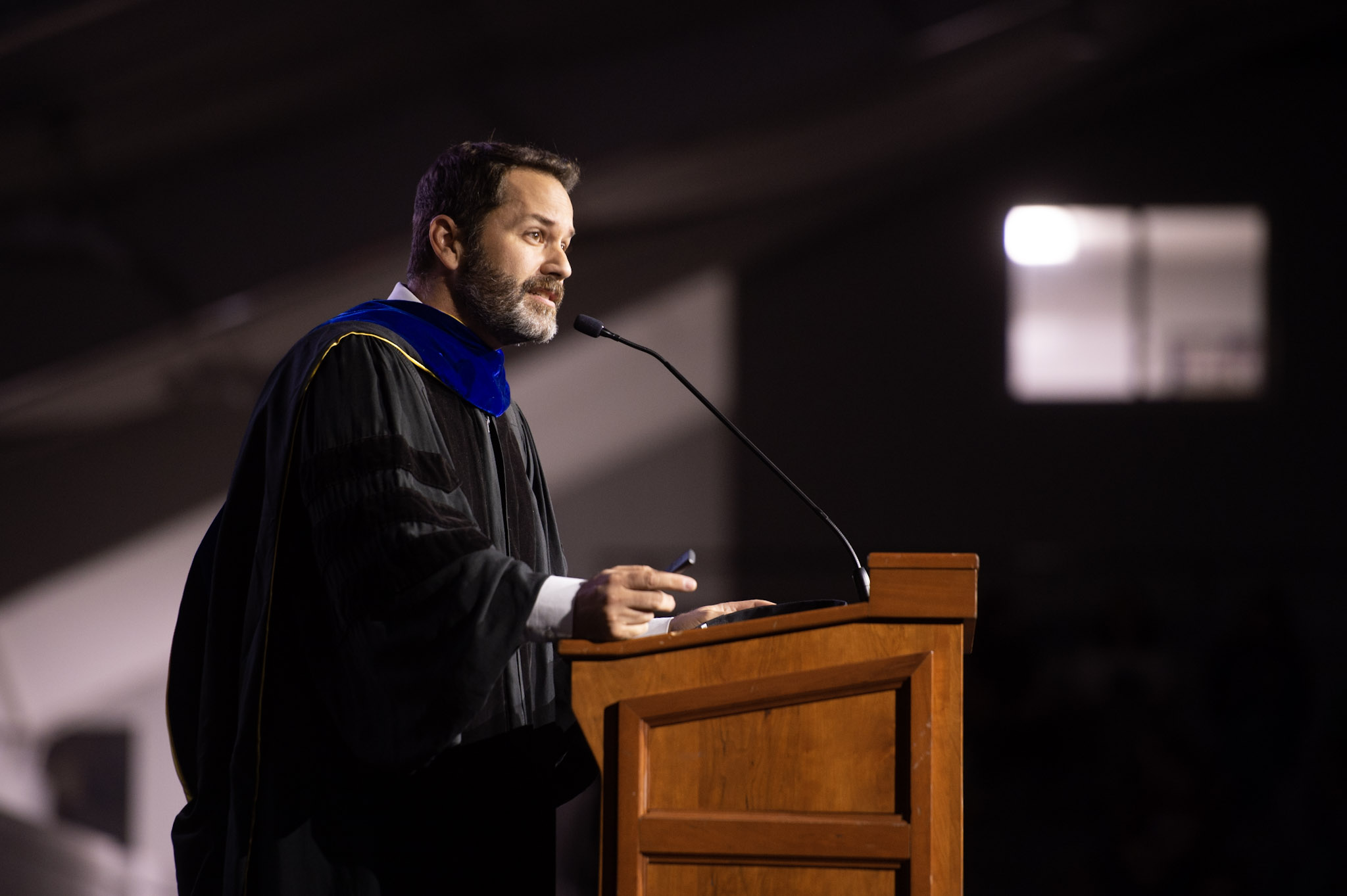 "To me, studying all of that literature, history, art, culture, and foreign language is a way to understand who we are, where we came from, and what gives us true value in a world that often wants to reduce us to our earning potential," said Lambert. "We teach what it means to have value as a human, indeed as a divine child of God."
These Core courses, explained Lambert, are also valuable preparation for the job market because employers are increasingly valuing job applications with liberal arts degrees.
"Your best bet for getting a job is to market yourself as something that Southern Virginia University will make you: a strong leader with the kind of confidence, communication, writing, and problem-solving skills that come from almost any major," said Lambert.
In addition to a providing a rigorous, personalized education, Lambert underscored the benefit of attending a University that encourages its students to seek support not only from each other, but also from their professors, mentors, and God.
"That is the kind of place that Southern Virginia University is," he said. "We want God in our lives just as much as we want Plato and Milton in our lives, just as much as we all want jobs. Your professors are here to support you intellectually, compassionately, and of course, spiritually."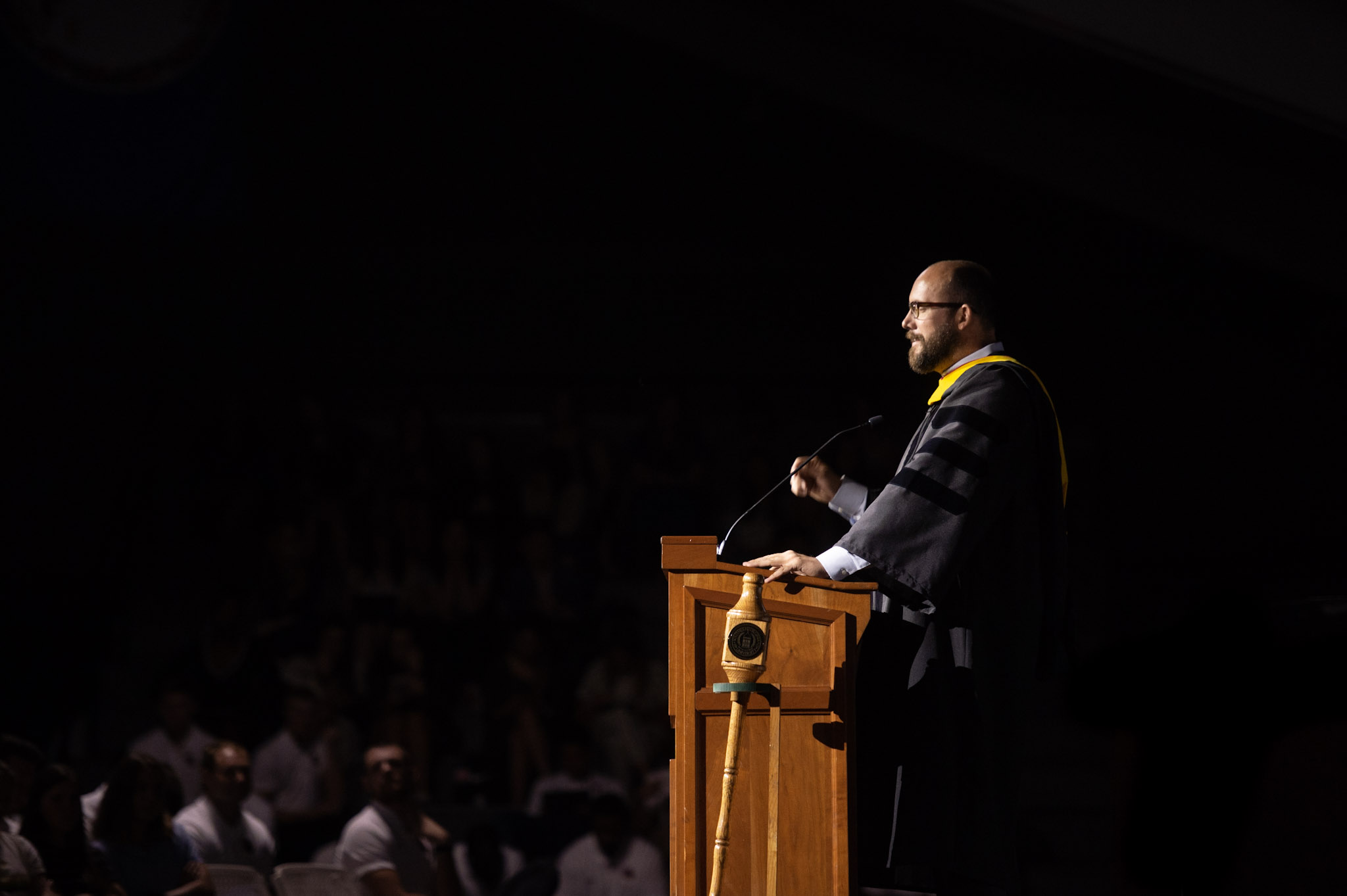 Following Lambert, Dixon shared two important lessons he learned about God to help students understand how prior experiences can help them during their college journey.
"The first one: God is real. He is a real person, He's a real being, and Jesus Christ is real," declared Dixon.
"The second thing is that what happens to us does not make us who we are," said Dixon. "We are who we are because of the choices we make."
Dixon shared experiences from his own life including challenges with health, family, finances, and religion—illustrating the fact that circumstances do not determine character. In his concluding remarks, Dixon reminded everyone in attendance of their inherent worth by sharing a quote from Elder James E. Talmage.
"We are potentially now, actually to be," read Dixon. "We are greater and grander, more precious according to the arithmetic of God, than all the planets and suns of space. For us were they created, and they are the handiwork of God. We are his children."