News Release
Super Bowl Champion Mulitalo Named Head Football Coach at Southern Virginia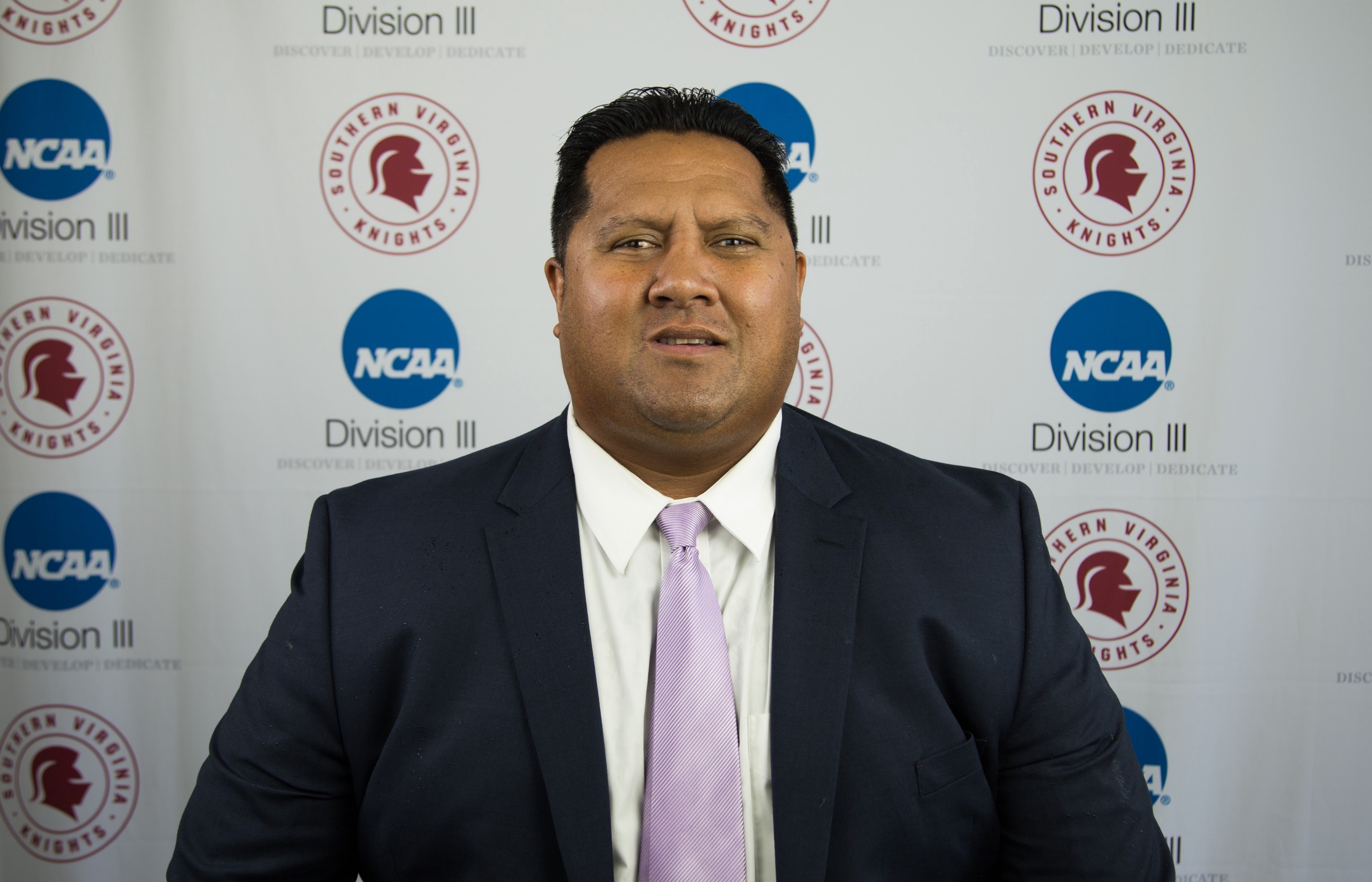 BUENA VISTA, Va. — Southern Virginia University President Reed N. Wilcox today named ten-year NFL veteran and Super Bowl champion Edwin Mulitalo head coach of the Knights' football program.
"Coach Mulitalo is a great man and a great coach with strong relationships and universal respect of the players and coaching staff," said President Wilcox. "We're confident that our Super Bowl champion head coach Mulitalo, with a fantastic assistant head coach and offensive coordinator in Danny DuPaix, will lead a seamless transition to take the team on to the next level."
Mulitalo replaces head coach Joe DuPaix, recruited by United States Naval Academy Coach Kenny Niumatalolo as slotbacks coach, a key position in the explosive Navy offense.
"It is evidence of the rising status of Southern Virginia football, and of the talent of Coach DuPaix, for him to be recruited to this elite NCAA Division I program," Wilcox continued. "And what a great thing to have such outstanding and well-prepared coaches already in place here and ready to take the reins. We are thrilled that Coach Mulitalo is willing to become our head coach!"
After college football at the University of Arizona, Mulitalo was drafted in 1999 by the Baltimore Ravens. He went on to play ten years in the NFL, including a Super Bowl Championship with the Ravens. Mulitalo came to Southern Virginia in 2016 with Coach Joe DuPaix's original coaching staff. During these last two seasons, Mulitalo has built strong relationships and successfully impacted players on both sides of the ball, while working first with the defensive line and then as defensive coordinator.
"I'm thankful for the opportunity to work with Joe at Southern Virginia and to be a part of this program," Mulitalo said. "The whole process over the last two years has been great and I'm excited to step into this new role and opportunity to impact our players."
A year after retiring from the NFL, Mulitalo moved with his wife and three children to the Samoan Island of Upolu where he taught and coached the Church College of Samoa rugby team to a national title. As a Polynesian-American, Mulitalo now joins Navy head coach Ken Niumatalolo and Brigham Young University's Kalani Sitake as one of three Polynesian members of The Church of Jesus Christ of Latter-day Saints to become NCAA head football coaches.
"I couldn't have done this without my wife Laura," Mulitalo said. "She followed me to Samoa and now to Virginia, and I'm grateful for her and all of our great family. I'm also thankful for Joe and his example to me. He's a straight-arrow coach, and I was able to learn from him the attention to detail that running a program requires."
DuPaix was recruited back to Navy after having left Annapolis eight seasons ago to become the running backs coach at Brigham Young University. His first stint with Navy included three consecutive bowl game appearances, two Commander-In-Chief trophies and a 10-win season in 2009 culminating in a 35–13 rout of Missouri in the Texas Bowl.
In his two seasons at Southern Virginia, DuPaix helped the Knights navigate their transition to full NCAA Division III membership and to build a strong foundation with excellent recruiting and mentoring of this young team and its first NJAC award winners, Defensive Rookie of the Year Neil Davis and Co-Offensive Rookie of the Year Ty Jones.
"We are grateful to Coach DuPaix for everything he did for our University and football program and wish him the best of luck in his return to Navy," said Vice President of Athletics Jason Lamb. "We're also thrilled to have a coach of Ed Mulitalo's caliber who is willing and so well prepared to take the reins of the program to lead it forward without missing a beat.
"Ever since Ed came to our campus, he has been a force for good," continued Lamb. "His ability to connect with our student-athletes, his deep football knowledge, his love of the game, his integrity and his example as a player, father, and mentor have prepared him to lead our football program into the future."