Speeches
Southern Virginia Professors Teach About the Meaning of Easter in 2018
Southern Virginia University students prepared for Easter weekend during a special convocation last Friday, where Professors David Cox and John Armstrong taught about the meaning of Christ's resurrection for people today.
Professor Fran MacDonnell also spoke briefly before the program started, welcoming alumni in attendance who returned to campus for an academic conference on American politics and foreign policy.
"For teachers, it is not a burden when our students achieve mastery and go beyond us, but a joy," MacDonnell said. University faculty organized the conference in honor of MacDonnell, who will leave Southern Virginia at the end of this semester after teaching at the University for the past 21 years.
Following Professor MacDonnell, Professor Cox, who served for many years as a rector in the Episcopal Church, acknowledged the appropriateness of the Easter holiday landing this year on April Fool's Day. "That actually is an ancient Christian theme — Easter fools — that Jesus pulled a fast one on the devil," Cox joked.
Professor Cox' message focused on the death and resurrection of Christ and what they mean for Christians today. "We can't really celebrate unless we also talk about death, but I'd like to suggest to you that when we do, that helps us to celebrate Easter all the more," Cox said. "And it also helps us to live Easter, especially when we face hard times as well as good ones."
"There's the message of Easter: that God wins," he continued. "Though life may throw awful events our way…we can meet them with the hope that good will prevail, that God wins, and so shall we."
Professor Armstrong's remarks focused on the events surrounding Easter and Christ's teachings regarding unity and charity. He discussed the prideful and divided state of the people in the Book of Mormon just prior to Christ's visit to the Americas, relating their situation to the one we experience in the world today.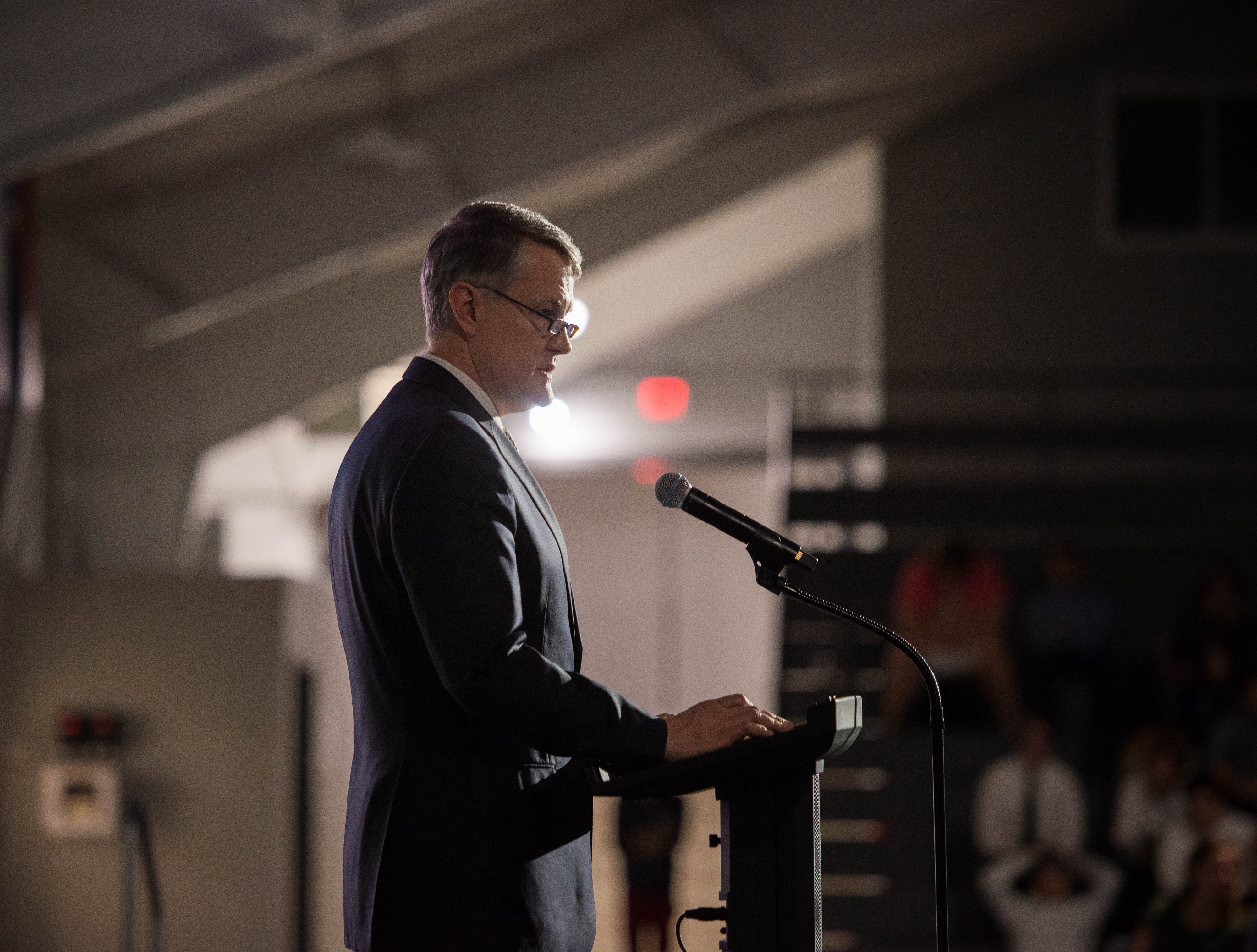 Armstrong noted how three apostles condemned supremacism during The Church of Jesus Christ of Latter-day Saints' October 2017 General Conference, and referenced an op-ed he wrote for the Deseret News shortly thereafter that warned of the dangers of nationalism.
"[Christ] still will be in us as we trust Him and live his commandments, allowing Him to replace our devilish feelings with an all-encompassing feeling of love — a love that accepts our fellow human beings as our equals and does not make national or another origin more important than our common spiritual origin," he concluded.