Official Statement
Southern Virginia Mourns the Passing of Elder Vaughn J. Featherstone
We at Southern Virginia University join with others in mourning the passing of Elder Vaughn J. Featherstone, Emeritus General Authority Seventy for The Church of Jesus Christ of Latter-day Saints. He was a marvelous leader and cherished friend of many at the University.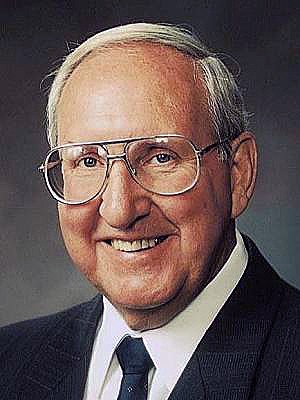 Elder Featherstone presided over the North America Northeast Area of the Church soon after Southern Virginia's founding. "He was a powerful teacher, by word and by example," recalled Chairman of Southern Virginia's Board of Trustees Dane McBride, who served at the time as president of the Roanoke, Va. Stake.
"Elder Featherstone's influence has blessed and will continue to bless the lives of members of the Southern Virginia University community," University President Reed N. Wilcox said. "We, like others throughout the world, knew him as an advocate and role model for young people."
A friend to the University since its first years, Elder Featherstone visited the campus on several occasions, including when he gave the commencement address at Southern Virginia's 2006 graduation.
"He put forth his good name in a time when it was important to have men and women of his stature boldly standing for the University," President Wilcox noted.
According to McBride, Elder Featherstone admired the pioneering spirit of the students, faculty and founders of the University and their willingness to do good "of their own free will and choice, without having to be commanded in all things."
"He was excited for our success and expressed confidence that Southern Virginia would prove to be a great blessing to very many souls, and to the Church," McBride said.
Elder Featherstone served as a member of the Presiding Bishopric from 1972 to 1976 and as a General Authority Seventy from 1976 to 2001. He served as the Young Men General President from 1985 to 1990 and presided over the Texas San Antonio Mission from 1976 through 1978. After becoming an emeritus General Authority, he served as president of the Logan Utah Temple from 2002 to 2005.
He and his wife, Marlene Miner Featherstone, are parents of seven children, grandparents to 33, and have an ever-increasing number of great-grandchildren.
Photo courtesy of www.lds.org.